HOWARD CLIFTON MCCRACKEN (abt 1920 - 1946)
(CNAC 1944? - March 18, 1946)
(Captain - November 1, 1944)
(Hump Flights - XXX)


John Kenehan's list spells it "McCracken".

Gene Banning's list spells it "McCraken" (only two c's). Gene says, "... listed as flying rice drops Nov 1944."


Name spelling solved!
In the 1943-45 log book of Don McBride, Howard listed his home address as: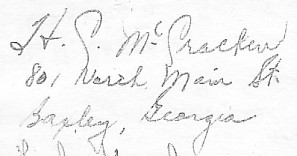 H. C. McCracken
801 North Main Street
Baxley, Georgia
---
NOTE: August 13, 2005
Using the Social Security Death Index (SSDI), I did find the death of Mattie McCracken whose last resedence was in Baxley, Georgia. Mattie was born in 1885, so I'm guessing that Mattie may have been Howard's mother or aunt. Also, in the SSDI, I found a "Howard Cevert McCracken" who died in Dallas County, Texas, September 15, 1997 -- he was born February 4, 1925. I'm not next of kin so I can't get a copy of the death certificate. It looks like the dates fall into place, but I think it's just a name coincidence, as Arnold Schilperoot told me that McCracken was killed in a crash March 18, 1946, plane #139. The plane was never found.






If you would like to share any information about Howard C. McCracken
or would like to be added to the CNAC e-mail distribution list,
please let the CNAC Web Editor, Tom Moore, know.
Thanks!



Background music to this
page can be controlled here.
"Tuxedo Junction"