ARNOLD GEORGE SCHILPEROOT (1920 - 2011)
(CNAC December 1944 - May 1946)
(Captain - March 1, 1945)
(Hump Flights - 329)



Unless otherwise stated all photos are courtesy of Arnold Schilperoot. Thanks, Arnold.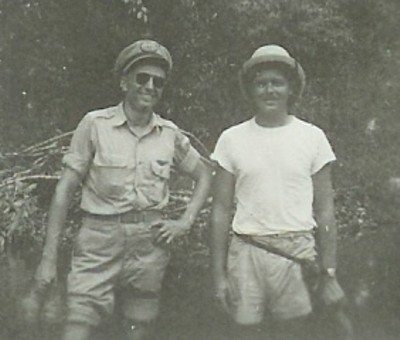 James Tate and Arnold Schilperoot in the Bush North of Dinjan.
---
Captain Arnold George Schilperoot


I began my college career attending Indiana Technical College in Ft. Wayne, Indiana taking Aeronautical Engineering. I learned to fly in the civil pilot training program act of 1938. I took advanced and x-cross country courses at Purdue University in West Lafayette, Indiana. My commercial pilots license was thru Notre Dame College at South Bend, Indiana.

When Pearl Harbor occurred I was getting instructors rating in South Bend, Indiana. The day after Pearl Harbor I tried to enlist in the Air Force but was turned down for a slightly less than 20/20 vision. I got a job with Southeastern Air Service teaching air force cadet primary training. I was an instructor there from February 1941 until September 1944 when primary school was closing down. At this time The Air Force screened all instructors to assign to other jobs. Then the Air Force had changed vision requirements and wanted to put me in Air Force waiting to go to training schools that they were closing down. This meant I would sit out the rest of the war doing nothing. Instructors who could not pass the air Force physical were assigned to ATC, which I preferred over waiting for an opening to the Air Force training school. My other alternatives were airlines. I applied to Eastern and CNAC and was accepted by both. I choose the CNAC because I felt it was doing more for the war efforts. I then arrived in Calcutta in December 1944. At this time I had phase 1 training and was a copilot on my first Hump crossing on January 9th, 1945. I finished my training and was checked out as Captain on March 1, 1945. I flew the Hump route until May 1946 and at that time came back to the United States on an emergency leave due to a family illness. I was to return but due to operation curtailment CNAC released me.

After working for the CNAC I operated an airport in Defiance, Ohio from December 1946 until March 1965. After operating the airport I owned a retail business in Defiance, Ohio until my retirement in 1987.

Since then I have been enjoying retirement in Archbold, Ohio where I enjoy time spent with family and friends.

Arnold Schilperoot






If you would like to share any information about Arnold Schilperoot
or would like to be added to the CNAC e-mail distribution list,
please let the CNAC Web Editor, Tom Moore, know.
Thanks!



Background music to this
page can be controlled here.
"Tuxedo Junction"