RAY MEADER
(Operations Chief)
(CNAC January 1, 1945 - Early 1946)


In the 1943-45 log book of Don McBride, Warren listed his address as: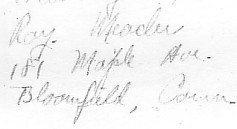 Ray Meader
181 Maple Ave.
Bloomfield, Conn.

From the CNAC mailing list 1960-1962, 1964 and 1965 (note on this list, "Ret. '65":
Meader, Raymond o (operations)
139 Osborne Hill Rd.
Fairfield, Conn


---
February 17, 2005

I would like to add my name to the list of ground operations personnel. Was at Dinjan from 1/1/45 to approximately early 1946 when I was placed in charge of operations at Chekiang, Nanking and Hankow reporting to Capt. Woods. Service was teminated at Hankow after coming down with infectious hepetitous. Spent about three months in the 82nd General Hospital in Shanghai, then returned to US as passenger on first PAA trip across Pacific.

Am interested in hearing of any news regarding Warren Lovejoy and Jack Reid. We worked together in Operations at Dinjan during 1945-46. I think Warren worked for Port Authority NYC after CNAC and Jack had a travel agency. Appreciate news of CNAC people.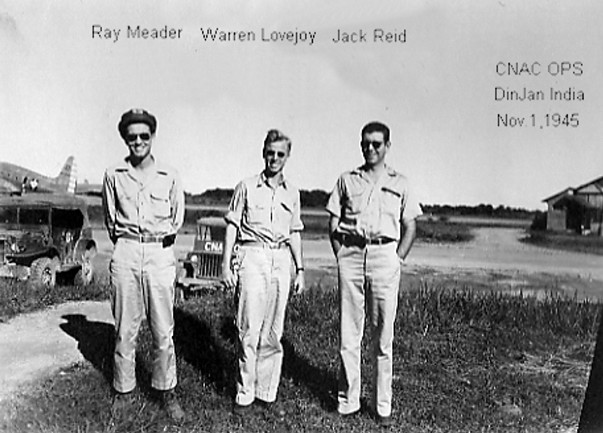 Thank You,

Ray Meader
E-mail raymonelay@webtv.net






If you would like to share any information about Ray Meader
or would like to be added to the CNAC e-mail distribution list,
please let the CNAC Web Editor, Tom Moore, know.
Thanks!


Background music to this page can be controlled here.
While sailing to China this was a popular sing-a-long tune heard on deck.
"By The Light of the Silvery Moon"