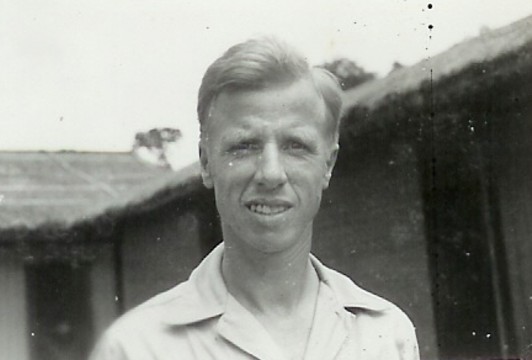 Warren Lovejoy
(Photo Courtesy of Arnold Schilperoot)
---
In the 1943-45 log book of Don McBride, Warren listed his address as: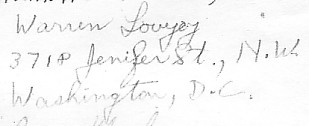 Warren Lovejoy
3718 Jenifer St., N.W.
Washington, D.C.
---
Last known address was:
3718 Jenifer Street
N.W. Washington, DC.

---
February 17, 2005

Am interested in hearing of any news regarding Warren Lovejoy and Jack Reid. We worked together in Operations at Dinjan during 1945-46. I think Warren worked for Port Authority NYC after CNAC and Jack had a travel agency.

Thank-you,

Ray Meader


And here's more from Ray...this being written to son's.
March 14, 2006

What a surprise to hear from both of you. After all the years that have gone by I may be somewhat hazy on some areas but I certainly remember Warren Lovejoy. We worked worked together for almost two years at Dinjan (Upper Assam, India). A third member was Jack Reid. We were the ground Operations activity and usually worked 12 hour shifts because flying could take place at any hour. The social life was at a minimum in fact there were times when I would not see Warren nor Jack except when one of us would takeover from the other. I have a photo taken at Dinjan of the three of us and it will be sent to you soon. I will ask my brother to do the transmittal as my WEBTV cannot do it. I recall one time when your dad and I had to operate the movie projector during the evening movies. I guess the regular man was unavailable so we tried to do it --it was a disaster but your dad kept his good humor as always. He had a very even temper so was real easy to work with. We scheduled all flights for CNAC but there were times when your dad"s good humor was needed to smooth ruffled feathers. He should have been a diplomat.I think the last time I had contact with Warren was when he asked me to join his wedding party but I was unable to do it.-------now back to CNAC. We flew to all the bases in unoccupied China. The cargo could consist of equipment and supplies including food for the chinese military. The purpose was to try to keep China in the war against Japan . Later when the war ended I was sent into eastern China to open-up new routes and never did see Warren again.. Be proud of your dad. He was an exceptional man in every regard. I was fortunate to have worked with him.

Ray



Here is that photo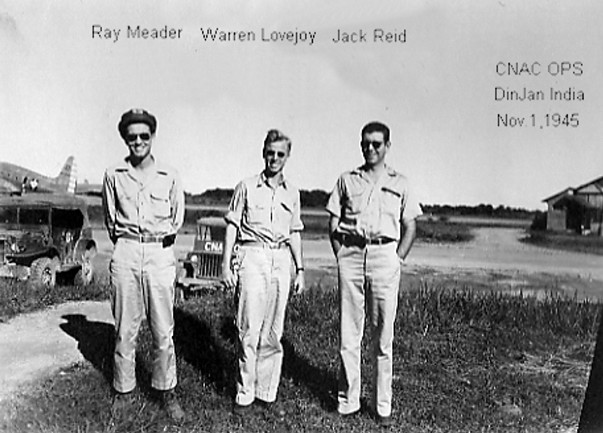 ---
February 18, 2005

Hello Tom --

Great memories were brought back at the mention of Jack Reid and Warren Lovejoy. We used to play bridge with them many evenings in Dinjan. I lost track of them but read about Warren in an article a number of years ago. At that point he was in Hot Springs, Va. leading the good life. Unfortunately I have no recent news of either of them.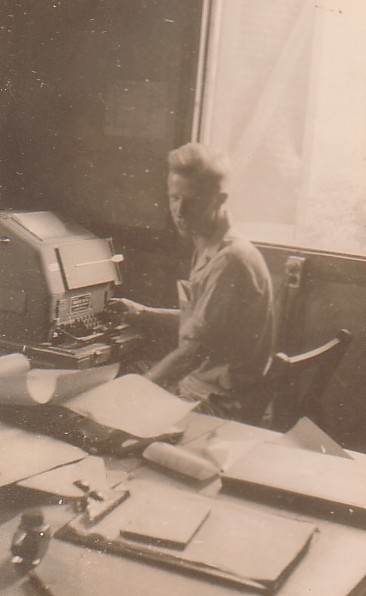 Warren Lovejoy
Operations, Dinjin - 1945
(Courtesy of Alice Knight)


Thanks for all your good work in keeping us CNAC-ers informed.

Alice Knight


---
March 13, 2006

Hi, I am Warren's stepson, David B. Sherman of Houston TX.

He was operations manager in Shanghai for CNAC after the war. I imagine he was not there past late 47.

What I do not find is him listed as a Hump pilot. which he was during the war. He started as right seat in C-47's and later was Captain. He also piloted the C 46.

He was trained by the Army Air Corps after recovering from a hernia operation so he could fly. He was a Harvard graduate, and as you indicated he worked for the NY-NJ Port Authority until he retired in 1980.

Reply to this and I will fill you in with more as best I can.

David
E-mail shermand@sbcglobal.net


---
March 13, 2006

Tom,

I'd add to what my step brother David says below the following:

Dad was married in Bronksville, NY on June 26, 1948 to a woman he went to high school with, and on May 26, 1951 I was born, followed on Dec. 2, 1953 by my sister. Our mother passed on in 1956 or 57 from what we believe were lingering complications from malaria suffered as a Red Cross nurse while serving in the Philippines during the war.

Dad raised my sister and me with help from our grandmother until 1964 when he married Polly, mother of David who has previously contacted you.

As David has indicated Dad worked for the New York/New Jersey Port Authority focusing on development of the port of NY/NJ with a special emphasis on highway research. He retired in 1970 and moved with Polly to Pinehurst, NC several years later.

Jeff Lovejoy
E-mail JeffLovejoy9716@aol.com


---
March 31, 2006

I have noted your prompt updating of the Warren Lovejoy page in operations.

I am still wondering if we can get him listed as a pilot as he indicated to me that he was. He later was an aircraft commander or Captain as it was called. He was trained by the US ARMY Air Corps as a twin engine instructor. As I mentioned, as an older guy he may of flown fewer missions then some who did not have some operational duties from time to time also.

He related a couple of interesting missions, no bailouts or crashes, one single engine landing that got pretty sporty because the hydraulics were not switched over to the remaining engine until the last moments of final approach. It apparently had been trimmed up pretty well and they did not realize their error on the checklist.

He also was involved in a mission flying Chinese gold away from the advancing Japanese.

He did visit a fellow who worked for him with CNAC when he visited Hong Kong on business in the mid 70's. He saw him on the cover of FORTUNE magazine when he came home. The indication was that he was one of the wealthiest men in the then colony.

He had the hand eye coordination to continue playing competitive tennis until he was about 82. In retirement in Pinhurst, NC he played club and state championships. In NJ he played out of 2 clubs and retired several municipal cups some with partners and his son Jeff in Montclair,NJ.

He did not tell war stories unless prompted to do so by me in private. He was completely honorable and given vast responsibilties by the bi-state agency, his church, and charieties.

He was married from 1965 until 1993 to the younger sister of my uncle Admiral Alan B. Shepard JR. He flew the first Mercury and third successful moon landing. Shepards were originally from East Derry, NH. We keep a summer place there still.

Thanks for noting his interest in bridge. He partnered with a chap with Master's points in NE Canada at the Pan Am base before India and China. He said he had to shape up his game a little to do so with that player.

Warren's home was Bronxville NY before Harvard (1934). In the mid to 30's NY State, the war, Montclair, and he and his second wife retired to Pinehurst NC in 1980. Very sad to be a widower twice, but he soldiered on as a wonderful grandparent to our kids.

He passed on in New Jersey and is missed by many in addition to his four children, their spouses, six grandchildren and now wonderfully a total of 8! His son Jeff is a high energy 1951 model with girl and boy pre-schoolers who is still winning tennis trophies when time permits.

Thanks for your work on the site, good luck,

David Sherman
Houston, TX


---
May 3, 2006

Hi Tom,

Wrote a long note to Arnold (Schilperoot?)tonight as a draft for your site.

Will check my Webster's Upstairs on that period for town of this engineering school. I am thinking Jersey City, NJ. I believe Newark became a branch of the State University Rutgers since then.

I left the NY area in October 77 in a new, that spring, white Datsun 280Z. Drove a white 83Z Camaro back through north to a family summer place in NH about 91. Not many visits, one in the Chevy to see Holly Lovejoy and Warren at that time in Princeton. He had his Steinway grand piano in the living area and was in a room previously named "Holly" right next to it. We shined up his shoes and hung out with him including watching the deer that have overpopulated many parts I am told of NJ.

Go ahead and add me to your list, I do not see any spam happening from this. Will send you more for the site.

Still looking for a pilot who knew Warren was flying regularly before the tail end of the war. Perhaps if we do not find one before your re-union to convince you to add him to the list, you could bring it up, or note it in your mailing. I wish I had his log book(s), he did too, flooded in first home with all his India/China gear. His leather jacket made it. Never heard of that after NJ move to NC. Had band aid over name tag which I removed. Only saw him put it on once to rake some leaves on the property. He must of been in the attic bringing down some winter clothes and carried it along. A snug fit but he had it zipped up. Pretty lean as were many in those years.

Thank you,

David B. Sherman
713-861-1337


---
December 26, 2006

Tom - here is a draft for Jeff to look over) It needs some work. (We will rewrite the 48-2000 career part at another sitting)

We had a nice service for Warren in East Derry, NH this summer. He is beside his wife Polly on a hill facing the sunset behind a very old white New England Church.

His first wife Jean served in the Philipines with the invasion I imagine, she was not a prisoner. Her name was Jean Caldwell Lovejoy. She died when my step sister Holly was just a young baby.

Warren had a first cousin who was a W.A.S.P. She was killed in Texas when her wingman knocked her down. I saw her name on the monument on the story about the WASP's on the History Channel. Her father, Warren's Uncle Frank Lovejoy, supposedly was involved with selling Mobil oil and/or fuel to Charles A. Lindbergh for the famous NY to Paris flight.

His younger brother Jack Lovejoy, also a Harvard graduate served as an officer in the USN in the Pacific.

Warren's second wife, my mother Polly had two Uncles who were MIT Engineers who were in the USNR Flying Corps in WW 1. The younger was designing airplane weapons systems. Her father served in France in WW 1 and retired a reserve Lt. Col after WW2. The younger Uncle was back in and a Lt. Cmdr. for WW2.

My mothers first cousin was killed in Florida late in his training in a Corsair with the Marines.

Her brother graduated in June 44 from Annapolis (Class of 45) and served on the destroyer Cogswell reluctantly but Annapolis grads could not fly for a year or two after graduation.

The Cogswell was refitted with Radar and did picket duty for Halsey's fleet. It also distinguished itself during the famous Typhoon and was honored by being the US ship in Tokyo Bay after the surrender.

Her brother retired a Rear Admiral and was known for being the first American in space and the commander of Apollo 14. Alan B. Shepard Jr. Seen most often on TV hitting the golf shot on the moon.

Warren was a twin engine trained by the Army pilot, but not offered an Army commission. He told me he logged over 800 hours of total time, none of it after the war ended when he was CNAC operations in Shanghai.

He flew a Piper Cub, Stearman and WACO in training. The twin engine types I have forgotten.

In earlier notes I have explained his delay getting into flight training having a surgical procedure to qualify. I think his age went against him -- Harvard 34, being in his later 20's. They were thinking of making him an instructor, and I imagine a lot of slots filled by bomber pilots who survived their tours in Europe.

He was in Newfoundland operations with Pan Am for the Clipper flights across the Atlantic. They drove boats to flatten the water out a little sometimes and check for debris.

He moved east to India to serve first as a pilot and then in operations. After the war he was the operations manager for CNAC in Shanghai. He returned home still moving east probably before the end of 1947 in a very slow crowded boat.

Warren was operations manager for California Eastern Airlines in Newark a cargo operation in DC-4 aircraft. He began his New York Port Authority Career after that venture failed.

Warren had a neighbor when he retired in Pinehurst, NC who was a P-47 Thunderbolt pilot who built huge flyable models of WW2 fighters including his own. He had some time in the P-51 as well. Wingspans I would guess exceeded 40 inches maybe another half a foot. He and Warren both got the itch to fly again and the neighbor did in fact get his ticket again.

I encouraged Warren to stick to dual in VFR conditions as he was in his late seventies for the sake of my mother. He did pay for a few flights and got some other rides with friends there. I had enough time myself to convince him that it was pretty busy up there for a single pilot.

Warren and Polly have eight grandchildren. Jeff, Warren's son has a girl who will only be 6 in January and a son 3 in July. They both born after Warren's passing but he lived to see him married at age 48 on his honeymoon to a wonderful lady. Seven of the eight and their four children there to honor him this August, 2006.

(David Sherman)



If you would like to share any information about Warren Lovejoy
or would like to be added to the CNAC e-mail distribution list,
please let the CNAC Web Editor, Tom Moore, know.
Thanks!