WILLIAM NEWPORT (1911 - 2002)
"Bill"
(Mechanic)
(CNAC 194? - 194?)


Bill was an aircraft mechanic.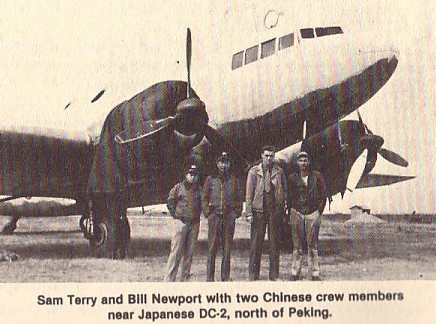 Sam Terry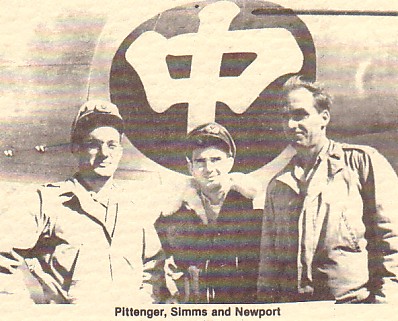 Pittenger, Sims
(From Wings Over Asia Volume V
---
From a 1960's CNAC Personnel List:
Newport, Bill fe (flight engineer)
PAA, San Francisco

January 31, 2007

Tom, I will be delighted to sign the book for you, and you have my permission to excerpt anything you want from the book. You may recall that I wrote about Bill Newport being our boss while we were stationed at Pearl City. That's the same Newport who worked in maintenance for CNAC (he was on a temporary assignment from PAA) for a couple of years. He came back to PAA and flew for a few years and then moved to Hongkong where he prospered.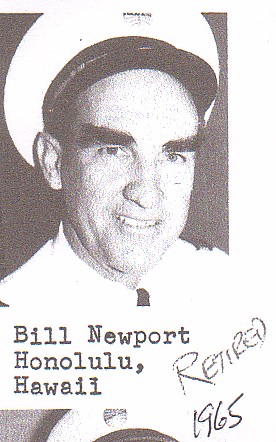 Thomas Kewin
Author of "The Pam Am Journey"
E-mail thkewin@comcast.net


---
September 2, 2007

Tom,

Just to let you know that Bill Newport lived in Hong Kong for many years. The travel agency at the Hong Kong Hilton was his. He did very, very well here. Unfortunately, the hotel was torn down in 1994.

In his last years Bill was the "doyen" of the Shek-O Country Club in Hong Kong and had a house on the course. He passed away three or four years ago and a small part of the Shek-O Club was renamed "Newport's Corner" in honor of Bill. He retired as a pilot and had a agency in Hong Kong for Pan Am tours. He also did a number of R & R contracts for the US military. As he aged in HK he wound down his businesses and lived alone in this large house overlooking the Shek-O Golf Course. He had children one of whom may have been named Bill also, but I am not sure. His kids now live in the States.

("doyen" -- The senior member of a body or group, or one who is knowledgeable or uniquely skilled as a result of long experience in some field of endeavor.)

I had several cocktails after golf with Bill around the Shek-O pool, but didn't know him well. By the time we met, he had aged considerably.

Next time I am out playing golf I'll ask around as to where he is buried and his DOD. With respect to the burial, something tells me his ashes we scattered around the Shek-O point, but I'll confirm this.

Provided by Tobias Brown, Hong Kong historian and archeologist






If you would like to share any information about Bill Newport
or would like to be added to the CNAC e-mail distribution list,
please let the CNAC Web Editor, Tom Moore, know.
Thanks!



Background music to this
page can be controlled here.
"We'll Meet Again"