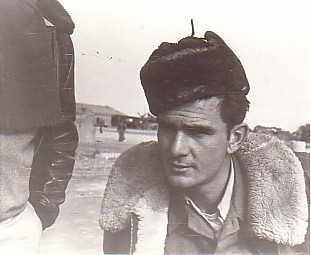 194? - but where???
Are you standing next to Chuck Sims?
(Photo Courtesy of Tom Moore)
---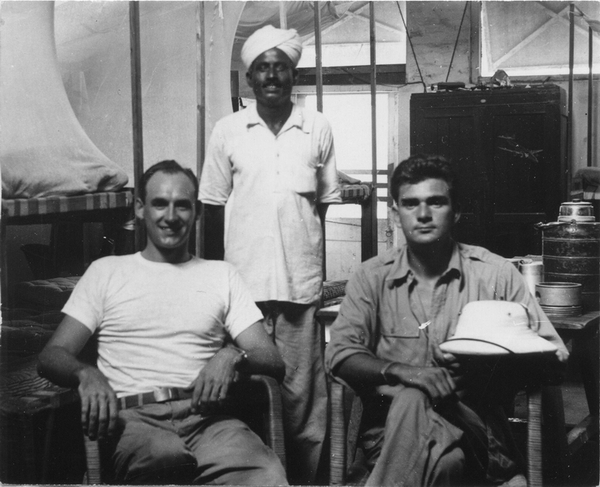 Capt. Joe Michiels, Flight Engineer Chuck Sims, and Bearer "George"
in CNAC barracks at Dum Dum Airfield Calcutta 1945
---
The following biographical information came from PAA Captain Gene Banning:
"Charles M. "Chuck" Sims joined Pan American at San Francisco in 1942, in maintenance, later served in Honolulu. He became a flight engineer in January 1945, and was transferred to CNAC at Calcutta in March, 1945. First he was sent to Curtiss-Wright C-46 training at Buffalo, NY. At Calcutta he, along with Fred Pittenger and Bill Sanford, then trained CNAC mechanics on servicing and repairing C-46 aircraft, which CNAC was receiving. He recalled, "Soldinski had just left CNAC to return to Pan American, but Arnold Weir and Art Pendergast were still there." After the war with Japan ended, Chuck was sent to Hankow as maintenance manager to reopen the station. The first job was moving the Chinese Government from Chungking back to Nanking, using six C-46s. This took some months to complete, then in March, 1946, he was sent to Shanghai which was reopened. "I recall that Hankow and Nanking were in a frightful condition, from all the bombing and fighting, but Shanghai was a paradise compared to those cities."

Later in 1946, he was sent to Manila to select and purchase aircraft parts and equipment from the U.S. Military Surplus sales. He remembered that Hal Sweet was also there, and Moon Chin as well. In 1947, Sims was returned to Pan American, in New York as flight engineer on Constellations. In 1949, he was sent to join Gene Banning in London, to fly Constellations on the RTW (Round-the-World) service between London and Hong Kong. These trips took two weeks, stopping in ten or eleven countries. The first DC-6Bs replaced Constellations in 1952. When 707 jets entered service, he returned to New York, and he retired in 1978 as a B-747 flight engineer. He joined the CNAC Association, and also helped organize and manage the Pan Am Golf Club from his Miami home, until his death in 1999.



If you would like to share any information about Charles Sims
or would like to be added to the CNAC e-mail distribution list,
please let the CNAC Web Editor, Tom Moore, know.
Thanks!