FRANCIS JOSEPH MICHIELS (1920-1982)
"Joe"
(Pilot)
(CNAC 1945 - 1948)
(Captain - ???)


The following photos and information come from Joe's family: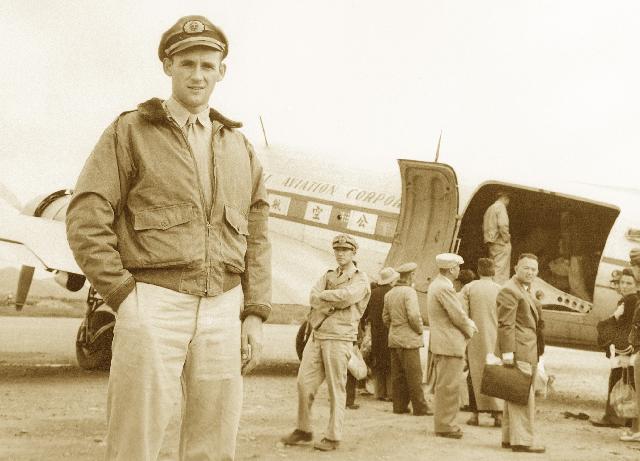 Capt. Joe Michiels
(Felix Smith took this picture, later sent it to Isabel Michiels).


Francis Joseph ("Joe") Michiels was born in Belgium and immigrated to the USA as a child with his parents. He learned to fly in the CPT (Civilian Pilots Training) program at Glendale Junior College in Southern California. He then taught Air Corps cadets at Cal Aero in Ontario, California and RAF and US cadets at War Eagle Field in Lancaster, California. Joe was hired in 1945 by Pan Am to fly for CNAC out of India. In September 1945 he reported to New York and flew to Calcutta to begin his CNAC years.

Joe is remembered and credited by many for saving the lives of 17 passengers and three other crew members on that tragic "Black Christmas" in 1946, the night 72 other people died in 4 crashes when bad weather closed Lunghwa airfield. Joe managed to safely land his C-46 with the help of Ground Control Approach at Kiangwan.

Joe liked the Chinese people and was particularly well liked by Chinese crewmembers and his other CNAC colleagues. In 1947 his fiancée, Isabel, joined him in Shanghai and many CNAC friends were present at their wedding. Their oldest son was born in Shanghai in 1948.

When CNAC evacuated to Hong Kong, Joe moved his family back to California and started his second career as a farmer. He later had a third career in real estate. He was active in community and youth affairs. Joe died in 1982.

Joe Michiels was a big guy. He will always be known for his straightforward manner, for knowing his stuff, and for his great sense of humor.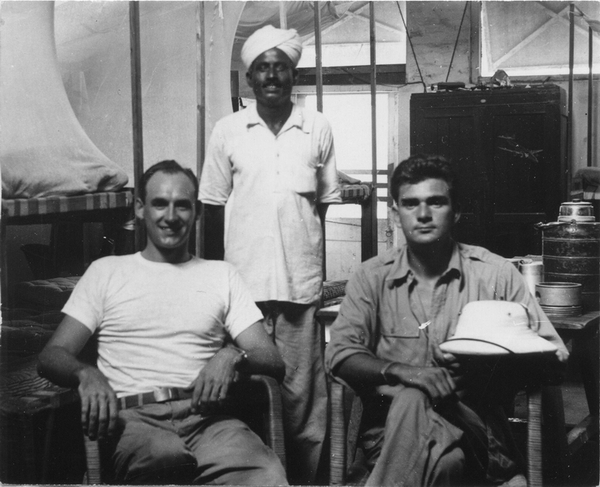 Capt. Joe Michiels, Flight Engineer Chuck Sims, and Bearer "George"
in CNAC barracks at Dum Dum Airfield Calcutta 1945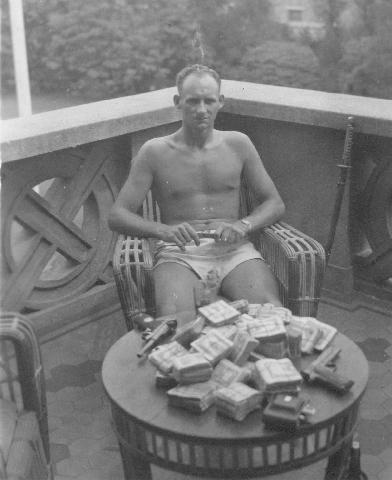 Joe Michiels on balcony at "Boys Town"
Shanghai 1946 or 1947
(believed that, at time of picture,
CN (Chinese Nationalist) currency pictured worth less than $50 US)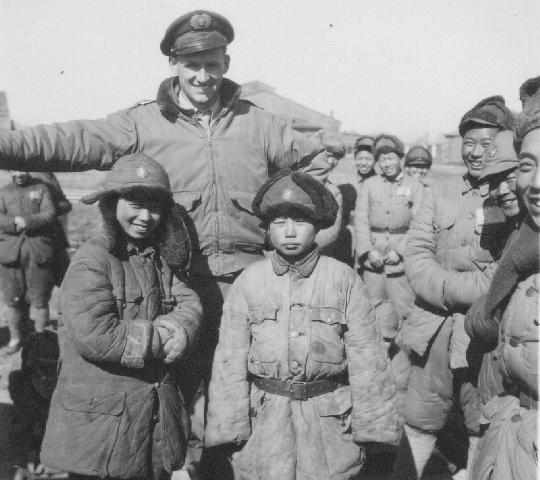 Capt. Joe Michiels with some "replacement troops"
being flown into North China to hold off Communists in 1947
---
Here's Joe's family:

Isabel Michiels -- Joe Michiels' widow, in Lancaster, CA. imichiels@msn.com
Bill Michiels (son #1 of Joe and Isaabel, born in Shanghai 1948) Northridge CA. bill.michiels@gmail.com
Steve Michiels (son #3 of Joe and Isabel), Santa Rosa CA. michiels@sonic.net
Madeline Michiels Reynolds (daughter of Joe and Isabel), Lower Dover Field Station, Belize madereynolds@gmail.com
Joe Michiels (grandson and namesake of Joe Michiels), Seattle, Washington joemichiels@gmail.com






If you would like to share any information about Joe Michiels
or would like to be added to the CNAC e-mail distribution list,
please let the CNAC Web Editor, Tom Moore know.
Thanks!


Background music to this page can be controlled here.
At Isabel's request, here's "It Had To Be You" by
Benny Goodman Plays Fletcher Henderson