Some documents and newspapers spell Arnold's last name as "Weir". But, we are in contact with some of his relatives and the correct spelling is "Weier" not "Weir".

The parents of Arnold Weier were Gustav and Clara Weier. Arnold was born in 1908 according to Michigan census records of 1910. His grandparents were from Prussia.

---
December 29, 2007

Tom, your warm words inspired me to look beyond CNAC materials, especially when I read Moon Chinís recollection that Mr Weier was already in China before 1933. I found four items that relate to Arnold Weierís very early involvement in the commercial aviation business in China; in fact, he was an important pioneer connected with the first US-aided, Chinese government-funded airline that paralleled the CNAC.

It appears that Mr Weier arrived in China in early 1929 with two other pilots and four Stinson aircraft that had been ordered by Chinaís Ministry of Communications. Iím not sure how it all shook down, but a rival airline, the CNAC (a union of the Curtiss-affiliated Aviation Exploration Inc. and the Chinese government) came into being just about the same time as the airline with which Mr. Weier was involved, and the CNAC was allied with the Ministry of Railways. There was a mighty battle between the MOC and the MOR over which bureau should be running a national airlineóthere was a lot of money and prestige at stakeóand the railway folks ultimately won out (with Dr Sun Yat-senís son, Sun Fo, as president). The MOC airway apparently fell by the wayside, and I imagine it was then that Mr Weier became involved with the CNAC instead. Itís all very murky!

From a Shanghai newspaper: China Weekly Review, 15 June 1929, p. 129

Four Stinson-Detroit airplanes, recently purchased by the Ministry of Communications for the purpose of establishing an airline mail and passenger service between Shanghai, Nanking and Chengtu, Szechuan province, are now being assembled and according to report this week they are to be placed in service before July 1. The pilots who accompanied the planes to China are Capt. W.R. Henderson, Capt. J.B. Machle and Arnold Weier, all of whom have been engaged in the US Air Mail Service. The planes are being assembled at the Hungjao Airdrome in Shanghai.

Please see also attached some news articles from the Shanghai-based North-China Herald. Sorry, itís a rather fat file and probably inappropriate for your purposes, but likely of interest to the family.

Tom, your website just gets better and better. Every time I look at it, thereís some new and delicious item or photo I havenít seen before. Many thanks for all your hard work and dedication.

Patti



North-China Herald, 15 June 1929, p. 431




North-China Herald, 13 July 1929, p. 54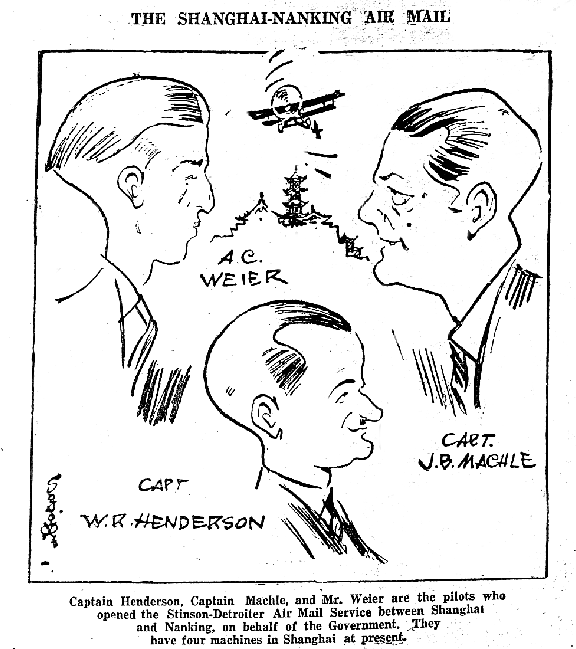 North-China Herald, 13 July 1929 (continued)




North-China Herald, 28 December 1929, p. 511


---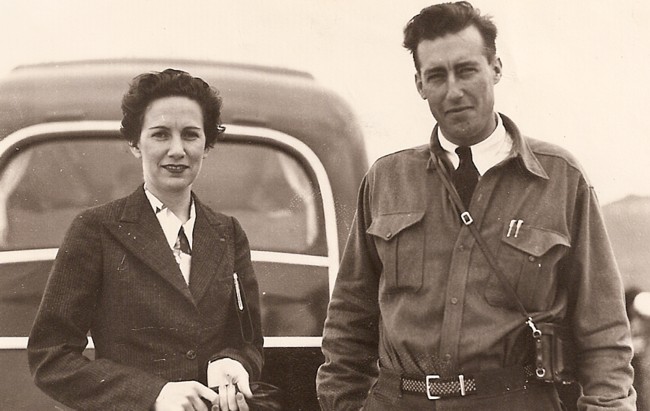 Arnold and his wife, Pat
Kai Tak Airport, 1938
Courtesy of Shirley Mosley, daughter of the Wilke's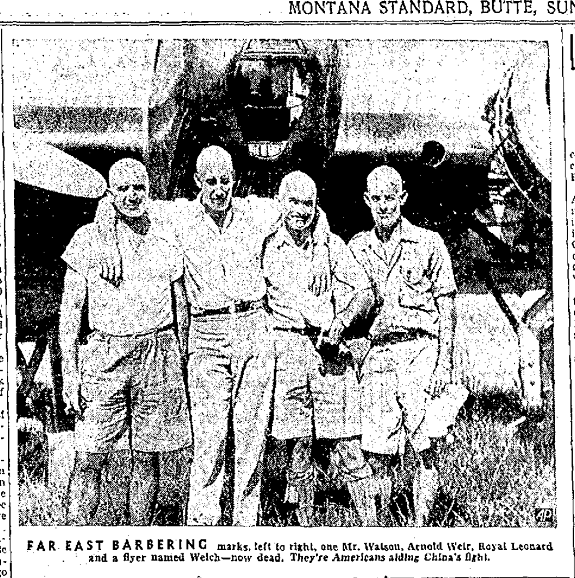 Montana Standard, 28 July 1938
(Watson, Arnold Weier, Royal Leonard, Welch)
(Courtesy of Patti Gully)


December 29, 2007

Hello Tom:

I enjoy those puzzles trying to identify an airplane (see above photo) but since my main knowledge is primarily USN 1930s I have to make an educated guess for this one.

I will stick my neck out and say it is a Russian "S.B." built by the State Factory, Plant No. 22 at Fili near Moscow. It has Wright Cyclone engines. One item in Jane's says it is based on the Douglas DC-2.

Bill


---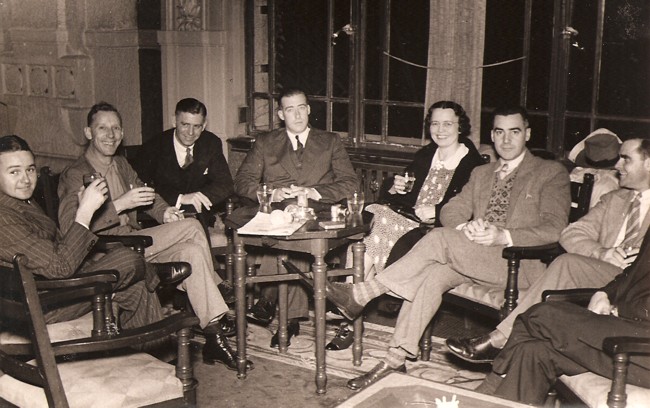 1938 or 1939 at the Peninsula in Kowloon
left to right
Chuck Sharp, Scotty Burmood, Unknown, Arnold Weier, Kathryn Wilke, Burt ??? and Woodie Woods

Now let's see those faces a little bit closer.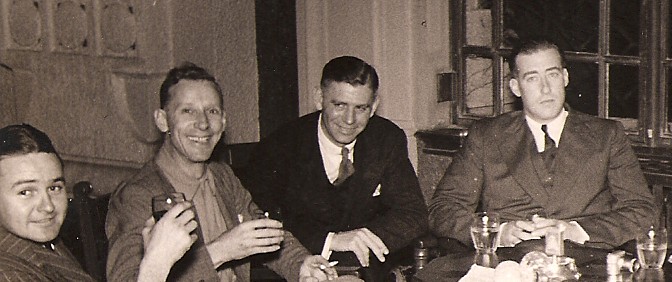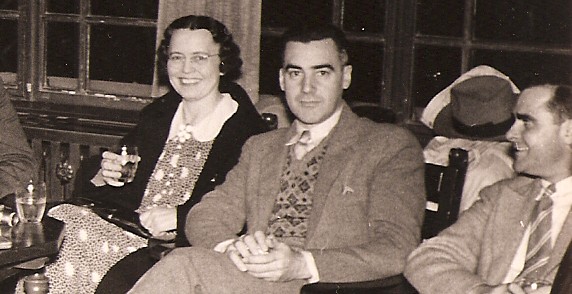 Shirley (Wilke) Mosley remembers...
"It was not unusual for a group of CNAC people and others to congregate at the Peninsula in the evenings to have a drink and discuss "world events" or whatever, before dinner. Sometimes I was in the lobby having tea after school when they started coming in and they would sit down with me (I was 11 or 12 years old). My mother would soon join the group, as would others who lived in the hotel and they would have their social hour.

My dad was stationed in Chungking when Mom and I lived in Hong Kong and we only saw him every six months or so; one time it was almost ten months between visits. The pilots were always very helpful in that they hand-carried the letters we sent back and forth, and once in a while we would get a picture of him that they had taken."


---
Arnie was an American Supervisor and mechanic. As such, he was involved with the building and acting as co-pilot of the DC-1 1/2 in 1941. "Although it (the new wing of the DC-2 1/2) was three feet short, Arnold Weir copiloted the bastard to Hong Kong, using a sixteen-inch monkey bar to hold the control bar level."



From "Wings Over Asia, Vol. IV" by Hugh Woods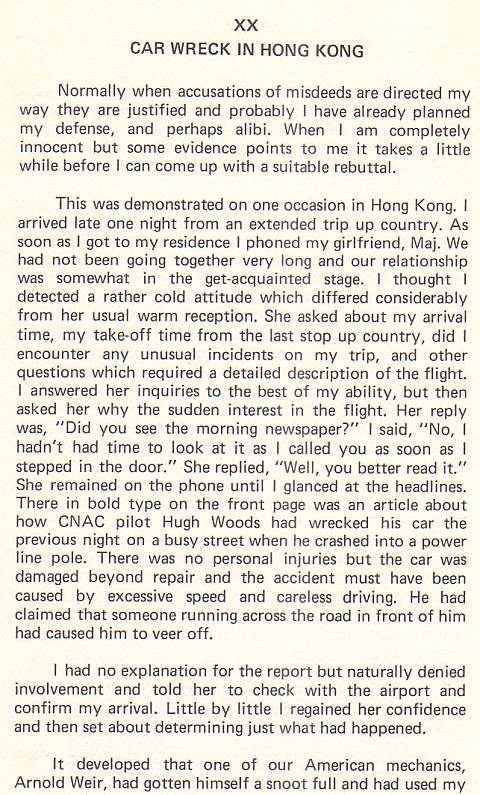 ---
Arnie died of a heart attack in Kunming, China.


---
December 28, 2007

Moon Chin remembers the following about his good friend, Arnold Weier:
"I started with CNAC in 1933. Arnold had already been with CNAC for a couple of years. He was a tall fellow. I remember seeing him after the War in Shanghai. In 1946 I had an apartment on Nanking Road. I was in a taxi on my way to my apartment when I saw a group of people gathered around and realized they were gathered around my friend Arnold. Arnold was having an argument with a rickshaw driver about his fee, that Arnold didn't have. I paid the rickkshaw driver and we went to the hotel. I never saw him again after that, but did hear that he had a heart attack and died coming from the airfield at Kunming to the city of Kunming. I also heard that Arnold had joined CAT (Civil Air Transport) in either 1946 or 1947.
---
December 28, 2007

Tom,

Arnold Weier, who was Captain Leonard's mechanic, mentioned in his book "I Flew For China". My wife, Alice, is related and last saw him about 1947 in Pasadena, Ca. as a little girl. He took her and some of her family flying. He had mentioned to my father-in-law, just before returning to China, that he might not see him again. Arnold's belongings were returned from China at a later time but no word of what ever happened to him.

Attached are the photos of Arnold that we have. The family was listed in Mt Clemens, Macomb Co., Michigan, very near to where his father Gustave and my wife's Weier family grew up. I have just this week discovered a distant Weier relative still living there and will see if he can visit the County Courthouse for exact info (perhaps a birth cert. copy). I will continue to look for living relatives of his sister Goldie Weier Volker listed in the 1930 census in Mt. Clemens, Michigan.

Gene (Deal)
E-mail genenalice@yahoo.com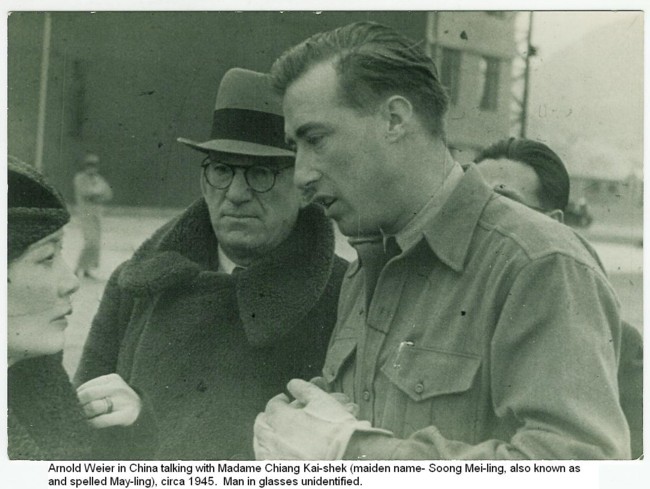 (The man with glasses is W. H. Donald.)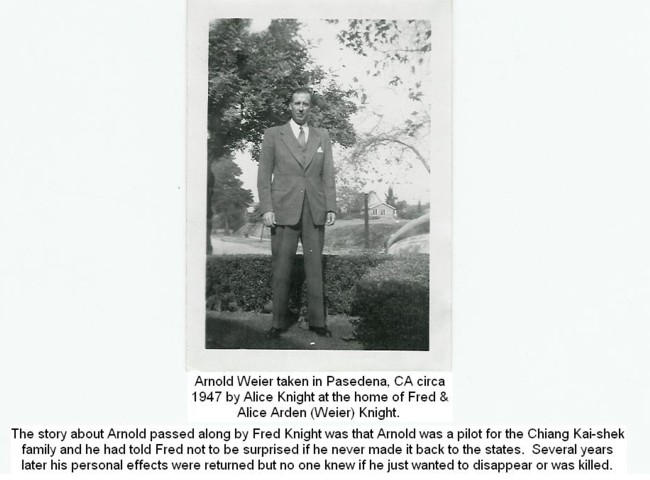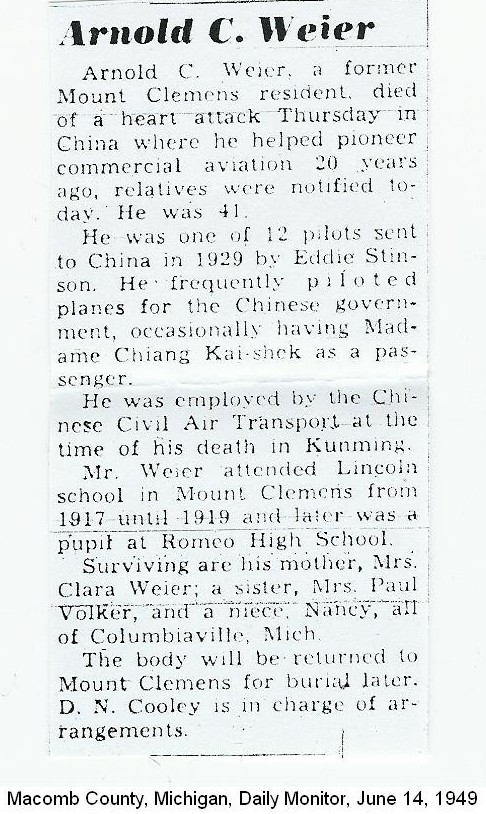 (Courtesy of Gene Deal)

If you would like to share any information about Arnold Weier
or would like to be added to the CNAC e-mail distribution list,
please let the CNAC Web Editor, Tom Moore, know.
Thanks!