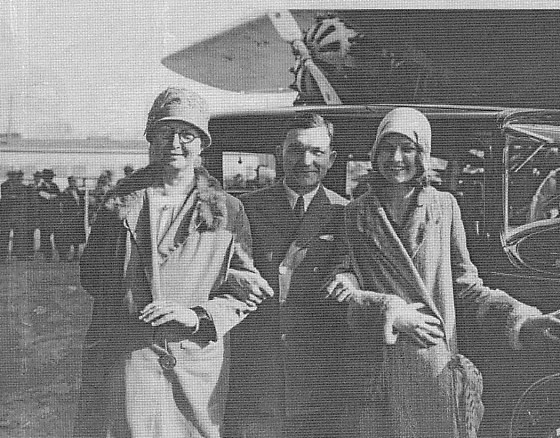 Royal Leonard and family at Municipal Airport - about 1930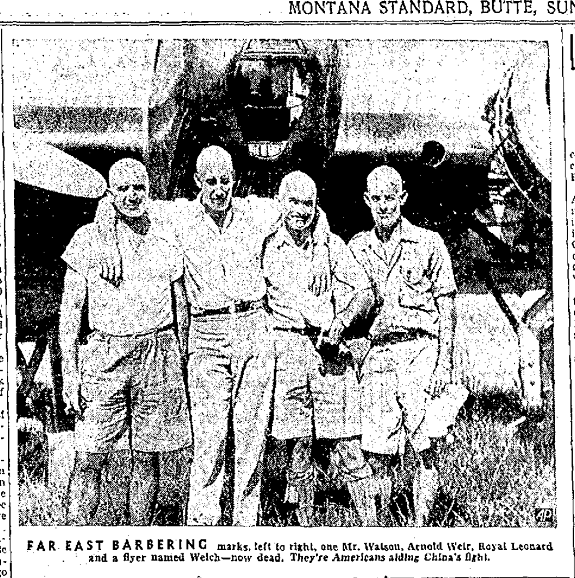 Montana Standard, 28 July 1938
(Watson, Arnold Weier, Royal Leonard, Welch)
(Courtesy of Patti Gully)
Hong Kong Sunday Herald, 18 September 1938, front page (above the fold)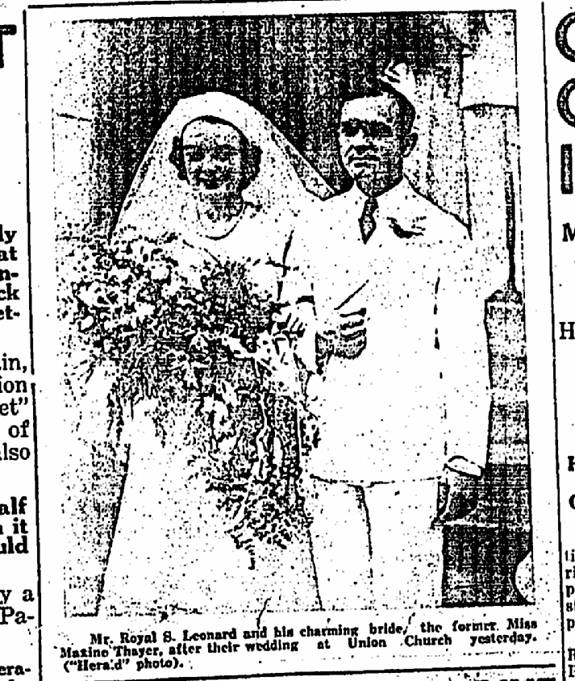 Hong Kong Sunday Herald, 18 September 1938, p. 7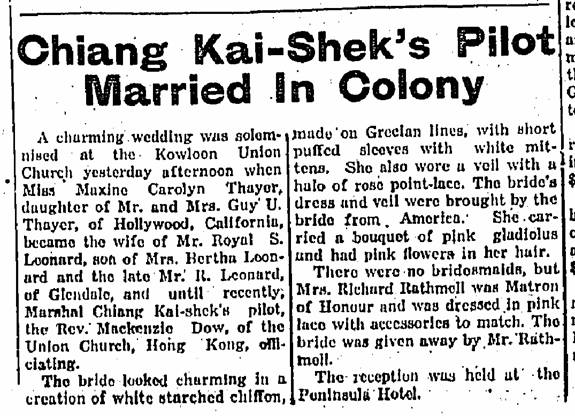 Hong Kong Daily Press, 19 September 1938
(sorry about the picture, but it doesn't get any better)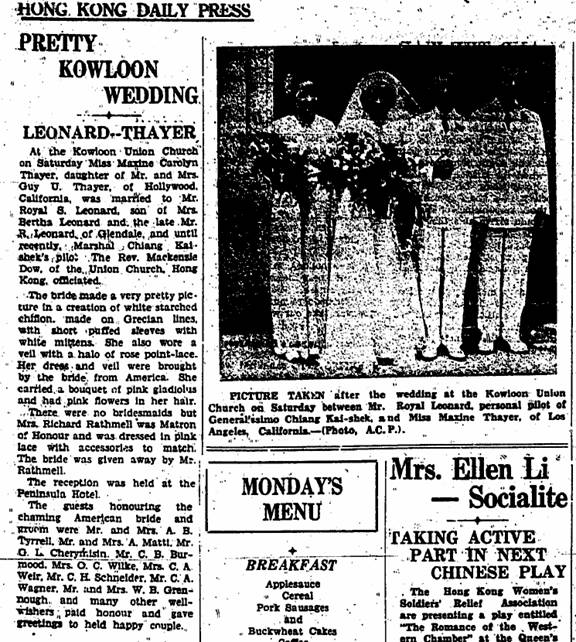 (Research and scans courtesy of Patti Gully)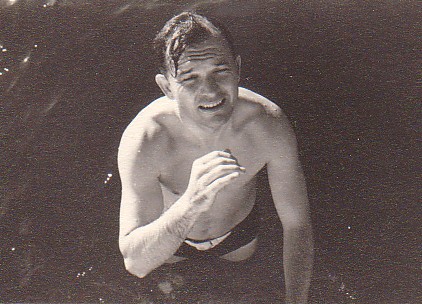 Royal - Hong Kong, 1939
On November 13, 1939, in Kowloon, at St. Andrews Church,
Royal was best man at my Aunt and Uncle's marriage -- Georgi Steele and Emil "Scotty" Scott
Ceremony was also witnessed by Walter Campbell "Foxy" Kent.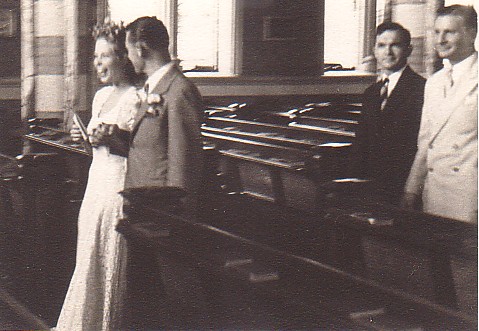 Georgi, Scotty, Royal and Foxy Kent.
More of the wedding
Katy and Oscar Wilke arranged the reception at the Peninsula Hotel immediately following the wedding.
---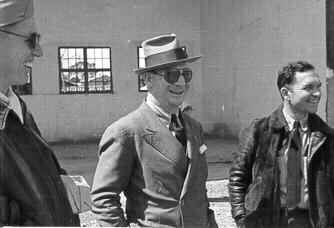 Left to Right
John Williams, Foxy Kent and Royal Leonard
Kunming - 1940
(Photo Courtesy of Tom Moore)
---
Royal wrote a book about his adventures called, "I Flew For China" (1942).
Another book worth reading.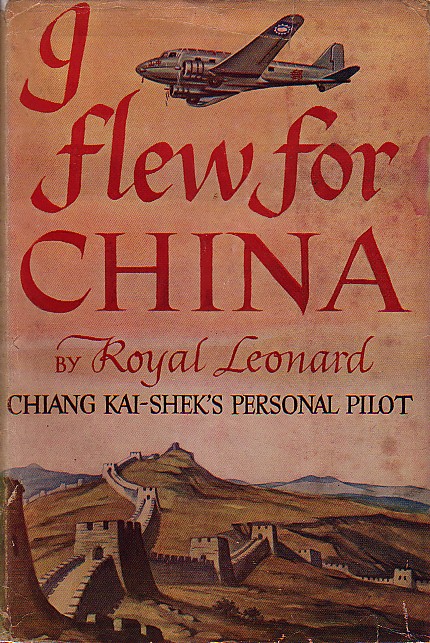 ---
From Gene Banning's list of 8/31/00:
"from TWA to China 1935, flew for Chiang & Soong, believe joined CNAC in 1936; believe left CNAC about end of 1945 (actually 1943); died in U.S. 1962."

---
And from another source:
From 1935 until 1941 Texan and ex- T. W. A. pilot Captain Royal Leonard flew from one end to the other of the Chung-Hua Min-Kuo, the Republic of China. For most of these six years, Leonard was the personal pilot of the two most prominent men in China - Generalissimo Chiang Kai-shek and the Young Marshal, Chang Hsueh-Liang. Flying over the most difficult terrain in the world, Leonard piloted Madame Chiang Kai-shek, Chinese generals and diplomats and other notables from many of the world's major nations.

---
Royal was buried at Forest Lawn Cemetery, Los Angeles, California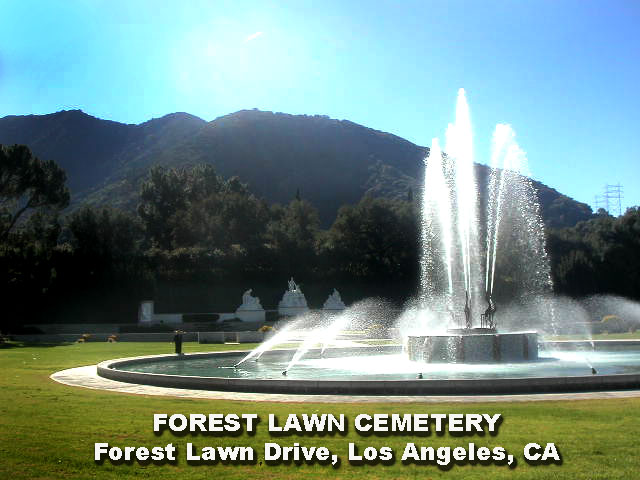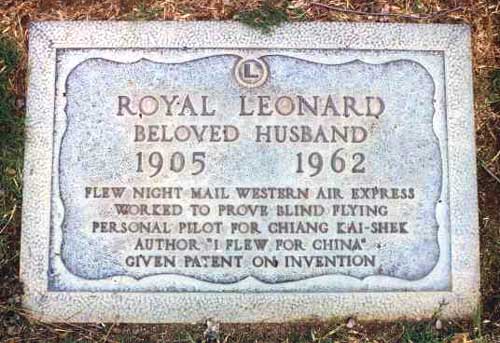 ---
Mr. Barry Martin has been working on Royal's biography since 1989. If you have anything you would like to contribute toward this effort, please contact Barry:

Barry Martin
1077 Castec Drive
Sacramento, California 95864
USA
Telephone 916-489-5293
E-Mail marcb76@aol.com


January 13, 2006

Hi Tom,

Bond hired Royal the first time effective Oct. 1, 1938 to make night flights between Kai Tak and Chungking. I doubt whether Royal was checked out at that time. He was already familiar with the planes and airfields used by CNAC. Since early 1937, Royal had been flying Chiang Kai-shek's DC-2 nicknamed The Flying Palace. In Aug. 1937 following Bloody Saturday in Shanghai, Royal had been paid $1,000 to fly a CNAC DC-2 from Lungwha Field under the noses of Japanese fighter pilots. CNAC had canceled flights after Hugh Woods was shot down on Aug. 24, 1938. Royal was specifically hired to train Sharp and resume night flights in and out of Kai Tak. The CNAC board of directors at a meeting In Chungking on Nov. 17, 1938 ratified Royal's hiring at a $1200 monthly salary. His salary was reduced to $450 monthly when Sharp, whose only night flying training and experience had been in Texas and not in proximity to mountains, felt comfortable flying at night around Hong Kong and Chungking.

In March 1942, Royal while in the U.S. resigned from CNAC because he had not been paid his November 1941 salary or four months accumulated vacation pay, and Pan Am had not promptly reimbursed hospital expenses which it had agreed to pay on his behalf. After letters from Bond that nobody had "done a better job" in China than him and "you have a place reserved" on Pan Am's seniority list and a letter and telephone call from Pan Am V.P. Bixby, Royal went to Miami in late May 1942, and between June 25 and July 12, 1942 piloted a B-25 from Miami to Tehran for Pan American Ferries. He then traveled to Calcutta, carrying "excess baggage" for the Generalissimo and Madame. When Royal returned to India in July 1942, he was checked out over the Hump by Robert Pottschmidt. In probably later May 1943, Sharp demoted Royal from the Calcutta-Chungking passenger service and assigned him to the Dinjan-Kunming freight run. I don't know the date of Royal's last Hump flight. Royal left India on Oct. 10, 1943 and ten days later his provisional Pan Am seniority status was canceled. My best guess is that Royal stopped flying over the Hump in approximately June 1943. I don't know how many Hump flights he made. His log book is missing.

Royal played the cornet in a couple of high school bands.

Barry



If you can share any information about Royal Leonard
or would like to be added to the CNAC e-mail distribution list,
please let the CNAC Web Editor, Tom Moore, know.
Thanks!