From Wings Over Asia Volume II Copyright @ 1972



"MY STORY OF THE DC-2 1/2
by Zygmund Soldinski


Really it is an episode rather that a story, and as time marches on, it gets harder and harder to recollect all the details.

CNAC by virtue of circumstances, based their main maintenance base in Hong Kong, under my management. Airplanes would originate out of Hong Kong for the Chinese hinterland and Burma, always grossed out and over-grossed as the pilots well knew and understood. Fortunately, we (CNAC) had without a doubt the world's finest flight and maintenance personnel, who were endowed with an abundance of intestinal fortitude -- "Guts", as this story will bear out.

This particular flight in question started out as a very routine flight from Hong Kong into and through the hinterland of China. Capt. Woods was the Pilot. As always he had a full gross load plus. Before leaving chungking for Chengtu, he was advised and was aware that the Japs were roaming the skies in that area.

I might elaborate some on the "Ball" at this time. The Chinese could not afford the air Raid Warning Systems that we had in the United States, excepting a few at the larger cities like Nanking, etc. Those of course were lost to the Japs under occupation. However, ingenious as the Chinese are, they devised the "ball" system and it was very effective. They had a pole or tower set up along the heights, with a pulley and rope. As soon as the Japs would take off from Nanchung or any other field, the first observer would hoist a Ball aloft; the man on the next height would sight it, and he would heist a Ball and so forth on whatever route the raiders would take. So, long before the Japs would get to a city, it was aware that a raid was in the making. At first the Black Ball was raised aloft. Once it was ascertained that the raid was meant for a particular city, airport or other area, a Red Ball would replace the Black, and the populace would take off for the air-raid shelters. Some of the cities, especially the larger ones, would have a siren or two for night use, and to supplement the Red Ball, also the Chinese were very adept in making a terrific din with metal gongs.

So, as Capt. Woods headed for Chengtu, he decided to land at Suifu, a small field where we had a radio and field office to get any information relative to the Jap activity. Fortunately for him and his passengers it turned out to be a blessing. The Red Ball went up in Chengtu, as somehow the Japs had sneaked through the area warning system undetected. They got the word there at Suifu and almost simultaneously the Japs were overhead.

Woody hurriedly led his crew and passengers into a wooded area away from the airplane. Sure enough, the Japs spotted the airplane and immediately started bombing it. A number of bombs were dropped; one a hundred (100) Kilo struck the right wing, went through it and exploded under the wing. Needless to say, the wing was blown to jagged splinters. The rest of the airplane was also badly damaged. As a matter of fact, hardly a square foot of it escaped extensive damage.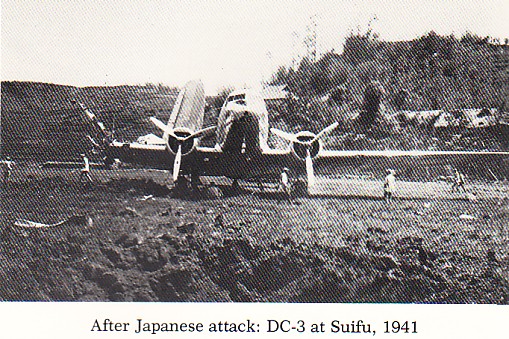 (Photo Courtesy of William Leary)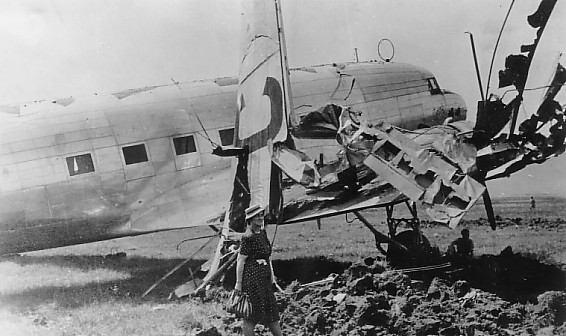 Mrs. Robert Ellsworth Brown
standing next to the DC-3 which was to become the famous DC-2 1/2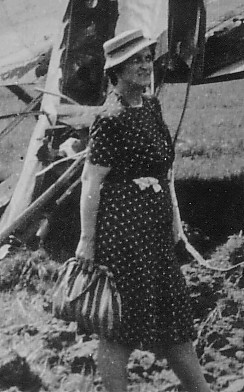 Woody and the crew used good judgment, as they moved the damaged airplane to a wooded spot and had it very effectively camouflaged. A Mrs. Brown, one of the passengers took some excellent pictures of the plane.

Woody got the information to us in Hong Kong. We knew the Japs would not be satisfied, but would return to destroy the airplane, so time was of the essence. In the meantime, Capt. Royal Leonard was dispatched from Chungking to Suifu to pick up Woody and his crew and passengers.

As soon as I had all the information and facts in hand I started the "think machine" going. P.Y. Wong, our managing Director, came to confer with me at Kai Tak. Chuck Sharp ("Apple Dumpling"), our Operations Manager and Chief Pilot, was out on a trial and as always and usual, Bond was never present in a crisis. So, it was up to me and P.Y. I want to say here that P.Y. Wong was one of the most considerate and kindest men I have ever had (the) opportunity to work with or met in my life. He was considerable shook up over this incident.

The airplane was just about priceless. We had to nurse and care for every one like new born babies. So, P.Y. was concerned. How were we going to get the airplane out; what were we to do for a wing? And, even if we did have a wing, how could we get it to Suifu? The only way open was to ship to Rangoon and over the Burma road. not only would that take months, but it would be impossible to move the wing over the road.

Since P.A.A. was our purchasing agent, I wired for Mr. Bixby asking him to contract Douglas at once and start a wing for us. But the unpleasant rub was the neutrality law. Airplanes or parts could not be shipped abroad U.S. ships. Bixby found a foreign carrier to transport the wing to Hong Kong. Understandably it would take time before the wing could even arrive at Hong Kong.

In the meantime, P.Y. and I went into the bar. (In Hong Kong, we had a bar in the hanger--the British like their comfort)--had a couple, and all the time the wheels were spinning in my head. I told P.Y. I would work out something and I'd let him know; what?

I walked out into the hanger. We had a DC-2 going through overhaul. As I looked at one of the wings, I couldn't help but wonder. it was certainly worth a try and a trial. we had a DC-3 on the line being serviced, so I ordered it into the hanger and directed that the right wing be removed. it was but a very short time later that we were fitting a DC-3 with a DC-2 wing to its center section. We bolted it in place, hooked up all the control cables, electric lines, etc. It seemed too good to believe! I called a meeting of our Chinese engineer, Loy Locke; our highest ranking American Supervisor, Arnold Weier and our Chinese forman and lead mechanics. I explained to them that here we had a substitute wing, but no time to spare. I told them that I had Hal Sweet coming out to talk to him about flying the wing into Suifu. Eyes were big with disbelief and questions were many and varied. However, I had the whole thing planned in my head, and once I explained my plan, all agreed that it should work. Of course there were quite a few "bugs" to iron out. We removed the DC-2 wing from the DC-3, removed the tip and we had to remove the trailing edge to butt to the rear spar. As we did that, we made up a Kit so that it could be readily reassembled. I kept P.Y. informed of our plans and progress.

I might clear up a point at this time which has been very much disputed about the attach angle fitting the DC-2 and DC-3. By sheer accident and Donald Douglas' Scoth thrift, he used the DC-2 wing butt and center wing butt jigs, to form the DC-3 angles; however his design engineers called for a heavier angle with a wrap around plus double the attach bolts for the 3 -- so they drilled additional holes between the DC-2 holes; thus we filled all the DC-2 holes and skipped every other in the DC-3 center wing. Douglas built them strong.

We hauled a DC-2 (only airplane available) into hanger preparatory to attaching wing to the belly of same. We knew, of course, that it would slow the airplane to an extent. But we certainly didn't want a bubble forming under the wing so as to destroy the flight characteristics of the airplane. I figured out the entire method of suspension, and method of fairing in the butt, since we had to suspend the wing butt forward.

Hal Sweet showed up and we went into a huddle in the bar. After I bought a couple rounds of good White Horse, I layed out the plan to Hal; assured him the flight characteristics would not be affected other than climb and speed. Hal was the type of pilot a guy would like to fly with, careful, studious, and very reliable. Then Loy Locke and Arnold Weier joined us, and Hal readily agreed to fly the bundle, saying, "If you are satisfied it will fly"--"then I will fly it"...We all were happy to hear Hal say that.

The following day we were ready to go. Locke made sketches and I photographed the illustration in sequence as we progressed. Hal and P.Y. came out to look see! They were both very pleased with the whole bunldle. I said to Hal, that we ought to test fly it--his answer was, "You said it would fly, so that won't be necesary". P.Y. suggested we might try a White Horse, we did, and Hal went home to rest. The airplane was gassed, serviced and ready to go. Miss Lee came in and gave P.Y. a telegram from Bond. He asked that I wire Andy Priester in New York and ask him for approval for the whole scheme and flight. As much as I realized how very much Bond wanted to brown-nose Priester, I definitely vetoed that suggestion. Andy could have had only one answer, a Big Negativ No! P.Y. agreed we carry on with our plans in spite of Bond trying to set up a road block and dig a grave.

I asked Arnold Weier if he would go along and supervise the removal of the demolished wing, assemble the 2 wing, install same and make the temporary repairs as planned; then to co-pilot the 3 with Hal, since Hal agreed to take the wing to Suifu, return a routine flight, then deadhead back for the 3. Arnold was very anxious to make the trip; so I told him to pick his crew of mechanics on a voluntary basis. They all wanted to go. I told those selected to get their hand tools together; we would gather and prepare all the special tools and equipment.

Came evening, darkness and rain. The airplane placed at loading area. Came time for loading, and we reserved space for our maintenance crew. Lo and behold; traffic had sold a complete gross load, over and above the wing, not giving the wing one iota of thought. P.Y. was fit to be tied; I was unhappy, but not Hal, he said, "We can fly it all". Needless to say, I started to develop a big--a very big case of butterflies in the stomach. Just as Hal taxied out for takeoff, the sky seemed to open up with a downpour. P.Y. and I stood in that downpour, waiting for Hal to take off. You must understand that Kai Tak was small, unpaved, and very muddy. Hal started his takeoff in that blinding storm, and P.Y. and I stopped breathing. Like forever, Hal lifted off; I had to catch P.Y. and he had to support me.

The DCA, Lt. Moss was all smiles. Well, you just can't believe how good White Horse is at such a time. I might add here that Lt. Moss, the British DCA and the Staff under his direction were very sympathetic and always very helpful to us in the CNAC. He would never hesitate to give us help and advice. Since we were operating out of a British base, at times, sticky questions and problems would arise. Lt. Moss would be called upon for help, be it legal or political and he would never fail to take our side. The Chinese now him a debt of gratitude as well as the Americans. He was also a great help to P.A.A. operating in and out of Kai Tak at that time.

After Hal left--there was no thought of going back to sleep or bed that night. P.Y. sent his driver for dry clothes for himself and me. After changing, and a couple of more Horses, we went up to Moss's Office and waited Hal's arrival at Kewlin. Hal kept us informed of his progress, which was slow. Just as he started his approach, the Red Ball went up. Man! Can you imagine that situation? It didn't seem to bother Hal, he pulled over and kept low among the inverted cones until all clear when he went in and landed. He unloaded some passengers and freight--then reloaded a full gross load for Chungking. He flew the wing to Suifu after unloading at Chungking. Arnold quickly unloaded the wing, tools, etc. Hal returned to Chungking, picked up his load and returned to Hong Kong, without rest. But he was a very sick man, as somewhere he had picked up the Dengue bug.

In due time Arnold advised he was ready for flight, but Hal was still sick. P.Y. promised Hal he would hold the airplane for him to fly it out. Hal got better, dead-headed to Chungking and on to Suifu. Arnold had everything in order. The engines were cranked up and Hal took off. After climbout and a few minutes in the air, Hal trimmed the airplane, but in spite of full aileron tab, the craft still flew R. Wing heavy. Arnold had a big spanner for the landing; so they tied it to the spoke of the wheel and flew hands off.

Hal landed at Chungking; the airport was teeming with people all wanting to go to Hong Kong. The traffic agent asked Hal how much he could load. "Hell", Hal told him, "a full load"--that meant 1000 kilo over gross. Hal & Arnold flew that load with that wing nonstop to Hong Kong. Now, I wish to bring out that the DC-2 wing has a thin attach angle and only half the bolts. But Hal could care less, he did a marvelous job. We were very glad and extremely proud to see them land at Kai Tak, and we again went for White Horse. We were so happy, that we promised Hal that we would not call him Ferdinand again, not ever!

So much for that. But now our maintenance task starts. Next morning, the 3 was pulled into the hangar, completely dismantled and overhauled, all damage was repaired and the airplane reassembled except for the wing.

The wing arrived--we assembled the trailing edge to it and I told the mechanics to attach the wing. Disaster was close, too close; the mechanics mated the wing, bolts went in, the two butted nicely, they called me to tell me the bottom would not pull up butt to butt, although all bolts went through. Upon inspection, I found that Douglas inspecotors failed to see that the bottom wing bulb angles were not properly trimmed, thus the gap. I complimented our Chinese mechanics. Men of lesser experience might have tried to pull the angles together and a fatal crash would have followed. Douglas was advised via Andy Priester. I cannot praise our Chinese mechanics enough. Once trained and well led, they could be compared to the very best.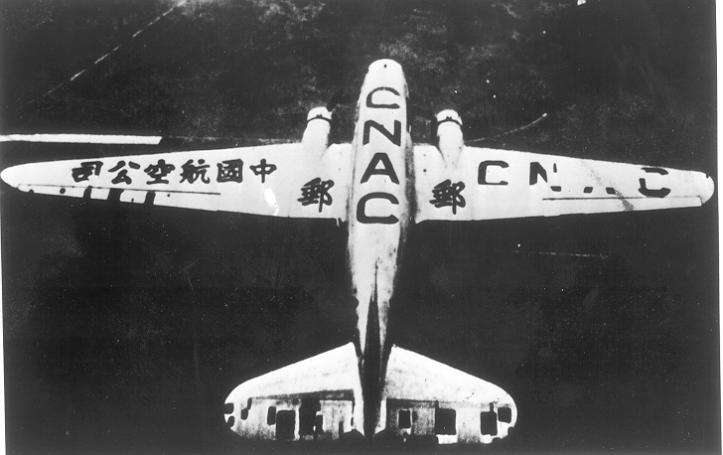 "This is the DC-2 and 1/2. You will notice that the right wing is about 5' shorter than the left wing."
(Photo courtesy of Jim Dalby)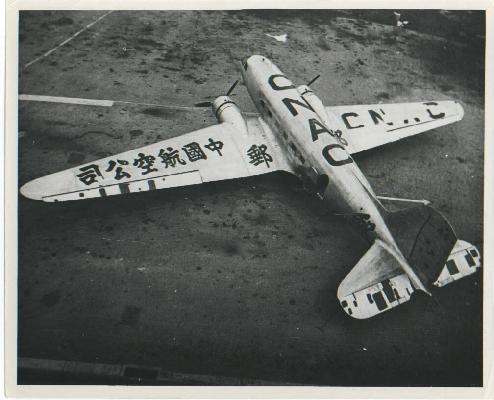 (Photo courtesy of R.E.G. Davies)


The DC-3 was rolled out, Pottschmidt and I took it up for the test flight. "Potty" like the rest of our pilots was good, and this day we felt like a little excitement. So, after we were satisfied everything was O.K. we pulled up headed for the islands off Macao; sure enough the Jap destroyers were anchored in a cove, Potty dived down towards them--Man, you should have seen Japs scatter and run. We went back and landed at Kai Tak. The airplane was serviced and went into immediate service that night.

An A.A.F. Captain was sent to Hong Kong from our Chungking embassay to get details. Locke and I gave him detailed sketches and photographs, which he sent to Wright field. The Air force, then did believe that it could be done, and the system was then applied to the U.S.A.A.F. transports. of course, not a word of thanks from A.A.F.

This airplane probalby received more publicity than any airplane in the world other than the Wright Bros. stick and wire and "The Spirit of St. Louis".

This is the story as best I can recollect after these many years. But we have many more episodes as thrilling and important as this, but not so well publicized. For instance, when Woody was forced by 5 Jap fighters to land on the river; and when we evacuated Hong Kong, again Hal was in the picture, taking a DC-3 off Kai Tak with a full load and a knowing engine failure. Pawley came to our help with an engine, etc. I could go on and on, but those are other stories."



And from the New York Times - June 1, 1941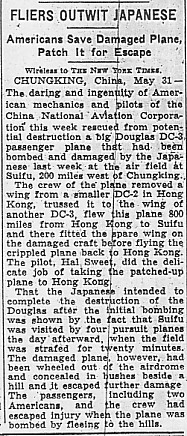 ---
The following eight photos are courtesy of the Bill Price family.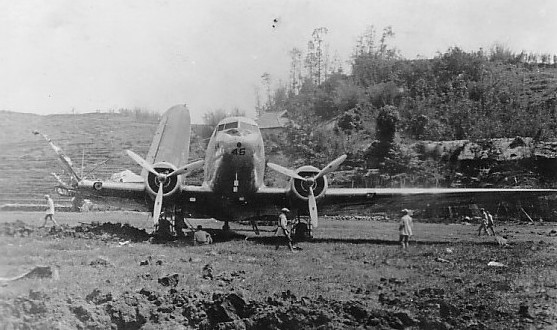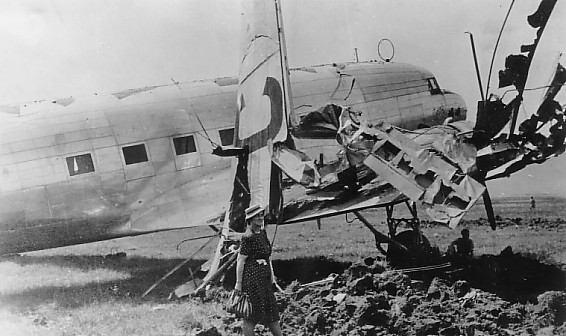 Mrs. Robert Ellsborth Brown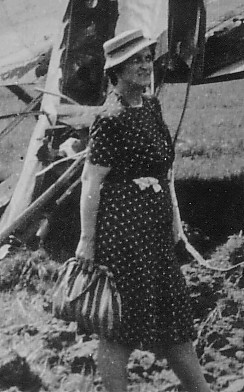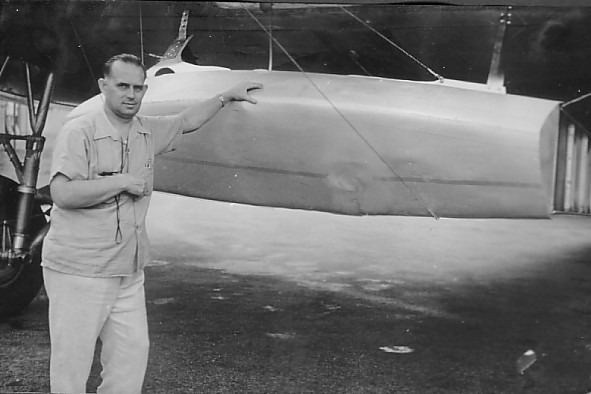 Zed Soldinski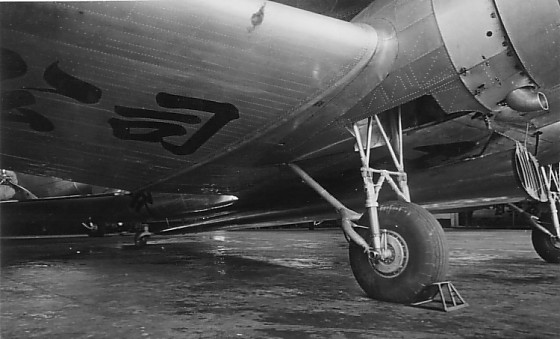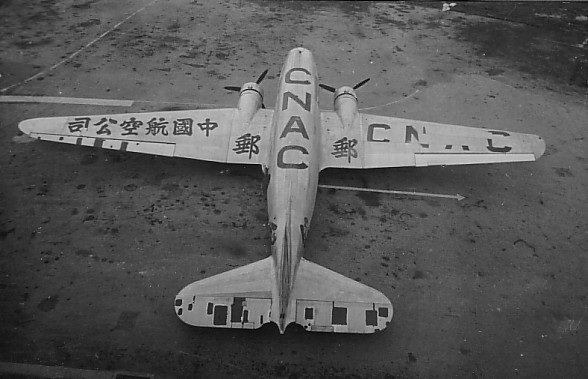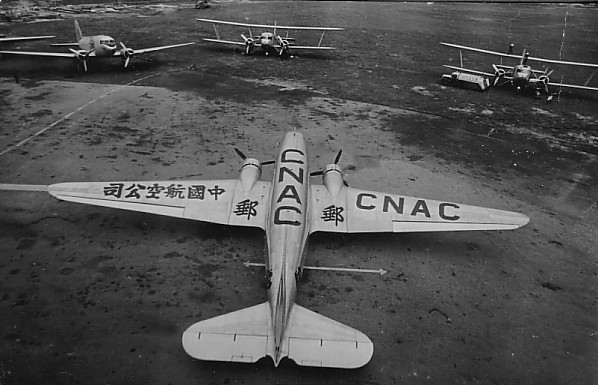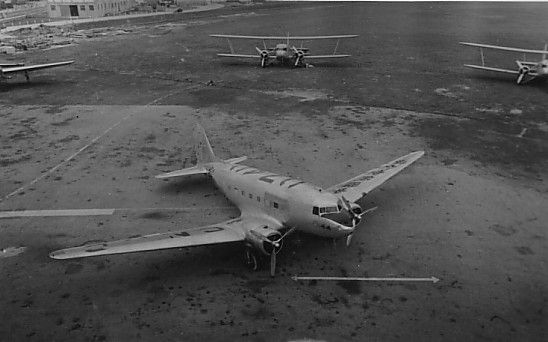 If you would like to share any information about this or other CNAC aircraft
or would like to be added to the CNAC e-mail distribution list,
please let the CNAC Web Editor, Tom Moore, know.
Thanks!