BYRON O'HARA (1906 - 1968)
(CNAC 1935 - on or before January 1937)
(Captain - ???)


November 21, 2002
Heard from Byron O'Hara's son, Beege O'Hara today. Beege was born in Shanghai (1936) and his godfather was CNAC Captain Frank Havelick. Beege will be sending additional material and pictures for the CNAC web site.
After 27 years, Beege retired from flying with the Flying Tiger Airlines.
That's great! Thanks Beege.

Also from Beege -- Byron O'Hara took flight training at March Field in 1931 and retired from American Airlines in 1964, but not before breaking the transcontinental speed record from Los Angeles to Baltimore --- 3 hours and 39 minutes in a 707. Vice-President Richard Nixon and his family were aboard this flight.



Los Angeles Times
January 4, 1960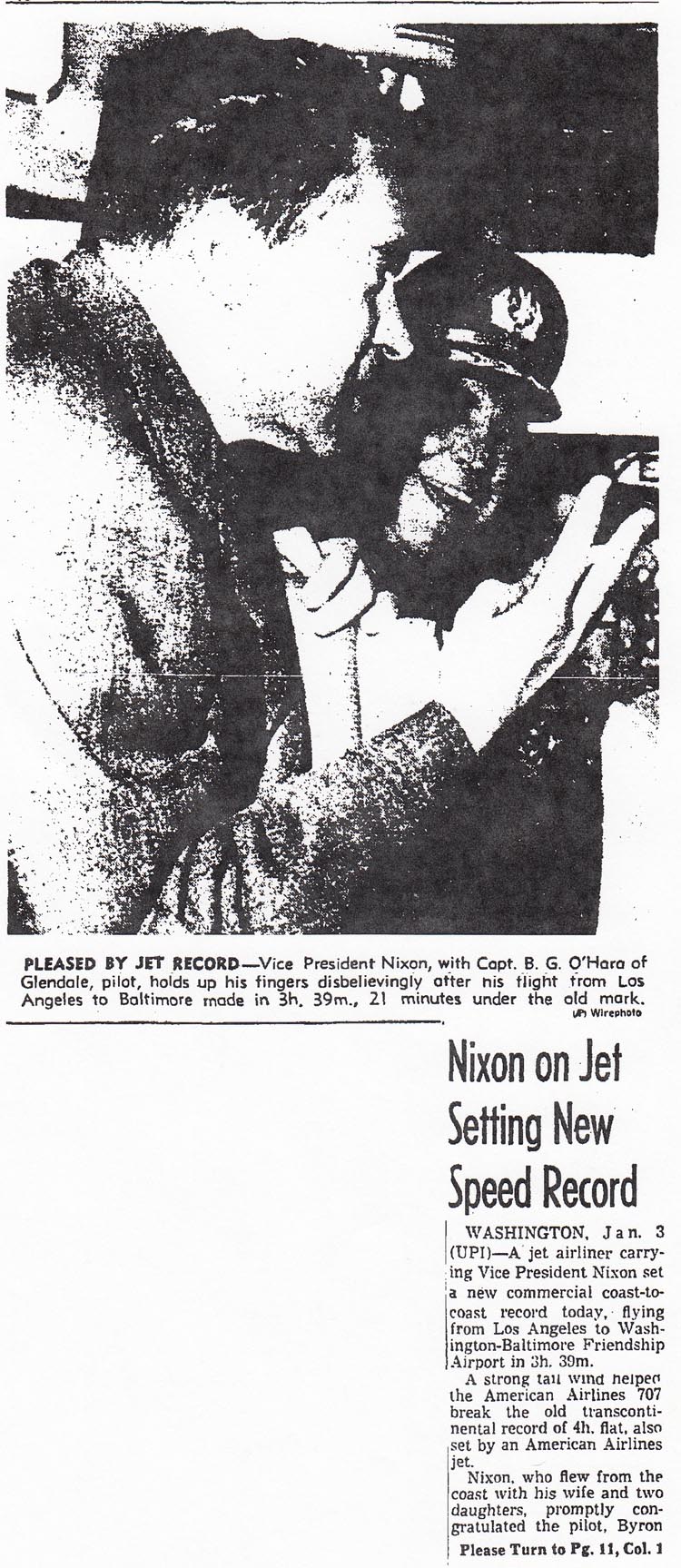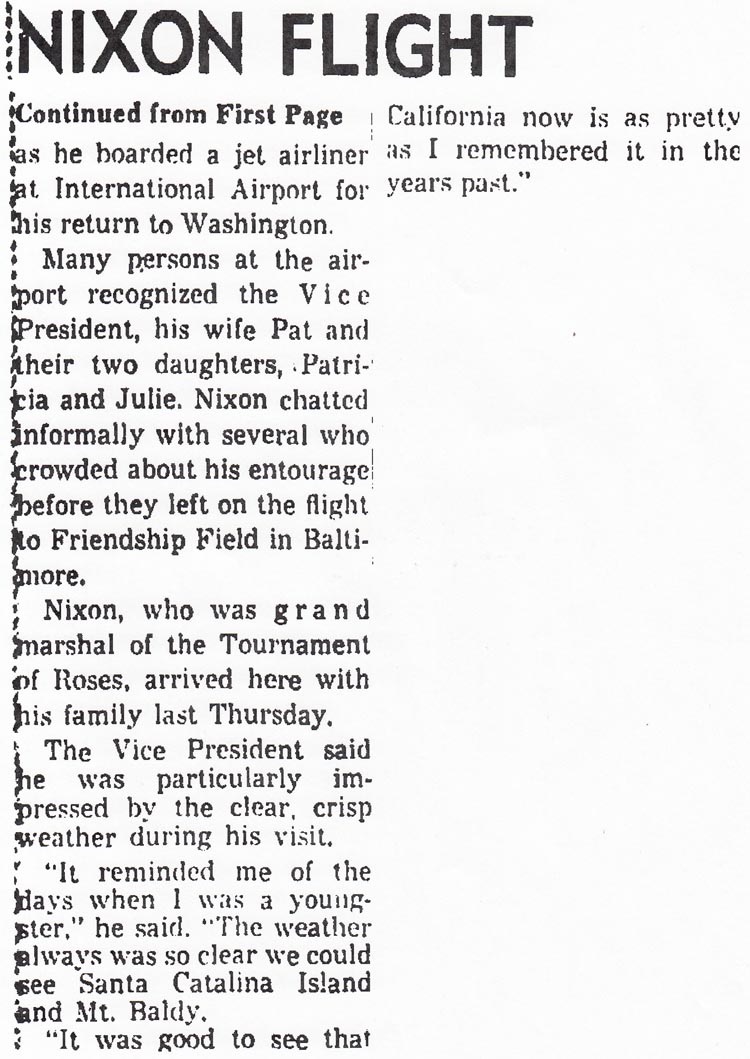 ---
From Gene Banning's notes of 8/31/00:
"1935, minor injuries in Ford crash at Tengya (Yunnan) March, 1936; believe left CNAC on or before 1/37; worked for American Airlines."
(NOTE: American Airlines has established a nice museum -- the C.R. Smith Museum. Check it out.

---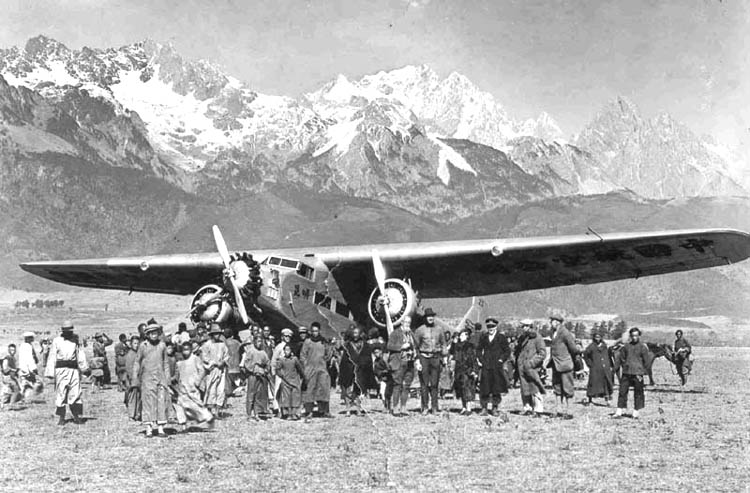 Ford 5-AT-D at Wuadukwuadu, Yunan, on February 3, 1936
Byron O'Hara was the pilot
(Photo Courtesy of Bill Larkins)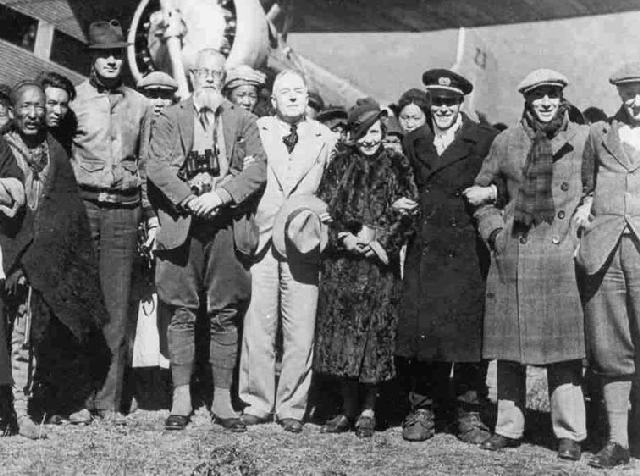 Starting left to right starting with the tallest man who is co-pilot Bob Black, Dr. Rock,
Counsel General Harding, Mrs. Byron O'Hara, Byron O'Hara, a French banker and
a Canadian missionary doctor.
(Photo Courtesy of Bill Larkins)
---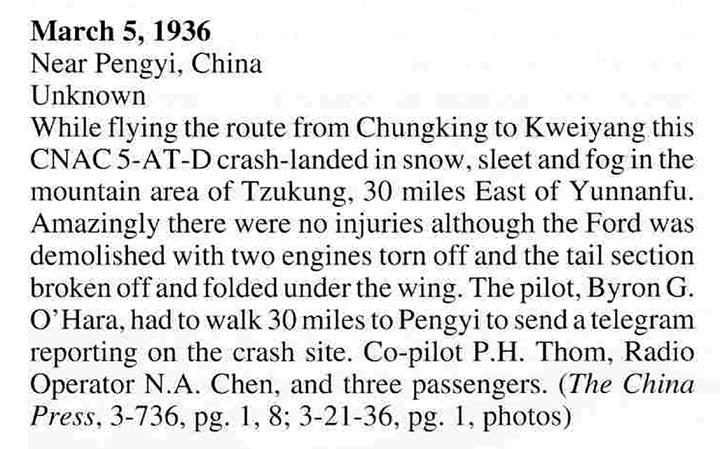 Co-Pilot P.H. Thom
Radio Operator N.A. Chen




If you can share any information about Byron O'Hara
or would like to be added to the CNAC e-mail distribution list,
please let the CNAC Web Editor, Tom Moore, know.
Thanks!



Background music to this
page can be controlled here.
"Keep Your Sunny Side Up"