JULIUS PETACH (1916 - 2000)
(Pilot)
(CNAC 1943 - 1945?)
(Captain - ???)
(Hump Flights - XXX)


In the 1943-45 log book of Don McBride, Julius listed his home address as:


J. Petach R.A.F.
1808 Tacoma Ave.
McKeesport, Pa.
(Port Vue)
---
From Gene Banning's list of 8/31/00:
"... (A.T.A.) hired June, 1943, prom to capt 4/43: minor injuries in takeoff crash at Kunming, 10/17/43, plane #84." (date was the 16th)

---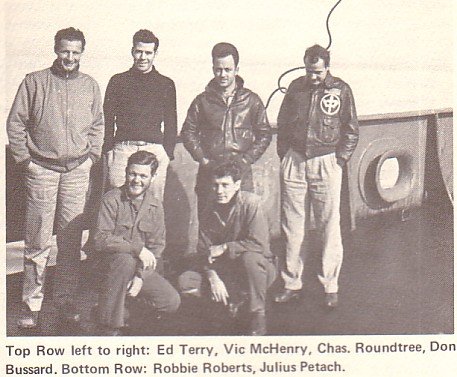 Top row left to right: Ed Terry, Vic McHenry, Chars. Rountree, Don Bussart
Bottom Row: Robbie Roberts, Julius Petach
(This photo and the caption came from "Wings Over Asia" Volume IV.
Terry's, Bussart's and Rountree's names aren't quite correct.
---

(From "Wings Over Asia", Volume II)




If you would like to share any information about Julius Petach
or would like to be added to the CNAC e-mail distribution list,
please let the CNAC Web Editor, Tom Moore, know.
Thanks!



Background music to this
page can be controlled here.
"Tuxedo Junction"