In the 1943-45 log book of Don McBride, Gene gave his address as:

Gene Powers
166 No. 4th St.
Aurora, Ill.
---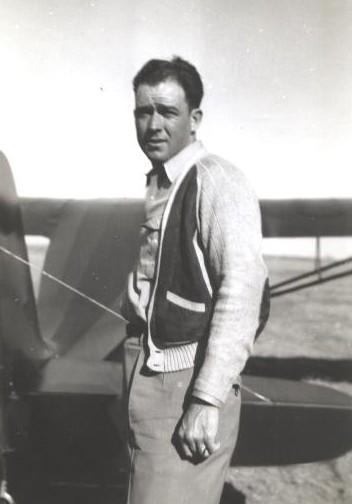 Gene Powers
Corsicana,Texas - about 1940
(Courtesy of Valerie Kendrick, daughter of Captain Len Parish)
---
November 24, 2000 -- The following e-mail was received from Gene's son Ed Powers:
"Dear Tom:

Thank you for contacting my mother. We will send you information about Gene Powers soon. We welcome your e-mails; however, please include Gene Powers in the subject line so I don't delete by accident.

Also, please provide the address or phone number for Valarie Parish Kendrick.

Thanks,

Ed Powers 310-542-2010
Pauline Powers 310-832-2381



The following article is from a local newspaper in San Pedro, California, called the
NEWS PILOT
July 26, 1995, Wednesday

SP hero of WWII campaign honored for service
Byline: Alexander Mullen
Credit: Staff Writer
PhotoBy: Staff Photographer -- THOMAS MICHAEL ALLEMAN
(ED: Photo to follow, soon.)
Captions: Eugene Powers of San Pedro received medals
for heroism as a pilot for the transport division of
the Chinese Air Force during and after World War II.
Eugene Powers flew dangerous missions into China during World War II, transporting supplies on one of the most treacherous flight routes in Asia.
But ask him about it, and he'll tell you it was just a job.
Now, 50 years after the end of the war, the San Pedro resident finally has been recognized by the U.S. government for his heroism as a pilot for China National Aviation Corp., the transport division of the Chinese Air Force.
"I never expected to receive an award," said Powers, 82. "It was just a job for me. I don't know why it took so long. I'm just glad they got around to us."
Powers has received two of the U.S. Air Force's highest honors -- the Distinguished Flying Cross and Air Medal. Both recognize extraordinary achievements over dangerous and difficult air routes.
Crossing "The Hump," the name pilots gave to the India-to-China supply route across the Himalayas, Powers had to overcome extreme weather conditions, maneuver through mountain peaks -- some as high as 20,000 feet -- and avoid the Japanese.
For his service from August 1944 to August 1945, Powers also was given the World War II Victory Medal, Presidential Unit Citation Ribbon and Asiatic-Pacific Campaign Medal with four bronze service stars for his participation in the India-Burma, Central Burma, China Offensive and China Defensive campaigns.
"I wish to express my sincere appreciation for your faithful service to a grateful nation during a time of great need," Master Sgt. Scott A. Kilbride of the U.S. Air Force recognition programs branch at Randolph Air Force Base in Texas wrote in a letter to Powers earlier this year. "You can indeed be proud of your many accomplishments."
Powers has been fascinated with flying since his childhood in Aurora, Ill., where he worked at the local airport and took flying lessons. He made his first flight in 1928.
He eventually became a pilot for TWA. While on furlough, he learned about flying for the Chinese Air Force.
"I heard about it through the grapevine," he said. "The planes they were using were similar to the aircraft I had been flying with TWA."
Figuring he would be drafted into the infantry, Powers packed his bags and, in July 1944, made his way to Dinjan Air Base in northern India where he signed a three-year contract with China National Aviation Corp.
Powers flew daily missions on C-47 airplanes from India to China. Night flying and bad weather made it extremely dangerous.
"We flew low and skirted the mountains," he said. "The worst thing about it was the weather, which could change at any moment.
"If your plane was damaged and you had to bail out over the mountains, you were a goner. The cold and remote location made it hard to survive."
In the early 1940s, 135 transport aircraft were lost in a six-month period, mostly due to bad weather.
"The amount of air traffic on that route made the danger of a midair collision another problem we had to deal with, especially at night," Powers said. "We were worried we would run into someone."
Planes were loaded with gasoline, mortars and other supplies needed to keep the Chinese government going. But Powers also recalls carrying a more valuable cargo.
"We carried an awful lot of Chinese bank notes and gold -- a lot of gold," he said. "The bank notes were printed by the U.S. government and sent to China to support the Chinese government."
The India-to-China route was the main route for supplies during the war. The air route was made necessary after the Burma road -- the main land artery -- was shut down by the Japanese.
When the war ended, China said any American who had time left on his three-year contract could go home. Powers refused and finished out his commitment.
"After the war, I got involved with the Chinese civil war against the Communists," he said.
Powers remained with China National Aviation Corp. in Shanghai.

"Conditions were not as good with the Americans not backing us like they did during the war," he said. "I flew military supplies and passengers for the government until 1947."
Three years later, he went to Indonesia and became a flight instructor for the Indonesian Air Force.
He moved to San Pedro in 1955 and began working in the flight manuals department at Douglas Aircraft in Long Beach.
"It was hard to be at a desk job after so many years flying," he said.
Powers worked at Douglas for 20 years before retiring.
"A lot of people call the war in China the forgotten war," he said. "Its nice to finally be remembered."

If you would like to share any information about Gene
or would like to be added to the CNAC e-mail distribution list,
please let the CNAC Web Editor, Tom Moore, know.
Thanks!