RICHARD A. MOORE (deceased)
"Bob", "Jim", "Silent Jim" or "Injin Jim"
(Pilot)
(CNAC February 1944 - 194?)
(Captain - August 1944)
(Hump Flights - XXX)


In the 1943-45 log book of Don McBride, Jim listed his home address as: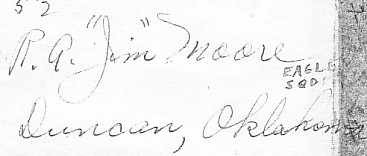 R.A. "Jim" Moore EAGLE SQD
Duncan, Oklahoma

From a CNAC list dated between 1960 and 1962: Moore, Richard A. p
Commadore Hotel
Beirut, Lebanon

From a CNAC list dated 2/18/64
Richard Moore
c/o Jim Shaddy
Amer Trans-Packing Co
Bangkok, Thailand

From a CNAC list dated 2/1/65
Richard "Jim" Moore
c/o G.O.P.
Box 2433
Bangkok, Thailand

From a CNAC list dated February 5, 1979
Richard Moore
GPO Box 2433
Bankok, Thailand

Richard (Injin Jim) Moore
Tollygung Royal Golf Club
November 1944
(Photo Courtesy of Jim Dalby)
---
January 17, 2006

After CNAC, Jim was with some Levanese partners and built a hotel in Beirut. It was called the "Commodore Hotel" and sported a fancy night club called "The Casba(?)" I remember when they dug the first hole to start the building in early 1955. Jim later had a falling out with his partners; sold out and returned to Bankok. There he spent the rest of his life.

Pete Goutiere
E-mail pscnainital@aol.com


---
September 2, 2007

I found in the Eagle Squadron records of the RAF a listing for Richard A. Moore in the 71st Eagle Squadron made up of American pilots. There was a notation next to his name "POW." He was the only Richard Moore listed in any of the Eagle Squadrons.

Bob Willett

---




If you would like to share any information about Richard Moore
or would like to be added to the CNAC e-mail distribution list,
please let the CNAC Web Editor, Tom Moore, know.
Thanks!



Background music to this
page can be controlled here.
"We'll Meet Again"