From The Dragon's Wings, page 164: "CNAC suffered its first confirmed loss to Japanese fighters on October 13, 1943, when Captain Schroeder was shot down."

From Gene Banning's notes of 8/31/00:
"Michael or Marshall? Schroeder, Aug. 1943; was copilot with Hubbard on forced landing; was shot down by Jap fighters, near Ledo Road, 10/13/43, plane #72. (Sharp said was first CNAC plane shot down on Hump operation.)"

---
Christmas Eve 2000, I received the following e-mail from Jim Dalby
"Mike Schroeder was shot down 10/13/43 All three crew were killed C-47 #72. Copilot T. Tong, Radio Operator G. Chen ( Both Chinese). Mike reported that Japanese fighter planes were circling him. It was assumed that he was shot down by them. He was enroute to Dinjan from Kunming. The crash was visited by a ground party and the bodies were buried at the scene of the crash."

---
May 6, 2004
Hello

Subj: Capt M. Schroeder shot down over the hump

I was surfing the net and googled myself.

Could you be talking about my Uncle Capt. Marshall Schroeder from Buffalo, NY.

He was a pilot flying the hump and was shot down about this time. I have the news article on the incident published the Buffalo News from back in the 1940s. I will dig it out and pass it along.

My uncle Capt. Marshall Schroeder started flying with PanAm and flew the China Clippers in 1938-40. Not sure how he go into the US Army Air Corp but he did a lot of flying in N. Africa and India.

Marshall Schroeder II
schmarjo2@msn.com

---
May 6, 2004
And here's more from Marshall about his uncle, Marshall:

Re: Capt Marshall Schroeder

My father's family were from Scranton, PA where my Grandfather worked for the Penn RR as an engineer. They moved to Buffalo, NY and my Grandfather worked at the Lackawanna Steel Mill as an engineer. So my uncle, Capt M. Schroeder, was born in Scranton, PA.

Both my uncle and father were aeronautical engineers. My uncle became a pilot and my dad worked for Curtis Wright in Buffalo and built the C-47 used in WWII. He use to say they built 3 a week during WWII on his assembly line.

My family use to have some memorabilia of my uncle. Books he used for pilot training and the like. Flying then was a lot different than it is now and a lot of calculations and judgments were done by pilots. Navigation used the technique of Dead Reckoning which sounds bad but was actually the best way to get somewhere. Lindberg used it to cross the Atlantic and find Paris.

---
NOTE: Dead Reckoning is the process of estimating your position by advancing a known position using course, speed, time and distance to be traveled. In other words figuring out where you will be at a certain time if you hold the speed, time and course you plan to travel.

---
For instance if you wanted to go to a city on a river you flew to cross the river North of the city so you only had to follow the river to the city - this was better than trying to fly to the city which you might be north or or south of and there was no way to know in which direction to fly. That is how Amelia Earhart got lost she flew to the island she was to refuel at instead of using Dead Reckoning - in her case the dead reckoning was to be the sunrise at 6:00AM as the navigator had calculated they would have to be north of the island - the US Destroyer at the island that had radio contact with Amelia could hear her circling but she did not know whether to fly north or south as she did not Dead Recon.

Marshall Schroeder II



This newspaper article was provided by Marshall Schroeder II.
Buffalo (New York) Evening News - 1943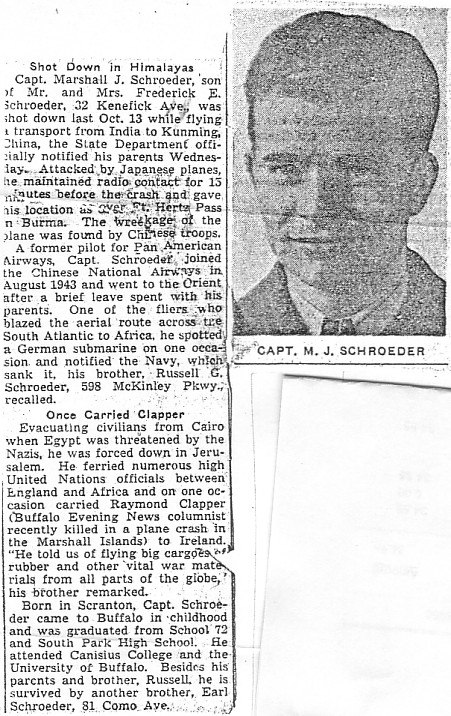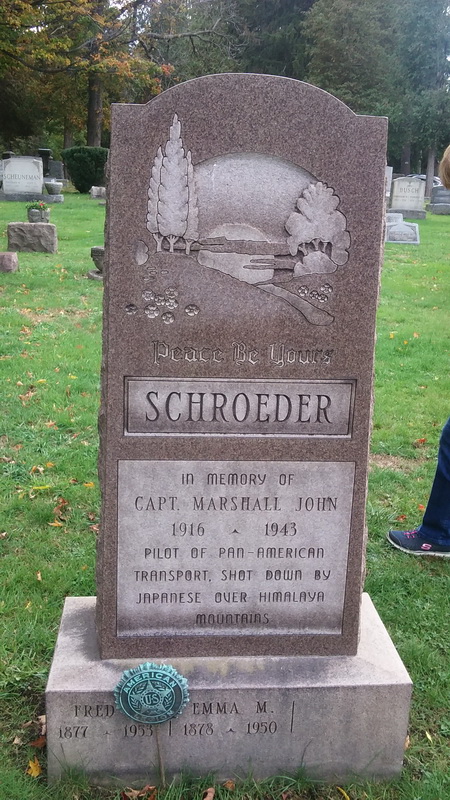 ---
April 7, 2005

This is an Email I got from Oliver Milton (82) who was an Australian in Burma who went out to rescue flyers etc. A bit more information about the crash of my Uncle Marshall (Mike) Schroeder

*************************************************************
Oliver Milton

On 18 October I heard that a plane had been shot down in the Hpizaw area which is well east ot Fort Hertz and doubt if it could be the Fort Hertz Pass district although there are Passes west of FH to Assam and east to the China frontier. If Chinese troops were in the area then it would be the area east of FH but I never got any further details of the accident. I am sorry I can be of little help Yours Oliver *************************************************************

Marshall Schroeder II
Capt. USMCR.



If you can share any information about Marshall "Mike" Schroeder
or would like to be added to the CNAC e-mail distirbution list,
please let the CNAC Web Editor, Tom Moore, know.
Thanks!