JOHN SHOEMAKER (1923 - 2007)
"Johnny"
(Pilot)
(CNAC 1945 - End of 1947)
(Captain - 1945?)


From the 1971 CNAC Mailing List:
Johnny Shoemaker
73 Kadorie Ave.
Kowloon, Hongkong,
B.C.C.

From the 1995 and 2000 CNAC Mailing List:
Capt John Shoemaker
930 Fifth Ave 12A
New York, NY 10021
212-772-2722

---
Current address (in 2004):
880 Fifth Avenue, Apartment 9D
New York, NY 10021-4951.


---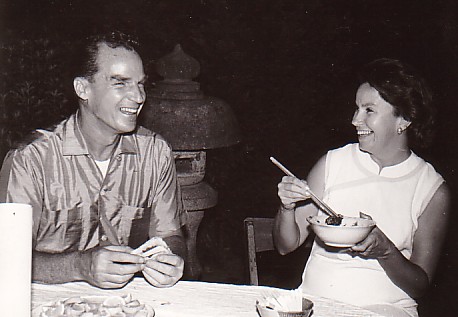 Johnny Shoemaker and wife Audrey
Shanghai - 1949
(Photo Courtesy of Tom Moore)


July 23, 2004

Dear Tom,

The picture is of me with my wife Audrey. The place is probably Shanghai in 1949 when I was a Captain for CITS for a 4 month period until returning to Hong Kong in April 1949. Audrey is with me here and is well. Her brother Gibby (Gibson) died last year unexpectedly. Gibby, who joined CNAC in 1943, was my partner when we left CNAC and started a small charter airline in Hong Kong.

The music on all the web sights remind me of the days in Shanghai. The date of your uncle's crash happens to be my eighteenth birthday. That makes me 80 last March 14. Also that was the date I joined the US Navy's V-5 program. At the time I was attending the New Mexico Military Institute just finishing my first year of college. In November of 1945 when I was stationed in Shanghai as a Navy pilot I had sufficient points to get a discharge from the Navy and joined CNAC as a pilot. There are many recollections which I must wait until I write my memoirs.

My address in New York is 880 Fifth Avenue, Apartment 9D, New York, NY 10021-4951.

Audrey and I left Hong Kong in November 2002 after living their for 54 years. I still go back each year as I still have my company there, General Resources Limited.

All the best,

Johnny






If you would like to share any information about John Shoemaker
or would like to be added to the CNAC e-mail distribution list,
please let the CNAC Web Editor, Tom Moore, know.
Thanks!



Background music to this page can be controlled here.
"Green Eyes"