RICHARD STRATFORD (1921-1995)
"Dick" or "Dickie Bird"
(CNAC 1943 - 194?)
(Captain - ???)
(Hump Flights = about 550)


September 2000
Jeanne Stratford dropped me a note saying, "Ged Brown was a Hong Kong business man and Best Man at Dick (and Jeanne) Stratford's wedding in Hong Kong."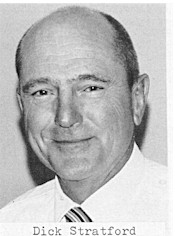 (Photo Courtesy of FTL)




If you would like to share any information about Richard Stratford
or would like to be added to the CNAC e-mail distribution list,
please let the CNAC Web Editor know.
Thanks!



Background music to this
page can be controlled here.
"Tuxedo Junction"