RICHARD STUELKE (1917-2001)
"Dick"
(Pilot)
(CNAC 1943 - 1945)
(Captain - December 1, 1943)
(Hump Flights - about 450)


In the 1943-45 log book of Don McBride, Dick listed his home address as:


R.A. STUELKE
2685 PUESTA DEL SOL
SANTA BARBARA, CALIF.
---
August 10, 2001
I just got off the phone with Rexanne Stuekle-Daniels, Dick's daughter. She will start working to develop her Dad's biography. More to come...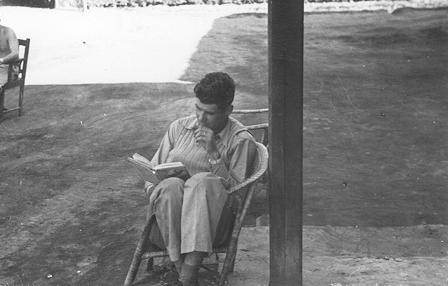 Dick Stuelke
(Anybody know who that is in the upper left?)
(Photo Courtesy of Jim Dalby)
---
May 20, 2007

Unfortunately pretty much of all my Dad's information was lost somewhere in San Francisco. His logs, etc were stored in the home he had on Bethel Island. I was asking my Dad about his life when I was taking care of him (in Minden, NV) during the last 8 months of his life. Dad was a humble man and tossed his accomplishments off as "just doing my job"...but what a job he did! He was a wonderful man and I loved him dearly. My only regret about him was that he was gone a lot and I didn't get to see him as much as I would have liked to. I think it's sort of sad that other people know more about my Dad's past than I do.

He did tell me that he got into CNAC because he had been teaching flight and 2 branches of the service were bantering back and forth over who would get my Dad and he just took off and volunteered for the overseas mission. I did get that much out of him and the fact that he never regretted for a second his decision to go.

Thank you for all your efforts,

Rexanne Stuelke-Daniels






If you would like to share any information about Richard Stuelke
or would like to be added to the CNAC e-mail distribution list,
please let the CNAC Web Editor, Tom Moore, know.
Thanks!



Background music to this
page can be controlled here.
"Green Eyes"