In the 1943-45 log book of Don McBride, Charles listed his address as:


C. Sundby
Copenhagen Denmark
---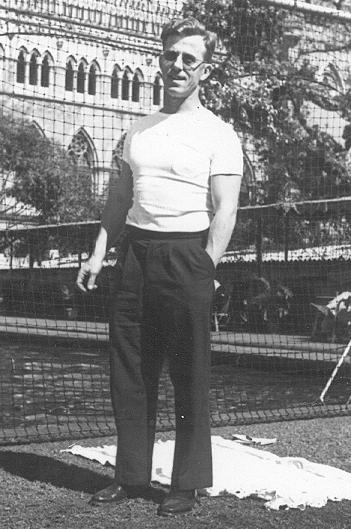 Charlie Sundby at the Royal Calcutta Swiming Club
(Photo Courtesy of Jim Dalby)
---
This envelope was purchased on eBay.com in August 2012.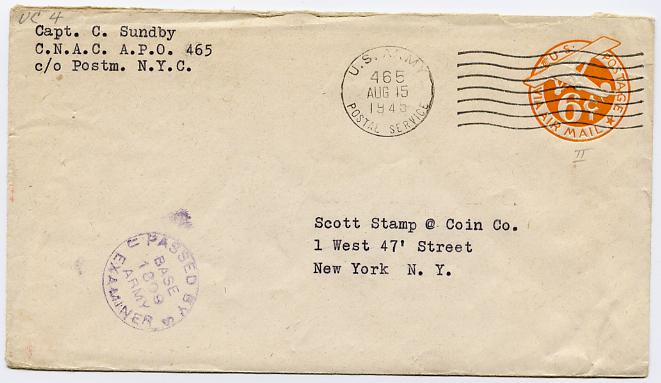 ---

From Gene Banning's list of 8/31/00:
"... Danish, from RAF Ferry Command, prom capt 3/43; killed in DC-4 crash during inst approach to Hongkong on 12/21/48."


---
October 12, 2005

Dear Mr. Moore,

This is a very exciting moment for me. Charles Sundby was my great uncle and the much loved uncle of my father, Douglas Charles Sundby. For years I had heard stories about uncle Charles, including a sketchy account of his death in China in 1948. I am due to visit my dad in California next month and will question him at length for more information, which I will pass on to you as appropriate to your site. What a thrill to have a picture of Charles in his prime! Please add me to the CNAC distribution list.

Sincere thanks,

Eric Charles Sundby, Ph. D.
E-mail sundbyec@shaw.ca


---
Charles Marinus Sundby

By Rechs Ann Sundby Pedersen
October 17, 2007

Charles Marinus Sundby was my father. I was very young when he died, and sadly, I have no memory of him. This biography is based on documents and personal papers: passports, certificates, flight log books, newspaper and magazine articles, official and private letters, contracts. My father's career is mentioned in books and on the Internet. In those accounts, I have found outright mistakes plus omissions that can be misleading. Using the primary sources that I inherited when my mother died, I have tried to make an accurate account of his professional life.

Youth
Charles M. Sundby grew up in Copenhagen, Denmark, where he was born on November 15, 1908. By the time he was 17 years old, he had graduated from seaman's school and had begun working as a sailor in the merchant marine. At that time, officers in the (deep sea) merchant marine were educated at Copenhagen's Navigation School. One of the school's entrance requirements was four years experience as an able seaman, specifically on a sailing ship. My father sailed for at least four years, coming to ports in the Caribbean and South America, before enrolling in the Navigation School. On October 24, 1933, he passed his "officer examination" with high marks. The following year, on April 21, 1934, he passed the "ship's leader examination", again with high marks. With these two examinations successfully completed, he was set to start on a career path to Captain in the merchant marine. But this was not the direction that he took.

Royal Navy Air Service
On May 23, 1934, my father joined Denmark's Royal Navy Air Service and was admitted to the pilot training program. (The Danish Air Force, as a separate branch of the military, did not come into existence until after World War II. Before then, there were air services in both the Navy and the Army.) Apparently, the pilot training program was a demanding one. Of the sixteen pilot cadets who began the program, only five remained to take the final examination in December 1935. My father was certified a pilot on December 21, 1935 and was commissioned a second lieutenant. On April 21, 1938, he received a 2nd class radio operator's certificate. At some time between November 1938 and April 1940, he was promoted to first lieutenant.

During his time in the Navy Air Service, my father participated in two special projects. The first of those was the mapping of Greenland. In response to a legal dispute over the ownership of parts of Greenland, Denmark's Geodesic Institute conducted aerial surveys of Greenland over the summers of 1931—1937. Because of its expertise with sea planes, the Navy Air Service provided the planes and their crews. Dressed from head to toe in fur suits, three-man crews consisting of pilot, mechanic and photographer flew in open cockpits at an altitude of 4000 meters. Precision flying was required so that the photographs used for the surveying would line up. My father spent the summers of 1936 and 1937 in Greenland, flying 52 hours 15 minutes there in 1936 and 60 hours 50 minutes in 1937.

The second project came in 1938. My father was again flying over Greenland as one of the two Danish pilots in the Pearyland Expedition. The Expedition's purpose was to determine two facts: whether Pearyland was an island or a peninsula, and whether or not there were islands to the north east of Greenland. These facts were to be determined visually from the air by the Expedition Leaders in a Dornier Wal flying boat. My father's assignment was to report on weather and ice conditions before the Dornier took off. In a Heinkel sea plane with an open cockpit, he and a mechanic flew from King's Bay near Spitsbergen to the Arctic, along the polar ice cap, and back. (By the way, the Heinkel was painted bright yellow for better visibility in case of accident.)

Later in 1938, the Navy's training ship was in the North Sea when a cadet became acutely ill with appendicitis and needed immediate surgery. Volunteers were called for and my father and two other men stepped forward. Flying a Dornier Wal flying boat, the three men picked up the cadet and brought him safely to land where he received the needed medical care. The Admiral honored the two pilots and the mechanic for their part in the rescue mission. At the ceremony each of the men was given an engraved silver cigarette case by the Commodore of the Air Service — and none of them smoked.

Seven-month Journey
On April 9, 1940, Germany invaded Denmark. The air stations were ordered not to resist. A few days later, on April 15th, my father was discharged from the Service. (The Copenhagen Naval Air Station, where my father had been stationed, was turned over to the Germans on April 24th. All planes were put into storage and later blown up by saboteurs.)

My father and a fellow officer, Kaj Birksted, decided to try to join the Norwegian forces fighting in Norway. On the night of either April 16th or 17th, they took a motorboat from the Air Station and crossed over the sound to Malmo, Sweden. They were detained by the police but were released after a short time. They made their way to Namsos, Norway, where they contacted the Norwegian forces on April 26, 1940. In a newspaper interview, my father told what happened,


"We volunteered ourselves to the Norwegians, but they couldn't use us, with the result that the English put us onboard a Danish Maersk ship in Namsos so we could sail with it to England. It had been over with supplies to the troops." ("Extrabladet." December 31, 1945 p.3)
On May 5, 1940, my father and Birksted arrived in Glasgow and were given permission to stay in the UK for three months. When they arrived in London, the two pilots tried to join the Royal Air Force Volunteer Reserve but were turned down. Years later my father commented:


"We came to England too early…We were met with ordinary distrust. They could not understand that Denmark gave up without putting up a fight and could not understand our situation. It took many months before they had checked us out." ("Extrabladet. "Dec 31, 1945 p. 3)
Not able to go back to Denmark, his visitor's visa running out, and needing to support himself, my father looked for other employment. He applied to BOAC, but was told that there were no vacancies. Then he and Birksted were offered work by a Danish captain on a British ship. Using his merchant marine qualifications, my father signed on as third officer on the "M/S Tasmania." Shortly after June 10th, the ship left London bound for Asia.

When the "Tasmania" arrived in Cape Town, my father and Birksted tried to join the South African Air Force; they were told they would have to wait for approval and so, they sailed on to Calcutta. There they received a telegram from Pretoria, dated August 7, 1940. It told them that they were accepted provisionally into the South African Air Force as student pilots and that they should return to Cape Town. When the ship returned to Cape Town, another telegram awaited them. This time it was from the Norwegian Consul in Calcutta. They were accepted into the Royal Norwegian Air Force training in "Little Norway" in Canada. Deciding to go to Canada, they sailed with the "Tasmania" until it reached Cuba, where they signed off on October 16, 1940.

From Cuba they travelled to Miami, Florida where they were again met with suspicion. U.S. Immigration authorities detained them until they received assurances of their admission to Canada. On October 25, 1940, my father was given a transit visa and five days later, he and Birksted entered Canada. But, at some point, someone had changed the plan. The day after arriving in Canada, my father joined the Royal Canadian Air Force Special Reserve. Kaj Birksted joined the Norwegian forces. (I have not found any reason for this change. But a comment in a letter of recommendation indicates that the Service was being pressed to train pilots. There may have been a lack of qualified sea plane instructors in the RCAF.)

Royal Canadian Air Force
For the first four months, my father was a staff pilot and flight instructor, posted to various locations. On April 4, 1941, he was posted to #13 Operational and Training Squadron at Patricia Bay, British Columbia. There he was a pilot-instructor with "A" flight (sea planes) for nearly a year. While in the RCAF, my father also received training himself. He earned a first class navigation certificate and completed a course in elementary and advanced link training. When my father left Denmark, he had 926 hours, 20 minutes flight time. He had flown AV Roe trainer, Gypsy Moth, Heinkel HE 8, Hawker Horseley, Dornier 14, and De Havilland Dragon Rapide. In the RCAF, he added 676 hours and 40 minutes flight time. He received certificates of qualification as first pilot for Avroe Anson, Stranrear, Grumman, Norseman, Lockheed Hudson, Lockheed Electra, and Bolingbroke as well as flying Yale, Fairy Battle, and Harvard.

In a letter of recommendation, his Squadron Leader, S.L. Leigh, wrote.
"I can very strongly recommend Flying Officer Sundby…This officer deserves a great deal of credit for the outstanding work that he has done while in the Service." At his request, my father received an honorable discharge from the RCAF on February 28, 1942.
Royal Air Force Ferry Command
On May 25, 1942, my father was taken on as captain in the RAF Ferry Command at Dorval, Quebec. He ferried bombers from North America to Prestwick, Scotland. In an interview in 1945 (published in FLYV, Vol. 19, #2, February, 1946) my father recalled one of his trips.


"What was the most exciting experience you have had as a pilot? Capt. Sundby looked suspiciously at me. Throughout the whole conversation, he avoided talking about anything that had an element of achievement in it. This was likely a trap? After a pause, he said, in a well-considered way:

I could, maybe, tell you about the trip that was the longest – the part of the flight that was over the Atlantic from Labrador to Iceland. I was to fly a Hudson medium bomber from Montreal to England, but the day I decided to leave, something unusual happened. That was, the meteorologists forgot to tell me about a storm in the Denmark Strait…

I had two youngsters, 19 years old, with me in the plane -- a radio operator and a observer. They were going to England after finishing their training in Canada and it was their first trip. After several hours flight, I realized that we had lost our position. We flew in dense cloud cover on instruments alone — unable to take observations. I attempted to get out of the clouds by climbing to 12,000 feet, but with the result that everything began to ice over. We had to go down again. The situation was not funny.

When I levelled out the bomber again, we caught a glimpse of the sea below us. It was still storming and I knew that there was not much left of the 4000 liters of fuel that we had with us from Canada. For another hour and a half, we flew 30-40 meters above the sea. I had just decided to go down onto the water when we suddenly spotted the south western tip of Iceland. A few minutes later, we were able to land on the emergency runway twenty kilometers outside of Reykjavik.

When we measured the fuel tank, there were just fifty liters left — just enough to take a spot off your clothes. It had taken nearly thirteen hours to fly over; and, normally, the trip has an estimated flight time of a little over ten hours."
One time my father with a co-pilot ferried a bomber from Nashville, Tennessee to Cairo, Egypt. There is no account of that flight but the log book gives some indication of it. The route went like this: Nashville -- West Palm Beach, Fl. -- Puerto Rico -- Trinidad -- Belem, Brazil -- Natal, Brazil -- Ascension Island (middle of the Atlantic) -- Accra, Gold Coast -- Kano, Nigeria -- Al-Fashir, Sudan -- Khartoum, Sudan -- Cairo. The journey took eleven days and the flight time was 72 hours and 48 minutes.

My father flew for the Ferry Command until October 23, 1942.

China National Aviation Corporation
An interviewer asked my father (FLYV, Vol. 19, #2, February, 1946):


"How did you, Capt. Sundby, come to be a pilot for the Chinese government? Sundby smiles a little shyly and says:

It came about quite naturally. There was a large lack of pilots and for one reason or another, it was difficult to get Americans to join in sufficiently large numbers. I felt like a change and was sent off."

My father was in California when he signed his CNAC contract on November 11, 1942. By December 3rd, he was in Calcutta and began flying "over the hump" on December 11th. His first six flights were as co-pilot. After that and from then on, he was first pilot. He was made a captain and was fully qualified on CNAC's equipment and routes on December 27, 1942. The FLVY interview continues:

"How many times have you flown over the Himalayas?

Around 600 times, I believe. But finally I gave up counting.

What was your assignment?

We flew Chinese soldiers, who were to be trained in India; it was a stretch of 510 miles. Because the Japanese held Burma, it was necessary to make a detour. The route went from the province of Kunming to Assam in north eastern India, way up the source of the Brahmaputra River. The planes we flew were C-47 and C-46, transport versions of the DC-3 and the large Curtiss Commander, respectively. The Americans had supplied the Chinese with this modern materiel in accordance with the Lend-Lease Act. Forty Chinese soldiers were packed onboard these planes each time.

How did the Chinese react? Many of them had never seen an airplane before.

Most of them had no idea what it was all about. And while we were in the air, they were too terrified to say anything.

Were you often shot at by the Japanese?

No, in that regard, the route we flew was fairly safe. As a rule we went up to an elevation of 18-20,000 feet during most of the flight over the Himalayas, which lasted 3 hours and 20 minutes. We lost only two planes because of Japanese action. Whereas, the weather conditions were the cause of losing around thirty transport planes."
When the War was over, my father stayed on with CNAC. He took a short leave in December 1945 and January 1946 to return to Denmark and pick up my mother. They returned to Calcutta where they resided for several months. When my father began flying out of Shanghai in the spring of 1946, my parents took up residence there. Except for home leave in 1947 when I was born, they continued to live in Shanghai.

In a letter to his brother in mid-December 1948, my father told him that the political situation was such that the company had told employees to evacuate their families. My mother was packing and preparing to leave. She and I were going to fly with my father when he flew a plane to San Francisco. But before that, he had one more flight -- flying refugees out of Shanghai to Hong Kong on December 21, 1948. As he approached Hong Kong, my father encountered bad weather with very poor visibility and crashed into the top of a mountain on Basalt Island. All onboard were killed. (More about the crash)

An Act of Kindness
A few days before my father died, a Chinese friend came to see him. The man had with him a certificate for preferred shares in the American company, Shanghai Power, which he wanted to sell to my father. My father knew that the shares would soon be worthless, but he also knew that the man needed money badly. He bought the shares. The next day the man came again, saying that the shares would soon have no value and wanting to return the money. My father refused to take the money back, saying, in effect, "a deal is a deal." The shares did indeed become worthless and the certificate lay in a trunk for twenty years. When China opened up to the West, my mother remembered the certificate and checked with a stockbroker to see if it was worth anything. The answer was "Maybe. Hang on to it." In December 1979, my mother saw an article in the "San Francisco Chronicle" announcing "expropriation payments" for holders of Shanghai Power preferred shares. Over the next few years, my mother received a nice sum of money for the worthless shares that my father had bought out of kindness so many years before.

Additional information from Tobias Brown, Hong Kong historian and archaeologist:
Sundby was given all types of physical and training qualification checks semi-annually. His Chinese Civil Aeronautics Administration License was no. 10035 and he was Senior Foreign CNAC DC-4 Captain at the date of his death. He had numerous flights in and out of Hong Kong since liberation in 1945. He had 7931.09 total flight hours of which 5931.09 were with CNAC. CNAC flight time was 3120.09 on DC-3, 1251 on C-46, and 1560 on DC-4. Instrument flight time of 757 hours and night flight time of 573 hours. He had 63 hours of instrument and radio navigation flight instruction and 160 hours of link trainer instruction.



If you would like to share any information about Charles Sundby
or would like to be added to the CNAC e-mail distribution list,
please let the CNAC Web Editor, Tom Moore, know.
Thanks!