From Don Hassig

(NOTE: T.Y. Waung was the Radio Operator on this flight.)
On January 30, 1949, while on a trip from Shanghai to Tsingtao, my airplane, a DC-3, was hijacked by four passengers. One of them had his wife and baby along. They made all of the crew sit in the cabin, with an armed guard nearby, and one of their gang flew the airplane to Tsinan. After he almost smashed it up trying to land, the leader got my copilot, C.L. Hsu, to land it. I guess they would have lost too much face if I had been allowed to do it. Their motive was apparently just a ride to Tsinan, which had recently been taken by the communists.

Besides the crew and the hijackers, there were eight other passengers, including two Germans, one a priest and one a businessman, a Chinese Nationalist Navy Captain, an officer in the Bank of China in Tsingtao and his bride of one week, and three Chinese merchants. The local authorities questioned all of us at least once a day for three or four days. It seemed that they didn't really know what to do with us. The food was not very good, but it was the same as they ate. We were never mistreated physically, but we sat there for five weeks, wondering if we would ever be allowed to leave. We were staying in the Stein Hotel. I don't think it rated very many stars, but we were assured that it was the best hotel in town. It may have been the only one.

After 35 days, we were put on a the train one evening with an "escort" of ten soldiers and one officer, and rode all night to Wei Hsin, where we spent a day and a night. The next day we rode in the back of a truck to some small village where we spent another night. The next morning they hired some bicycles for us, with a cooley to pedal while we sat, sideways, on the luggage rack over the rear wheel. The "escort" left us there. We did pretty good for a short time, but a head wind came up, and the coolies couldn't pedal, so we all walked to the next village. We tried to find a horse-drawn cart, or some other means of transportation, but all we could come up with was some coolies with wheelbarrows, so we hired them. At the next village, it was the same thing. Finally, after three or four groups of wheelbarrows, we came to a Nationalist Army Post, and they let the Navy Captain use their phone. He called the Chinese Navy Base in Tsingtao, and they sent a truck for us. We finally arrived in Tsingtao about 10:30 p.m. It had taken us about three days and four hours to make 200 miles. The next day, the other crewmembers and I went to Shanghai on a CNAC flight.


T.Y. Waung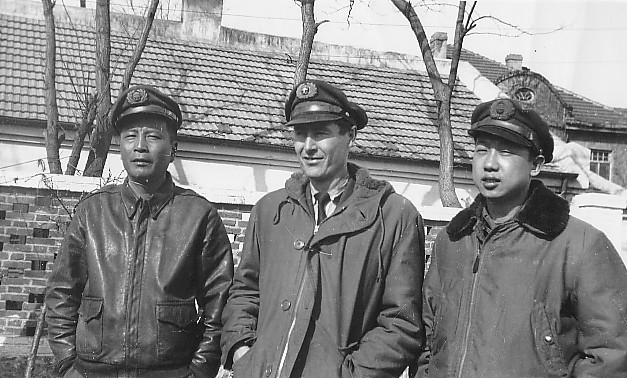 Co-Pilot C.L. Hsu, Capt. Don Hassig and Radio Operator T.Y. Waung
(Both Photos Courtesy of Don Hassig)

If you would like to share any information about T.Y. Haung, please let the CNAC Web Editor know.
Thanks!