August 22, 2002
Tom,

Here is the bio that I promised you when we were in Sacramento. If you have questions or comments, feel free to contact me.

Don Hassig
22112 Village 22
Camarillo, CA 93012
Phone 805-482-5414
E-mail donandem@webtv.net



DONALD K. HASSIG


I was born February 15, 1919 on a farm a few miles from Cope, a town of about 200 people, in eastern Colorado. I was the third of what eventually became nine kids. When I was six years old I started school in a one-room country school, with one teacher for grades one through eight. After finishing the fourth grade there, we moved into Cope and I went to the big school. It was one building with five classrooms and a gym. Grades one through four were in one room with one teacher, grades five through eight were in another room with one teacher, and the high school had three rooms and two teachers. I graduated form Cope High School in 1936, in a class of ten, and joined the rest of the family in Grand Junction, Colorado, where they had moved to a few months prior.

I had several fun jobs over the next three years, including pumping gas in a filling station, working on a farm, shoveling gravel and digging ditches. The pay for most of these jobs was about $1 per day. In September 1939 I enlisted in the Army Air Corps and was sent to March Field, California for boot camp, then was assigned to the 38th Reconnaissance Squadron. They sent me to the Radio Operators School at Chanute Field, Illinois. When I completed that, I re-joined the 38th at March Field. We had two or three B-18A's and five or six YB-17's. While there, I was the radio operator on a crew that ferried a new B-17D to Hickam Field, Hawaii. After about ten days in Hawaii, we returned to the west coast by ship.

In early 1941, the squadron was transferred to Albuquerque, New Mexico. Soon after that, the Air Corps announced a program for qualifying enlisted pilots and I applied ASAP. The only difference between the enlisted students and cadets was that cadets had to have two years of college. The enlisted pilots had to have a high school diploma and pass a written test. I qualified and was assigned to the third class. I had primary at Cuero, Texas, basic at Brady, Texas, and I graduated at Ellington Field, Texas, with the class of 42-E on May 20, 1942 with the rank of staff sergeant. About half of the class, including myself, was assigned to the Bombardier School at Midland, Texas, where we flew bombardier students on training flights, mostly in AT-11's. In December 1942 they cancelled the enlisted pilot program and we were all promoted to flight officer. I was then commissioned as second Lieutenant in September 1943. In November 1943 I went to B-17 school at Columbus, Ohio, then to combat crew training in Avon Park, Florida, where they made me an instructor. After a few months, I was assigned to a crew. After training, we went to Savannah, Georgia, where they gave us a new B-17G and told us to take it to England. We made stops at Manchester, New Hampshire; Goose Bay, Labrador; and Keflavik, Iceland. We were assigned to the 390th Bomb Group, in east Anglia, about 100 miles north of London.

Between October 6, 1944 and March 11, 1945, we flew 35 combat missions over many German cities, including three to Berlin. On our 23rd mission, on February 14, 1945, an antiaircraft shell exploded right beside the tail. It took off all of the vertical stabilizer and rudder and all of the right horizontal stabilizer and elevator. It also caused the landing gear to extend and it would not retract, the entire electrical system failed, and gasoline was leaking into the lower fuselage from the right wing area. It killed the radio operator and the waist gunner, and wounded the top turret gunner. About 1 and-a-half hours after being hit, we made it across the front lines and landed at a fighter base in Belgium, where we were able to hitch a ride back to England.

After completing our tour, we rode from Glasgow, Scotland, to New York City on the Queen Elizabeth. I then went to C-54 school at Homestead, Florida, and was assigned to Hamilton Field, California. After two transpacific trips to Japan, I was sent, in early 1946, to Shanghai, China, where I was the Air Freight Officer for a few months, then was assigned to the City Ticket Office in the Broadway Mansions Hotel in downtown Shanghai.

In September 1947, CNAC offered me a job, so I applied for a discharge from the Air Corps and went to work for CNAC. During the next two years I flew to many cities in China. It was a very interesting time.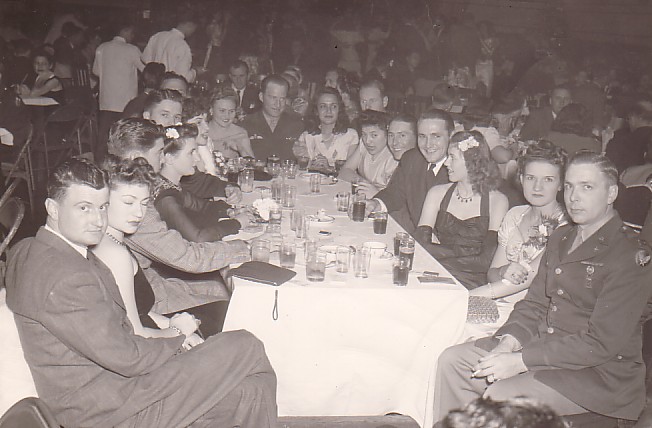 Shanghai - January 1, 1948
Left side, front to back
Ed and Anita Russell, Joe and Edelyn Frampton
Right side, 5th from the front is Don Hassig
others are unknown - do you know anybody?
(Courtesy of Don Hassig)
---
On January 30, 1949, while on a trip from Shanghai to Tsingtao, my airplane, a DC-3, was hijacked by four passengers. One of them had his wife and baby along. They made all of the crew sit in the cabin, with an armed guard nearby, and one of their gang flew the airplane to Tsinan. After he almost smashed it up trying to land, the leader got my copilot, C.L. Hsu, to land it. I guess they would have lost too much face if I had been allowed to do it. Their motive was apparently just a ride to Tsinan, which had recently been taken by the communists.

Besides the crew and the hijackers, there were eight other passengers, including two Germans, one a priest and one a businessman, a Chinese Nationalist Navy Captain, an officer in the Bank of China in Tsingtao and his bride of one week, and three Chinese merchants. The local authorities questioned all of us at least once a day for three or four days. It seemed that they didn't really know what to do with us. The food was not very good, but it was the same as they ate. We were never mistreated physically, but we sat there for five weeks, wondering if we would ever be allowed to leave. We were staying in the Stein Hotel. I don't think it rated very many stars, but we were assured that it was the best hotel in town. It may have been the only one.

After 35 days, we were put on a the train one evening with an "escort" of ten soldiers and one officer, and rode all night to Wei Hsin, where we spent a day and a night. The next day we rode in the back of a truck to some small village where we spent another night. The next morning they hired some bicycles for us, with a cooley to pedal while we sat, sideways, on the luggage rack over the rear wheel. The "escort" left us there. We did pretty good for a short time, but a head wind came up, and the coolies couldn't pedal, so we all walked to the next village. We tried to find a horse-drawn cart, or some other means of transportation, but all we could come up with was some coolies with wheelbarrows, so we hired them. At the next village, it was the same thing. Finally, after three or four groups of wheelbarrows, we came to a Nationalist Army Post, and they let the Navy Captain use their phone. He called the Chinese Navy Base in Tsingtao, and they sent a truck for us. We finally arrived in Tsingtao about 10:30 p.m. It had taken us about three days and four hours to make 200 miles. The next day, the other crewmembers and I went to Shanghai on a CNAC flight. I took a few days off then went back to work. I stayed with CNAC until it folded in late 1949.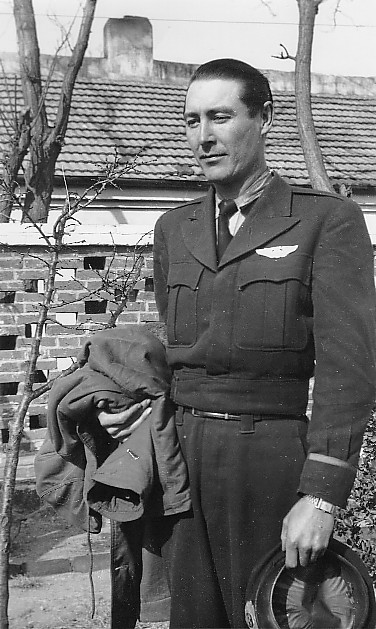 Photos taken in Tsingtao, on the morning after arriving there from Tsinan
March 9, 1949
CNAC Capt. Don Hassig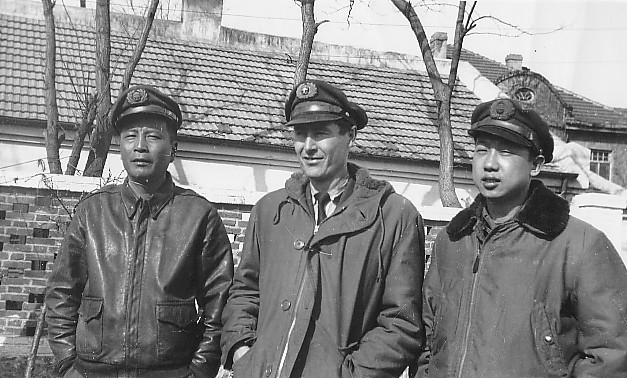 Co-Pilot C.L. Hsu, Capt. Don Hassig and Radio Operator T.Y. Waung
(Both Photos Courtesy of Don Hassig)


After coming back to the United States, I got my ATR, under the G.I. Bill, in Long Beach, California. I was hired by the Flying Tiger Line in January 1951, and stayed with them until I retired on my 60th birthday on February 15, 1979. During those 28 years, I flew the C-46, DC-4, DC-6, Connie, CL-44 and DC-8. At various times I was based at Denver, Colorado; Detroit, Michigan; Salt Lake City, Utah; Chicago, Illinois; Newark, New Jersey; Idlewild (now JFK), in New York; San Francisco, California; Burbank, California and Los Angeles, California, with periods of a few weeks in Tokyo; Churchill; Manitoba, Canada (DEW Line), twice, and probably some others that I don't remember. My trips took me to a large part of the world, including four or five trips that went all the way around the world.

On April 5, 1957, I married Emily Hajduk, a stewardess for Flying Tigers. Our son, David, is now a 757/767 captain with American Airlines. His wife, Karen, is a flight attendant, also with American. Our daughter, Karyn, is a secretary, and her husband, Paul Naumo, is a truck driver. They have a son, Anthony, and daughter, Christine, who are both in high school.

After retirement, I bought a pickup truck and a fifth-wheel trailer and headed for Alaska. I spent ten of the first twelve summers of my retirement in Alaska, mostly on the Kenai Peninsula. Most years I would go up in mid-May and come back in early September. In 1982 I bought a 17-foot Boston Whaler boat, and in 1986 I upgraded to a 24-foot Bayliner with a closed-in cabin. I caught a lot of salmon and halibut, and enjoyed it all very much. I sold all of them in 1990, and we now have a small motor home and do a little traveling, but most of the time we stay pretty close to home. Our daughter and her family live ten miles from us and our son and his wife live about 40 miles away, so we see all of them frequently.

I am now 83 years old, so I have had a relatively long life, and I expect it to last a few more years. Some of it has been boring, a small part terrifying, but most of it somewhere in between these two extremes, and all of it has been interesting, at least to me. I have had the good fortune to have been associated with many wonderful people, both in my professional life and my private life. I wouldn't have missed it for the world.

***************************************************************************

July 29, 2012

We regret to inform you of the passing of Capt. Donald Hassig on July 4th, 2012. His flying career included his tour as A/C Commander of the B-17 Liberty Belle during WWII, 3 years in China with CNAC, and 28 years with The Flying Tiger Line. A Memorial will be held Sat. Aug. 11th at 3pm at:

The Commemorative Air Force Museum
Camarillo Airport
455 Aviation Drive
Camarillo, CA 93010

In lieu of flowers, a donation can be made in his name to:

The Liberty Foundation
11564 East 7th Street
Tulsa, OK 74128

918-340-0243

libertyfoundation.org



If you would like to share any information about Donald K. Hassig
or would like to be added to the CNAC e-mail distribution list,
please let the CNAC Web Editor, Tom Moore, know.
Thanks!