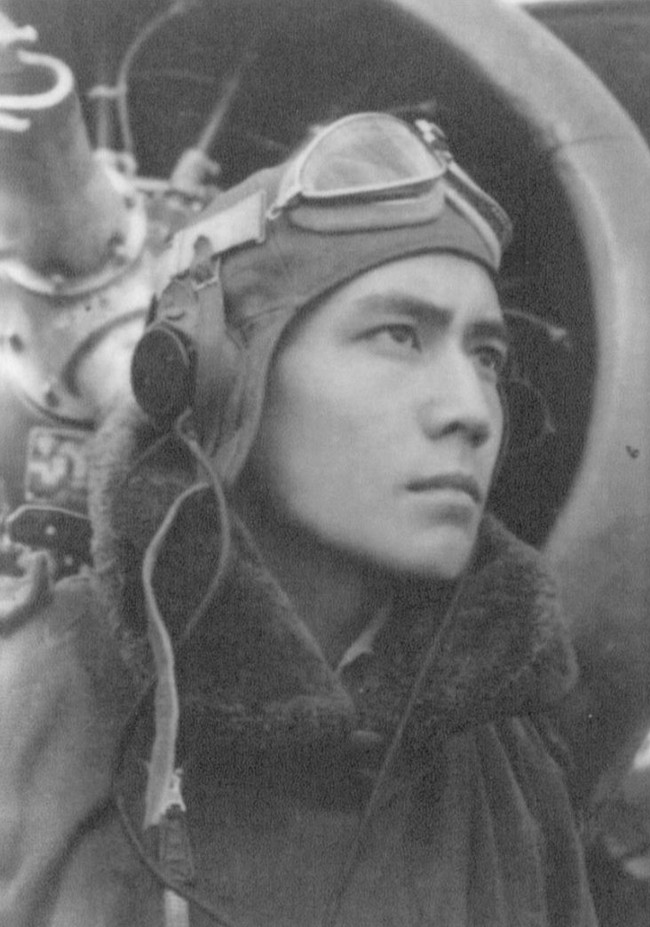 Wei Ling Chen - 1938



Note from my friend and aviation photographer, Bill Larkins:

June 28, 2009

Now to the other one. That extension on the prop hub is the important item and so far the only plane that I can find around that period is the Italian-built Caproni 114 biplane fighter with a British Bristol Mercury IV engine. I see by Jane's AWA that the Chinese Air Force did have some Italian planes so maybe this isn't too far out. I question the date of 1931 as being a little too early, perhaps 1933? Can you find out from the daughter if he was in the Chinese Air Force?

Lastly I must mention that photos can lie. He is dressed properly to be a fighter pilot but he may have just been posed there for a publicity photo and didn't actually fly that plane. As evidence of this I offer the attached photo. That is a photo of me at the Merced antique show - but I not only don't own and/or fly a Moncoupe, it's not mine. As a joke when Larry and I were walking by I picked up the Trophy and posed for the photo. See what I mean?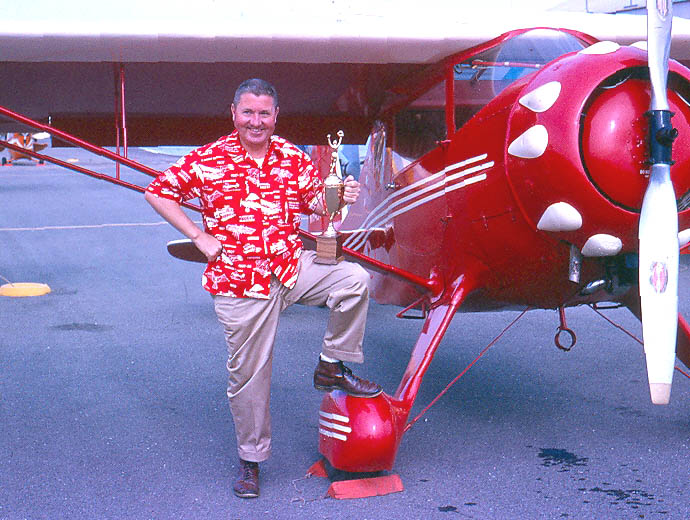 Bill
wtl@earthlink.net


---
May 6, 2009

Hi Valerie and all,

Angie's Hump Pilot father's Chinese name is Wei Ling Chen. His English name is Willie Chen. I thought I would pass on the Hump Pilot's Association badge ID that she passed on to me for her father, Wei Ling Chen (or Willie Chen). If anyone has any information on him or knew him, she is yearning to know. All their CNAC memorabilia was lost in the Cultural Revolution. I don't know if Angie has been able to get your e-mails. She is hoping to fly over from Guangzhou, China to come to the reunion in Burlingame.

Pattie Lew (close friend of Angie Chen)


---
From the daughter of Wei Ling Chen.
May 8, 2009

Dear Pattie, Valerie, Tom and all,

Many thanks for your efforts to help finding out more info related to my father, Willie Chen. It is really exiting to find out some info of my dad gradually.

Attached please find some of his photos:
1) 1931, in China Air Force (see photo above), along with his plaque and badge of CBI Hump Pilots Association (HPA), No.1461;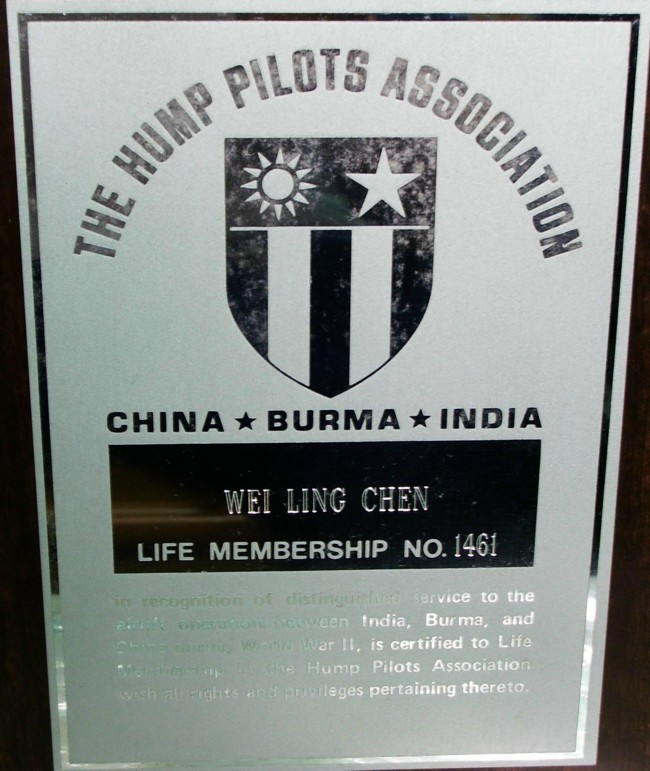 In recognition of distinguished service to the
airlift operation between India, Burma, and
China during World War II, is certified to Life
Membership in the Hump Pilots Association
with all rights and privileges pertaining thereto.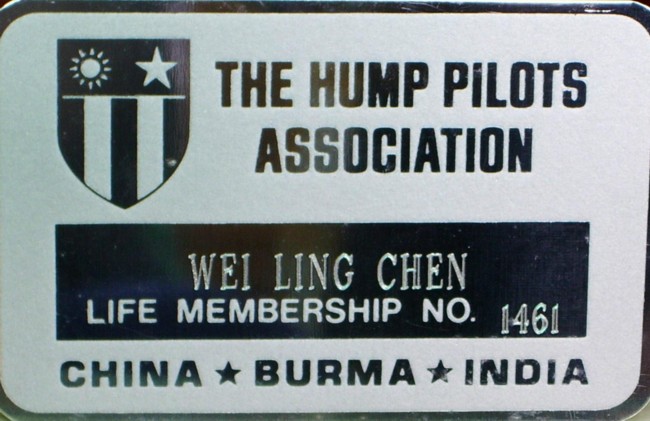 2) late 1990s with some other hump pilots at SFO golden bridge;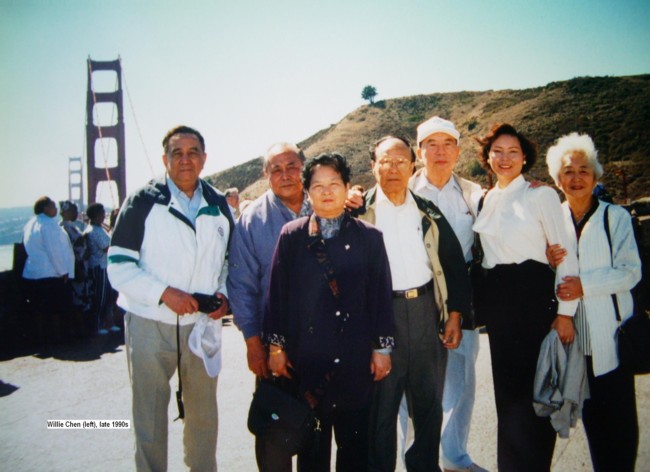 left to right
Willie Chen, Unknown, Umknown, Unknown, Fred Chin, May Chin (Fred's wife)
and Zhang wei-xia; CNAC Flight Attendant (Zhang's husband, Tsai ke-cheng was a CNAC co-pilot)


3) a photo including Moon Fun Chin in a veteran reunion in Beijing, 2005. The picture was given to me by one (on the right) of my dad's old hump pilot friends. I believe the man on the 2nd from left is Moon Fun Chin, right? (Yes, that is right.)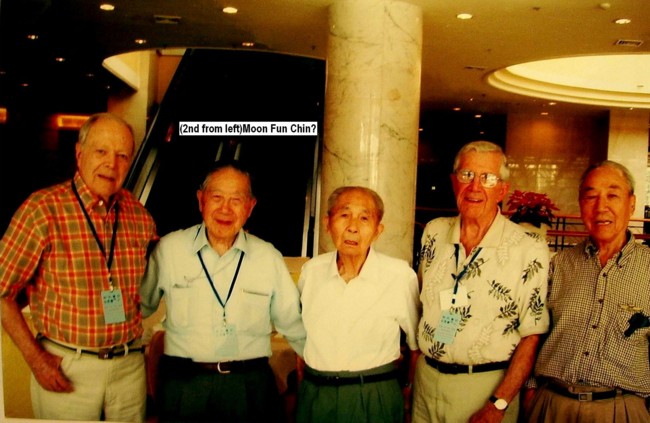 Peter Goutiere, Moon Fun Chin, Mr. Lu Yuan-bin, Bill Maher and Bing Zhou


(* Respectable Moon Fun Chin, I copied this photo from Zhou Bing in Beijing. In case I am wrong in recognizing you, please forgive me.) Unfortunately, as you might understand, there are no surviving photos of my dad's from during WW II. Hope these 3 photos could help.



Here's two more photos from Angie.
1991 summer Willie-Angie-Annie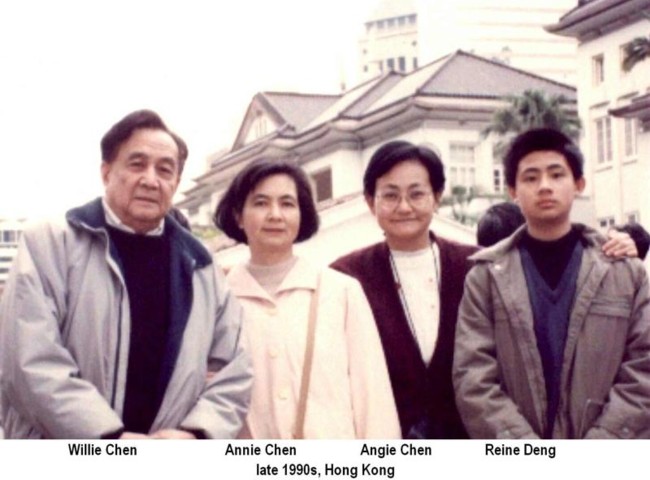 Annie Chen (Angie Chen's younger sister), Angie Chen (dau. of Willie Chen) and Reine Deng (Annie Chen's son)


(NOTE: Angie - Thank you for sharing these photos. Tom)

Look forward to your early response.

Thanks & Regards,

Angie (Chen)



If you would like to share any information about Wei Ling "Willie" Chen
or be added to the CNAC e-mail distribution list,
please let CNAC Web Editor, Tom Moore, know.
Thanks!