Z.G. SIEN (probably deceased)
(Mechanic?)
(CNAC 1944 - 194?)


Z.G. Sien was a Windows & Tools Chief Clerk.

Moon Chin remembers this name and Moon is pretty sure that Z.G. Sien started with CNAC in 1944, worked at Lunghwa in Shanghai and then in Calcutta. Moon also said that Z.G. Sien worked with T.T. Chen.
---
January 7, 2012

The current owner says this:

From my CNAC / China " Hump Air Route" collection . This airmail cover has to be one of the most exciting CNAC wartime airmail covers in existence today. From Loiwing in the far western Yunnan - Burma border to CNAC head office at Dum Dum airport in Calcutta. The postmark date is from mid April just before the Japanese overran the area and took the vital Loiwing airstrip . Astonishingly, due to the exigencies of war , it was not delivered in India until July 1944 - after the allies had reoccupied the Border area. Below is my album page description.

A most interesting airmail cover. From the China / Burma border to the CNAC operations centre in Calcutta.

It has a clear Leiyun datestamp , identified as Loiwing , of 16th April 1942 and a faint Kunming ( Yunnan Fu ) transit stamp which is read as 26th April 1942.

The arrival backstamp is an astonishing 14th July 1944 ! The franking of only $1.50 is commensurate with the early 1942 dates.. So how is this delay explainable.?

The senders return address is the hilltown of Pangkham in Burma and was close to the isolated military airbase at Loiwing just across the border in China. The latter was in April 1942 a base for both The RAF. And The Flying Tiger group and was serviced by air transport out of Kunming .. Loiwing was vital to the Allies but had to be abandoned by the beginning of May 1942 due to direct Japanese attacks. Although the cover bears a faint superscription " CNAC via Lashio " this routing was evidently no longer considered possible so it has gone through by air to Kunming by CNAC or perhaps by road . It could then simply have sat forgotten in Kunming for over two years before being sent on over the Hump to Calcutta. However it is possible that the cover did actually leave China in 1942 but was then "lost " in Burma . It is an intriguing possibility that the letter travelled as far as say Myitkyina where it was abandoned in the May 1942 emergency.evacuations and then recovered 2 years later as the war progressed in favour of the allies.

Coincidentally this principal Burmese town was retaken by the Allies in May/ June !1944. !



FRONT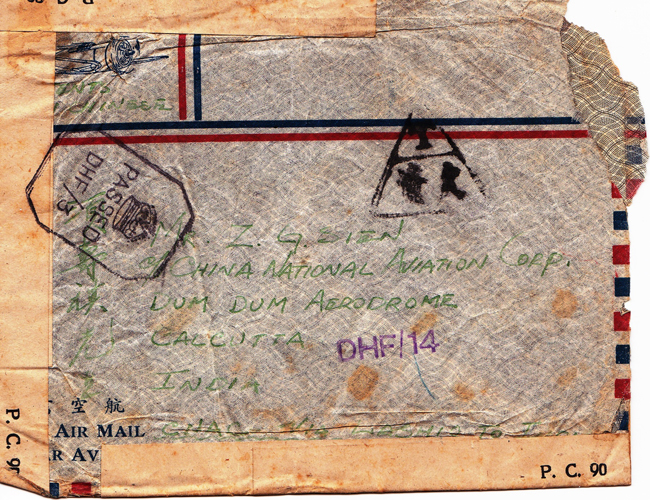 Click here for a higher resolution of the front

BACK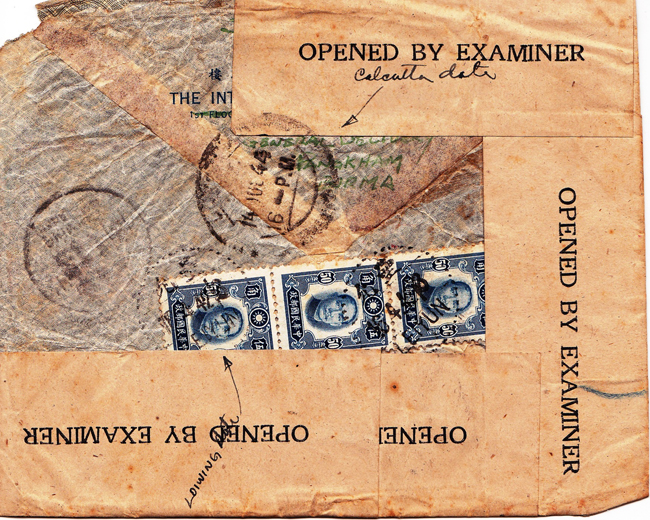 Click here for a higher resolution of the back
---
Unfortunately we have no more information on Z.G. Sien other than what you see on this page.


Can you help?







If you would like to share any information about Z.G. Sien
or would like to be added to the CNAC e-mail distribution list,
please let the CNAC Web Editor, Tom Moore, know.
Thanks!



Background music to this
page can be controlled here.
"Yin Nian Hao"