APRIL 9, 1945
CRASHED ABOUT 11,000 FEET, HALF WAY FROM SICHANG TO KUNMING


From Fletcher Hank's, "WHEN AND HOW THE CNAC CRASHES HAPPENED ON THE HUMP AND ITS ENVIRONS DURING WWII" (hand-dated 5/4/02)

William "Hal" Smith, 04/09/45, C-47 #88.
All 3 killed. Chinese crew. Hal left Kunming for Sichang to pick up a cargo that Dick Stuelke left there when he had engine trouble on his return flight from Suifu. Hal crashed approximately at 11,000 feet, half way from Sichang to Kunming, in bad weather.
Source: Don McBride's log.



The following excerpt comes from "The Aluminum Trail" by Chick Marrs Quinn.
See booksetc01.htm for details about this and other related books.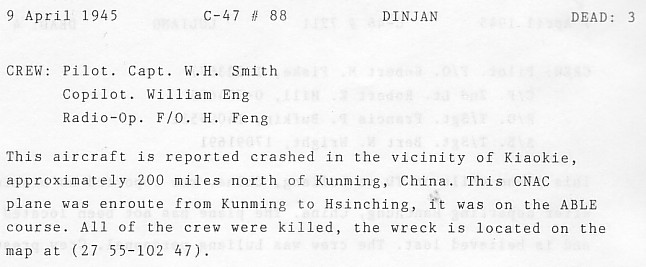 William Eng and H. Feng




If you can share any information about this accident
or would like to be added to the CNAC e-mail distribution list,
please let the CNAC Web Editor, Tom Moore, know.
Thanks!


Background music to this
page can be controlled here.
"Clair de Lune"