From Gene Banning's notes of 8/31/00:
"... was Chinese AF ace, joined 1945?"

---
Art Chin sent this letter with copies of "Wings Over Asia", Volume II
September 1972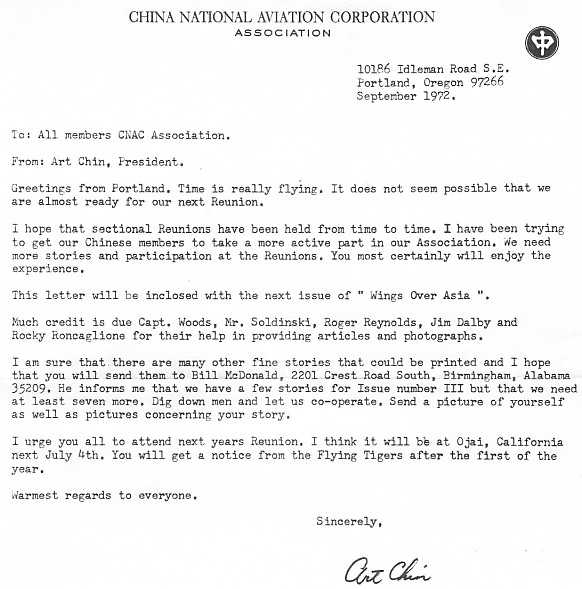 ---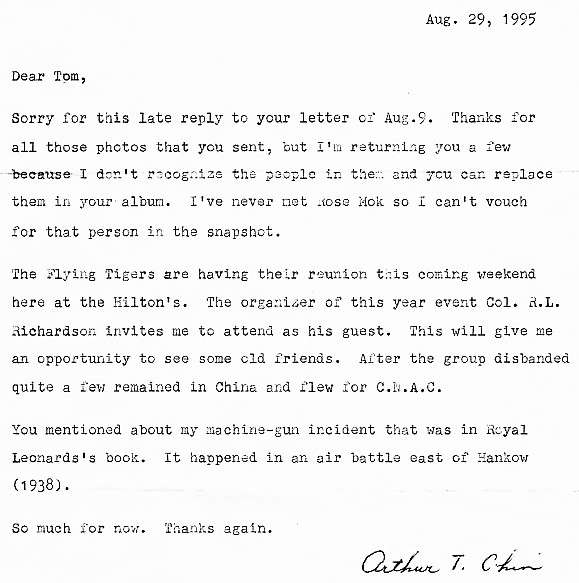 ---
August 7, 2002
I received a short note from Art's grandson, John Gong, giving me the following link which contain information about his grandfather:
http://www.dalnet.se/~surfcity/china_chin.htm

---
Renee Robertson provided me with a copy of this photo.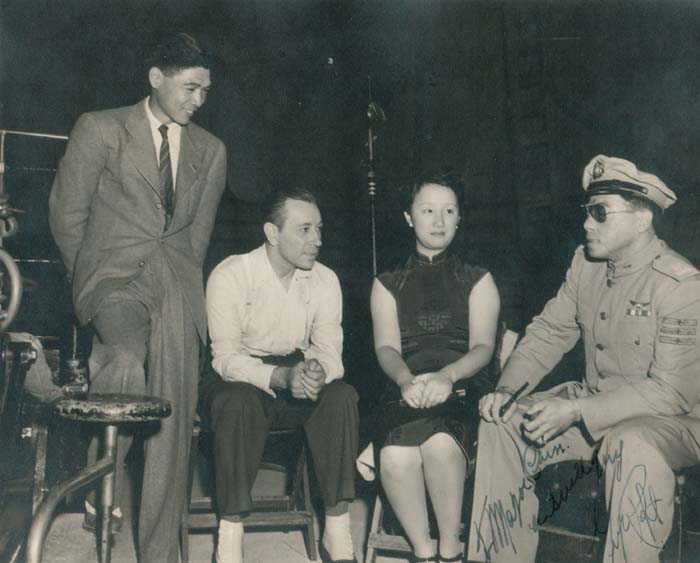 Unknown, George Raft, Unknown and Art Chin
about 1942 - After Art had surgery at the Mayo Clinic
Here's the big version
---

November 13, 2003
Art's grandson, John Gong, sent me a copy of his grandfather's contract with CNAC.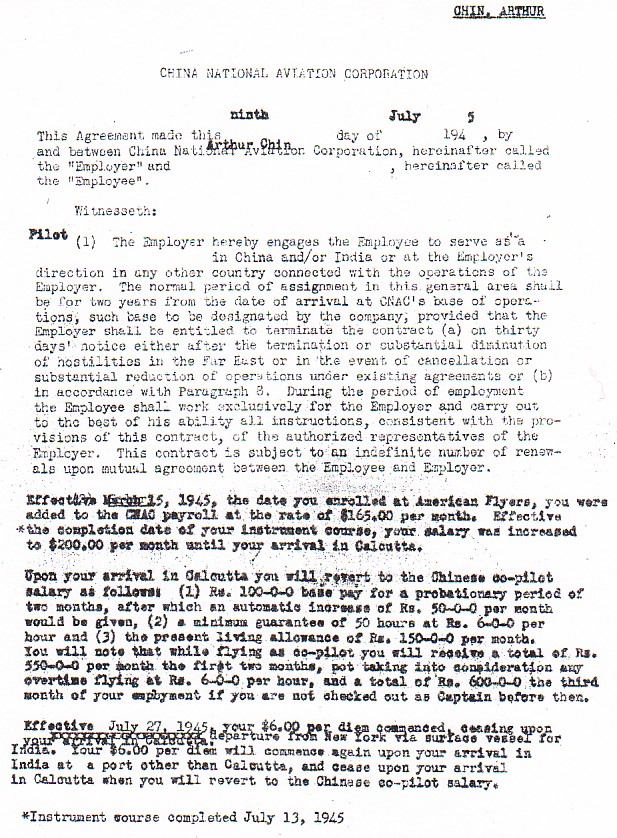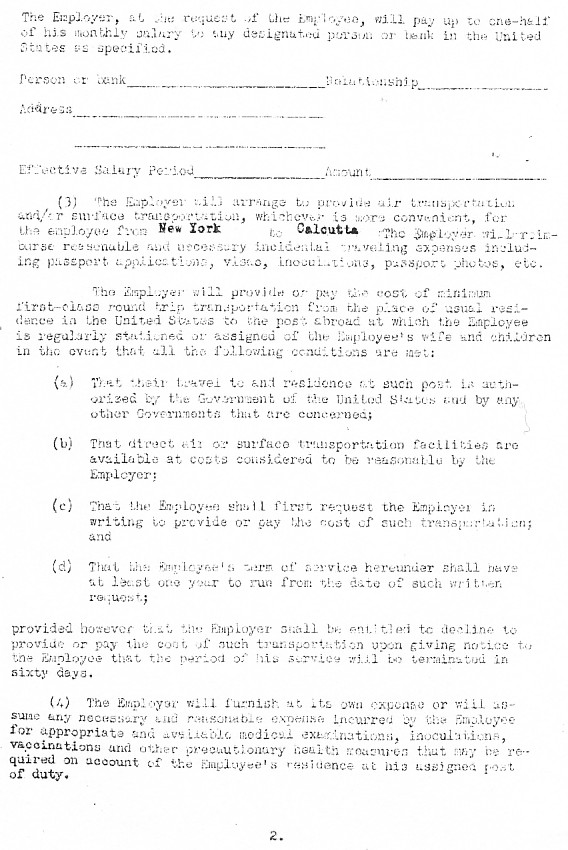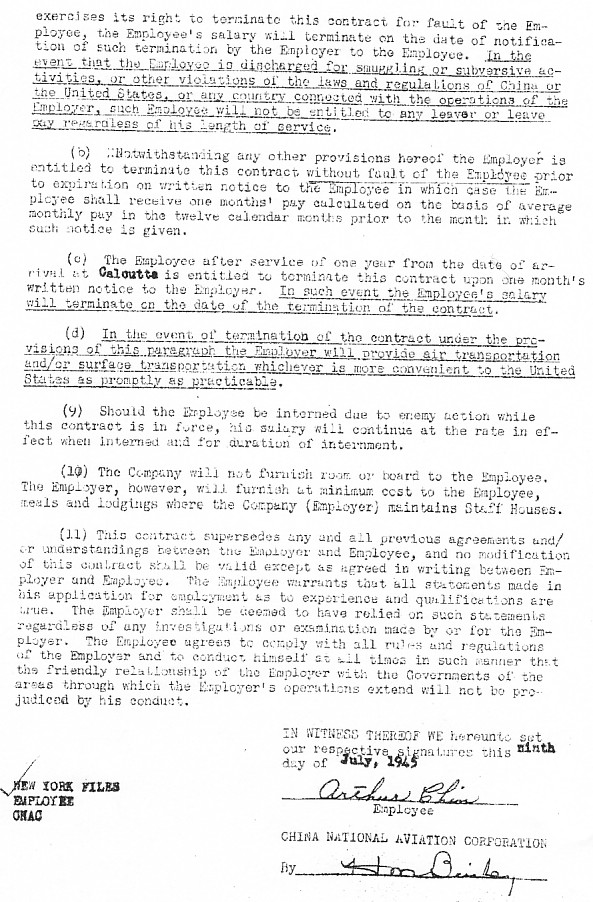 ---
August 12, 2002
"Hi Tom -

I am enclosing a photo of my grandfather (middle) while he was flying for CNAC, this is one of many items that he has donated to the Oregon Historical Society. Also I have received an email from HT Chinn who was a former pilot for CNAC who remembers my grandfather, my grandfather was his best man at his wedding apparently and he still communicates with my grandmother. Hope this info helps.

John"
(John's e-mail address is: SwimFins68@aol.com)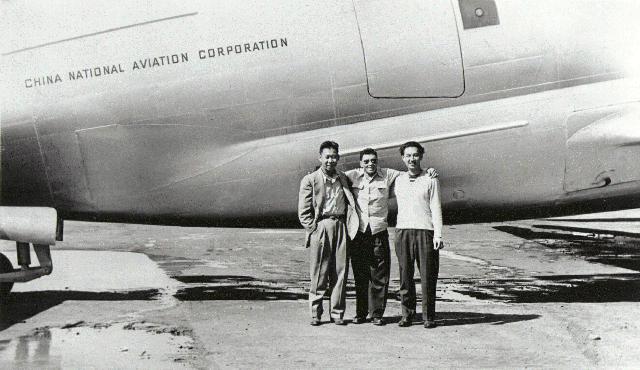 Standing beside a C-46 is Art Chin in the center.
Probably Kunming - 1946




Unknown, Art Chin and Clarence Mar
Anyone know the other two men?
(Photo Courtesy of John Gong, Art's Grandson)
---
The following photos have been provied by John Gong, Art's Grandson.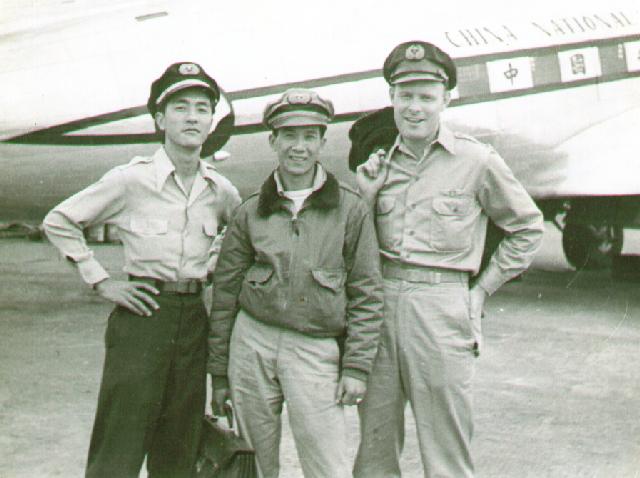 Young Wong, Tom Wing, Felix Smith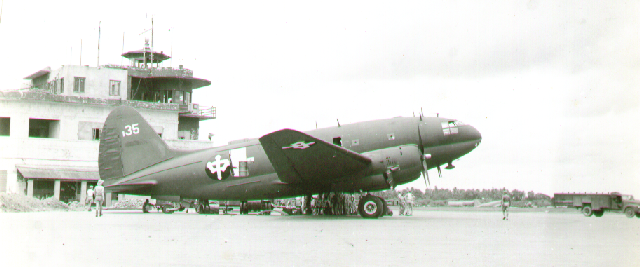 C-46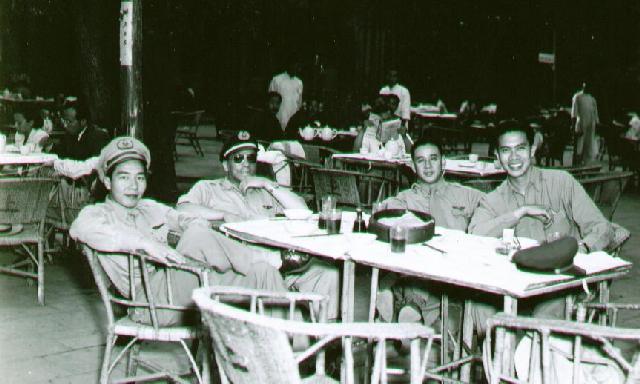 P.T. Lee, Art Chin, Unknown, Unknown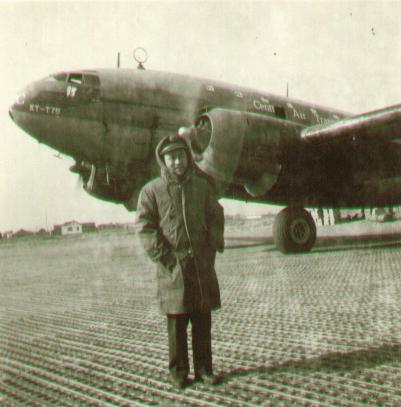 Unknown man standing in front of a CATC C-46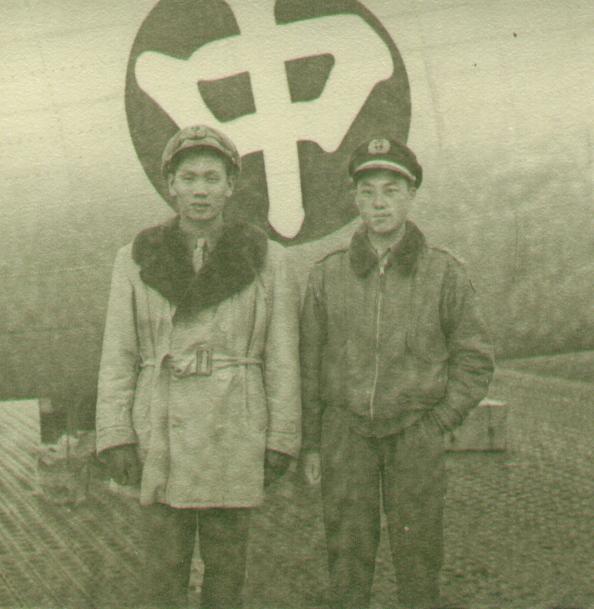 "Here are a few of my grandfathers friends I guess,
because I have several pictures of them in "leisure" time
hanging out in various places together throughout china/india/etc in uniform."
(anyone recognize these men?)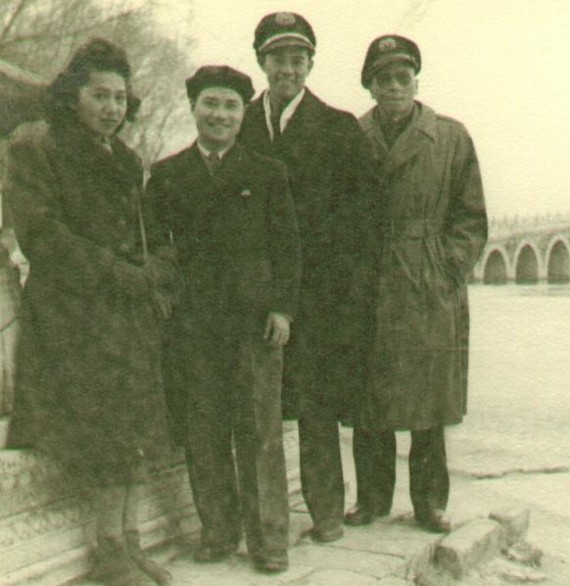 Unknown, Unknown, Unknown, Art Chin
---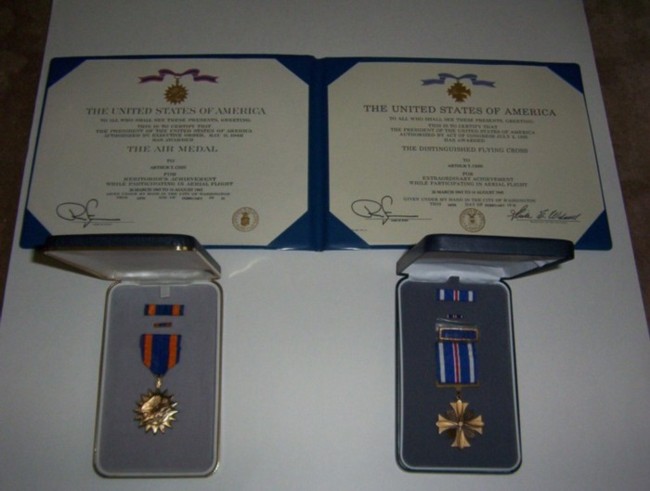 ---
August 10, 2005

more info...I have a letter here from the Commission on Aeronautical Affairs of the Republic of China dated April 9, 1945. It states that my grandfather was a member of the Chinese Air Force for 12 years accumulated 3,000 hours of flying time and this document is signed by both my grandfther and PT Mow, Major General, Chinese Air Force.

His log book for CNAC starts March 16, 1945 I believe with a group called American Flyers in Ft. Worth, Texas. This training ends 7-13-45 with a total of 52 hours of training. Beginning in 9-11-45, he starts in Calcutta (initial flight 40 min local flight) marked transistion phase I.

Just curious, are complete log books rare? This one covers about 5 years and pretty detailed about dates, type of aircraft, license number, engine type, from/to, cargo (passengers, equipt, air drops), aircraft classification, looks like he was also a "check pilot" etc.

I just found a letter dated 1-21-1946, from Capt. Gordon Poon to Capt. WC McDonald, chief pilot CNAC, Dum Dum Airdrome reccomending that Art should be checked out as a capt. immediately. Total hours flown 8197.03 of those it looks like 778.48 as a co pilot.

John


---
September 11, 2004

John has a trunk load of memoriablia that his grandfather left him. Click on the following links to see just a few of those items:
Flight Forecast
Flight Misc.
Flight Misc.
Flight Misc.
Medical/Radiotelephone Certificates
Chinese Pilot's License - CNAC
US Dept of Commerce Airman ID Card
more Dept of Commerce certificates
Chinese Check Pilot's Certificates
Passport
CNAC Distinguished Flying Cross/Air Medal



If you would like to share any information about Arthur S.T. Chin
or would like to be added to the CNAC e-mail distribution list,
please let the CNAC Web Editor, Tom Moore, know.
Thanks!