In the 1943-45 log book of Don McBride, Harold listed his address as:
(actually, Harold probably wrote this entry in the 1970's or 1980's)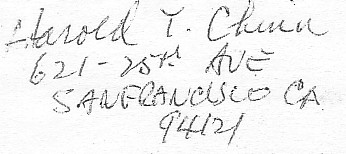 Harold T. Chinn
621 - 25th Ave
SAN FRANCISCO CA
---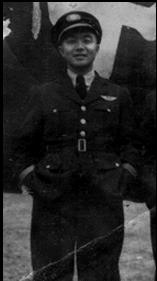 Harold T. Chinn
(Above photo and the following biography courtesy of We Served With Pride)


HAROLD T. CHINN, Captain, U.S Army Air Force, Air Transport Command, China National Aviation Corporation
Third Generation Canadian-Born, Naturalized U.S. Citizen, 1943

Chinn, a Canadian Chinese from Vancouver, is perhaps the only Chinese pilot in WWII to have accumulated over 10,000 hours of flight time. He began as a transport pilot in 1937 flying for the China National Aviation Corporation because he could not find work in the states. During the Sino-Japanese War, Chinn had many narrow escapes from Japanese fighters. Once, the steel frame and cushion of his seat saved his life by stopping a number of bullets. He was also involved with many evacuation missions in addition to flying dignitaries, ammunition, food and medical supplies all over China. In 1942, Chinn and his team of five Chinese American pilots were quickly absorbed into the U.S. Army Air Force's Air Transport Command under the 14th Air Force. It was here that Chinn flew countless missions over the Himalayas, bringing much needed supplies and materials from Calcutta to Northern China. In 1995, Chinn and his five fellow pilots, Art T. Chin, Moon Fun Chin, Quock Ming Chin, Donald S. Wong, and Thomas Sew Wong, were finally recognized, decorated and discharged from the U.S. Air Force. " I guess I flew quite a bit in those days. I was lucky I got the opportunity to do so," says Chinn.


---
I visited with Harold on February 21, 2007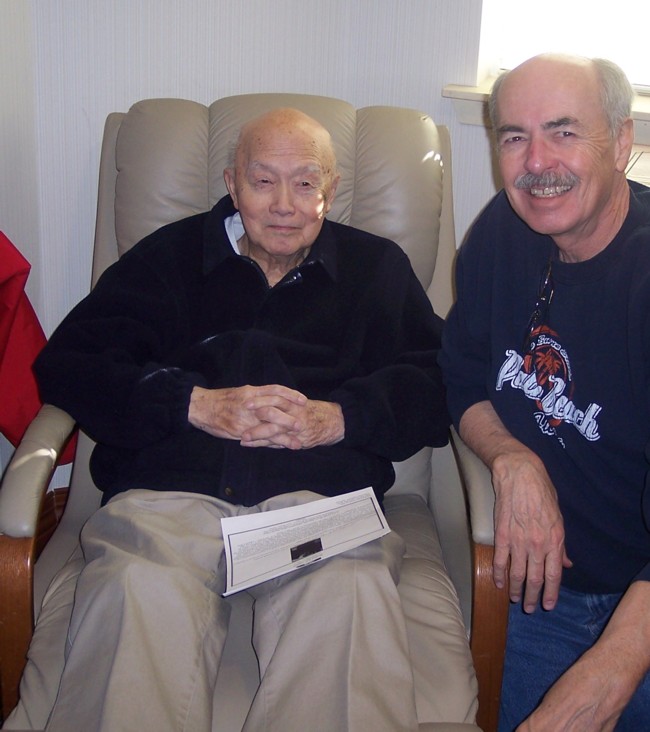 Harold and Tom Moore
This photo and box of WW II medals were hanging in Harold's appartment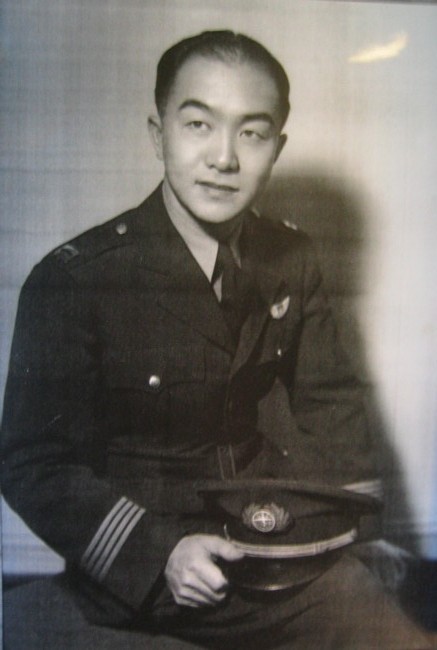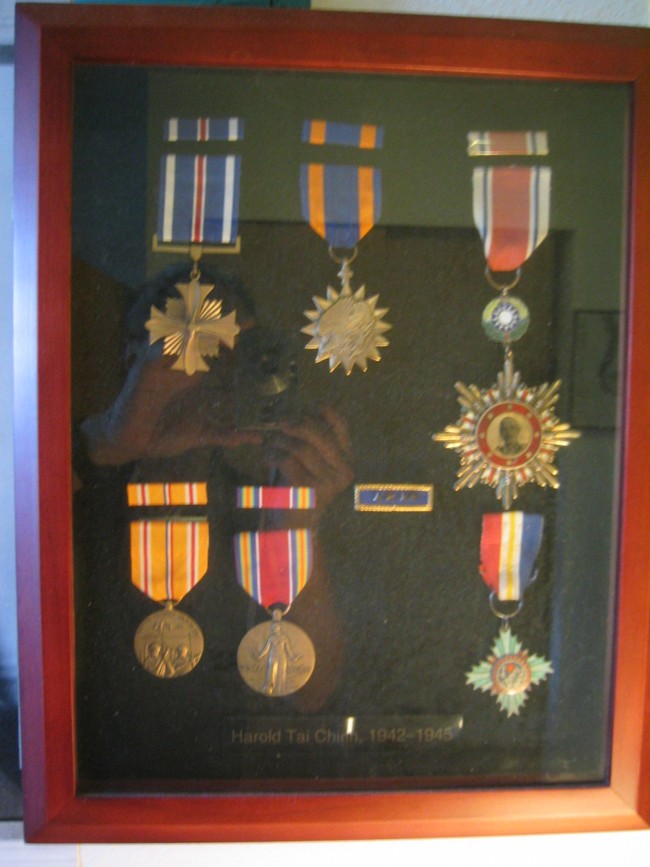 ---
Harold's obituary from the San Francisco Chronicle can be found at the following link:
http://www.legacy.com/SFGate/Deathnotices.asp?Page=LifeStory&PersonID=90194218

Harold T. Chinn
Harold Tai Chinn, a resident of San Francisco for over 50 years, has now been reunited with his wife Rose (Lum) in Heaven. Harold passed away peacefully in his sleep on Wednesday, June 13, 2007 at 95 years of age in Seattle, WA. He is survived by his children Dale (Vernon Tom), Craig (Noelle Carol) Chinn, Allan (Yvonne) Chinn; brother, Stanley (Margaret) in Saskatchewan; brother, Frank in Ontario and sister, Beatrice Yee in British Columbia. Harold's life can be noted in history as one of adventure and dedication to his family. The fifth child of three girls and six boys, Harold was born in Vancouver, British Columbia on April 10, 1912. He started his education by attending the Lord Strathcona School in Vancouver. During his youth he looked up to the sky and yearned to fly those crazy flying contraptions called aero planes. By the early 1930s he earned his wings. Unable to find meaningful employment as a pilot in Canada and the US, Harold headed off to China as the drumbeats of war were first being heard. He first joined the Chinese Air Force and then moved on to join the Canton Air Force as a transport pilot. Harold later joined the Pan American Airways subsidiary, China National Aviation Corporation (CNAC) flying DC-3's and DC-4's. When World War II broke out, he was absorbed into the US 14th Air Force in the China Burma India (CBI) Theater of War. For his actions in ferrying supplies over the Hump between India and China during WWII he earned the Distinguished Flying Cross and Air Medal. After WWII, as a senior pilot for CNAC, he captained a number of first flights and survey flights. Among those were the Hong Kong to Batavia (Jakarta) and Shanghai to San Francisco first flights. In 1950, Harold and Rose settled in San Francisco to begin raising two children. A third was soon to come along. During this time, Harold was an avid supporter of Scouting. He allowed his children grow as they chose, supporting in any and all endeavors. To this end, his memories will always be with them. Harold was preceded to Heaven by Rose on February 14, 2003. Private memorial services will be held at 1:00 pm on July 10, 2007 at the Columbarium in San Francisco. In lieu of flowers, contributions in Harold's name can be made to your favorite charity. Published in the San Francisco Chronicle from 7/5/2007 - 7/6/2007.



If you would like to share any information about Harold Chinn
or would like to be added to the CNAC e-mail distribution list,
please let the CNAC Web Editor, Tom Moore, know.
Thanks!