In the 1943-45 log book of Don McBride, Tommie listed his address as:


THOMAS SEW WONG
12265 GULF RD.
MONTREAL
CANADA
---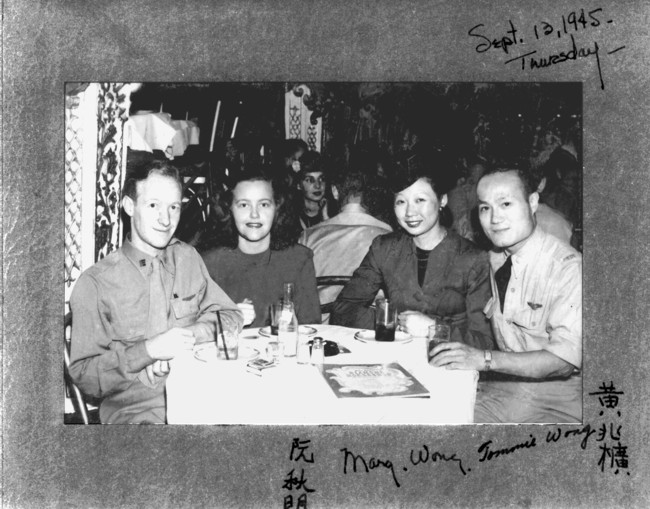 "Red" and Garnet Holmes -- Mary and Tommie Wong
Billy Rose's Diamond Horseshoe in NYC - 1945
(Courtesy of Red's son, Tom Holmes)
Now let's look at those faces a little bit closer.


---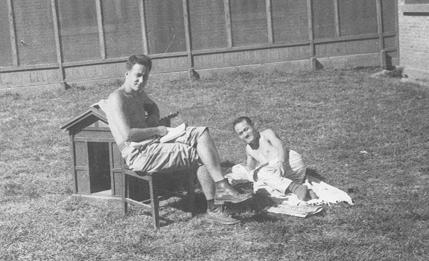 Carl Wiss & Tommie Wong
(Photo Courtesy of Jim Dalby)


Tommie Wong died of cancer January 22, 2000. He was buried at the National Memorial Cemetery of the Pacific (Punchbowl), overlooking Honolulu. He was awarded the Distinguished Flying Cross (DFC) just 3 years ago (1997) for flying in China.

From the Honolulu Star Bulletin, January 27, 2000:
Thomas Sew Wong, 80, of Honolulu, a retired pilot, died Saturday in Kuakini Hospital. He was born in China. He is survived by wife Pauline, son Derek, brother Frank, sister Mary Ham, and a grandson. Private services.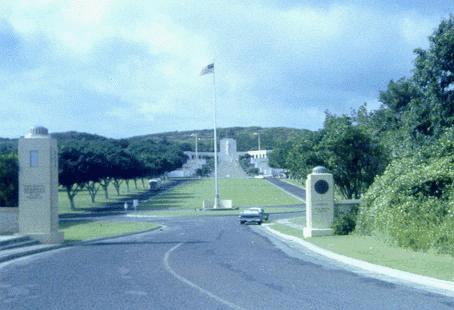 "Punchbowl"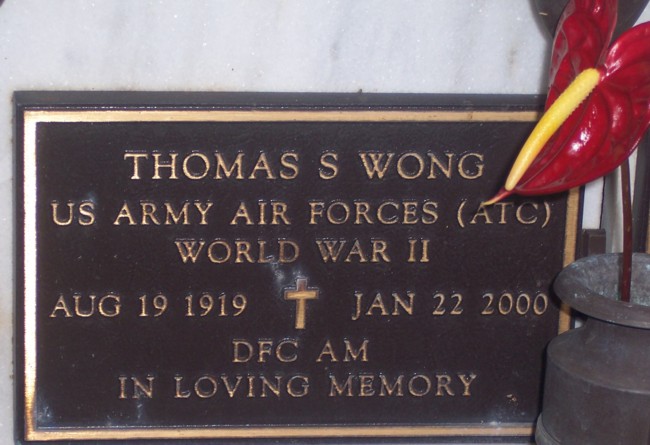 (Photos Courtesy of Tom Moore)
---
January 28, 2006

Dear Tom Moore:

Here I am into my 'twighlight' years still lucidly retaining the memorable experiences I had at Wondel Aviation; in particular flight instruction from Tommy Wong. Tommy finally passed me after a gruelling flight test when I nearly pranged a Cessna 140 on runway 28 at Carterville airport. (He was screaming at me for rounding out to high). I was told later on that it was probably because his hearing had diminished after flying many hours in Muti-engine aircraft, however, I don't think that was the reason in my case. Later on, when I got my Private License ULP-4196, Tom eventually allowed me take the club's Piper-22's (Tri-Pacer) to Toronto and on many other cross country trips. I bumped into Al Mah one day in N.D.G. Montreal: I think it was in 1974. I first met Al at Wondel Aviation one afternoon where he gave me a history lesson of the turmoil in east Asia, and the experiences pilots had flying the 'HUMP', Al struck me as the epitome anti-hero. I keep my log book in my top dresser drawer and every so often will look at it and reflect on those wonderful times and the memorable people I met at Wondel.

Regards, Anton "Tony" Borys
E-mail sceptic@shaw.ca

P.S. Have you perhaps heard from former instructors Peter Camshe, Bix Belair, John Jensen, Hans Lewin, Harry Grosser and King Nener?


---
July 30, 2009

Just a quick note that I met Tommy Wong in 1974 at Won-Del aviation to start my flying courses. He was a good friend of my Uncle Mike Vien, who introduced me to Tommy, they probably served together in the RCAF. I also was good friends with Derek which I lost contact when Tommy sold Won-Del.

If you could please convey my condolences to Derek and the family.

Mike Major
majorfamily@eastlink.ca

Charlottetown, PE

Formely from Montreal



If you would like to share any information about Tommie Wong
or would like to be added to the CNAC e-mail distribution list,
please let the CNAC Web Editor, Tom Moore, know.
Thanks!