CARL WISS (1919 - 1994)
"Candy"
(CNAC 1944 - 1947/8?)
(Captain - ???)


In the 1943-45 log book of Don McBride, Carl listed his home address as:


Carl Wiss
2263 37th AVE.
San Francisco, Calif.
---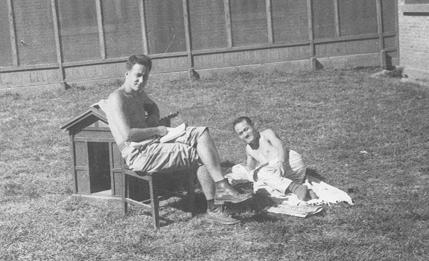 Carl Wiss & Tommie Wong
(Photo Courtesy of Jim Dalby)


From Gene Banning's list of 8/31/00:
"... joined in 1944; was in acc at Mukden about 1947/8 left CNAC to Indonesia."

---
New York Times - January 21, 1948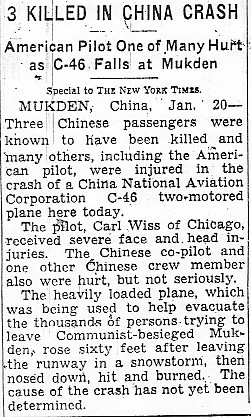 ---
From the CNAC Cannon Ball
Chinese New Year Edition
1996

---

January 1, 2001
From Jim Dalby
"Carl Wiss -- I didn't know what happened to Carl after I left. About 1993 he called me and said that he had been a street person in San Francisco for many years. He was in terrible straits and wanted my help in getting him into the VA hospital in the Napa Valley. I got his veteran status worked out and he entered the VA hospital and died there. That is all I know. Or think I know.
Jim."


---
June 29, 2005

Re Carl Wiss:

The following from a so far unpublished manuscript on Indonesian Aviation in 1945-1950 may be of interest: The registration RI-001 was assigned to a Douglas C-47 which has achieved almost mythical status in Indonesia.

This aircraft was originally registered as VR-HEC and was owned by L. M. Moore or Morne. Its previous identity was 43-49642. Based on Dutch intelligence reports it appears that the aircraft had been chartered by the Indonesian authorities before. On 14 October 1958 it was purchased by Indonesian Airways with money collected by Sukarno during a tour of Sumatra.

It has been suggested that it was parked at Magoewo when the Dutch forces captured this airport on 19 December 1948 and was taken over by the Dutch but this cannot be substantiated from Dutch reports and seems to be contradictory to its subsequent history when, named Seulawah, it was based in Rangoon. From there it flew under charter to the Burmeese government during 1949 and part of 1950. The aircraft was flown by the American Carl Wiss as well as the Indonesian Sumardjono. Wiss was an American who had flown the hump and who, after the war stayed with CNAC flying C-46 aircraft. Following a crash in January 1948 he left CNAC, presumably to fly for the Indonesians in Rangoon. He lived until the 1990s.

In August 1950 aircraft RI-001 was transferred to the AURI.

Jos Heyman
Australia
E-mail josheyman@hotmail.com






If you would like to share any information about Carl Wiss
or would like to be added to the CNAC e-mail distribution list,
please let the CNAC Web Editor, Tom Moore, know.
Thanks!


Background music to this
page can be controlled here.
"Tuxedo Junction"