In the 1943-45 log book of Don McBride, William listed his home address as:


WM. Baird
c/o Ernie Weller
Atkinson, Nebr.
---
From Gene Banning's list of 8/31/00: "William Baird, 11/43."

---
November, 1944 - Cairo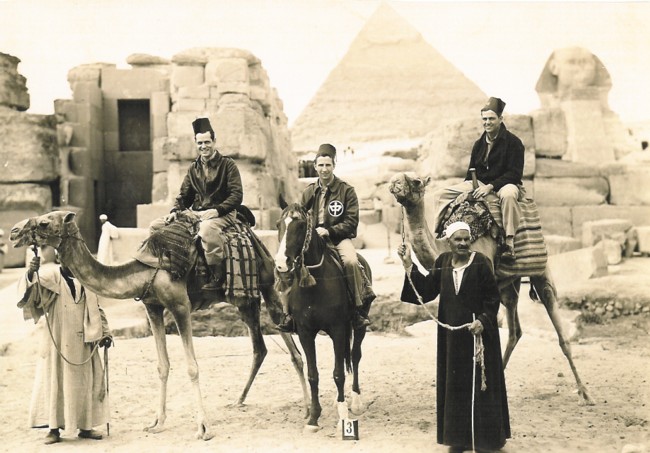 left to right on the camels
Bill Baird, Bob Heilig and Bob Prescott
(Photo courtesy of Linda Heilig Nielsen)


July 1, 2006

I believe this is my father, William L. Baird. My father was born in Ord, Nebraska, U.S.A. I was 7 years old when he died one Saturday afternoon of a heart attack while playing golf in Arcadia, CA. He was 40 years old. I stood by my mothers side as two men came to the door and told my mom. I was 7 years old. I miss him even today. I never knew much about him, but he graduated from Cornell University in the class of 1941 and was married with three kids.

I am reading his pilot log book now. His business address was China National Aviaton Corp. Calcutta India or Kunming China. It looks like he flew a DC-3.

Here are some selections of an article about William Baird (written sometime between 1941-1948):
A Flying Soldier, who uses only his skill as pilot against Japs over China, visiting sister here.

Flying since 1937, Baird had become a soldier of fortune, going to Ireland, Europe, Africa, South America and Portugal for Pan American Airways." (NOTE: He also flew the hump.)

Baird began flying when he was going to school in Cornell University where he studied hotel management. He became an instructor and upon graduation, went into service with Pan American Airways. Today, he has nearly 4500 hours of flying time to his credit and has made over 100 flights across the Atlantic ocean. His rating in the Chinese government service is captain. After his visit with his brother-in-law (Stan Shadow, also a pilot) and sister, Dr. and Mrs. W. J. Fitzpatrick, Baird will go to his hometown, Ord, to spend some time with his mother.

The possession of which Baird is most proud is a lion skin rug given to him by the Maharajah of Cooennochar. He owns a large estate in India. From his 52 room castle he leads his own army and goes big game hunting on his own property. He shot the lion and presented the skin rug to Baird just before he left for the states.

He was the builder of the Mediterranean House. He was a member of the San Gabriel Valley Chapter of the B.C.A. and specialized in custom homes. Bill Baird, Inc...Cannell & Chaffin.. O.B.Franz Jr. He also worked with Del Webb.

My mother did not stay in touch with pilots. She gave out very little information about my dad. She sold her home and moved to Hawaii. Her name was Geraldine O'Neal Baird.

Bill Baird
E-mail WBaird9077@aol.com



If you would like to share any information about William Baird
or would like to be added to the CNAC e-mail distribution list,
please let the CNAC Web Editor, Tom Moore, know.
Thanks!