WILLIAM EDWARD TERRY (1916 - 1980)
"Ed"
(Pilot)
(CNAC 19?? - 194?)
(Captain - ???)
(Hump Flights - XXX)


From the 1960-1962, 1964 and 1965 CNAC mailing list:
Terry, W. E. p (p=pilot)
105 Hilltop Rd.
Chatanooga 4, Tenn.

From the 1976 and 1979 CNAC mailing list:
Dr. W E Terry
1001 Carter St
Chatanooga Tenn 37402

I believe his wife's name was Mary H. Terry.


---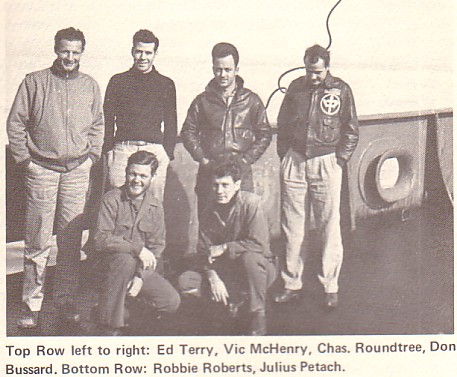 Top row left to right: Ed Terry, Vic McHenry, Chars. Rountree, Don Bussart
Bottom Row: Robbie Roberts, Julius Petach
(This photo and the caption came from "Wings Over Asia" Volume IV.
Terry's, Bussart's and Rountree's names aren't quite correct.




If you would like to share any information about William Edward Terry
or would like to be added to the CNAC e-mail distribution list,
please let the CNAC Web Editor, Tom Moore, know.
Thanks!



Background music to this
page can be controlled here.
"Tea For Two"