GEORGE HAROLD ANDERSON (1917 - 1944)
"Andy"
(Pilot)
(CNAC February 1944 - November 30, 1944)
(Captain - 1944)
(Hump Flights - XXX)


From the birth certificate of George Harold Anderson:
George Harold Anderson was born in San Francisco, California on November 18, 1917 to George A. Anderson, 41, from Finland and Mary Clark Anderson, 34, from Iceland. Their home address in 1917 was 155 Mangels Avenue in San Francisco. George A. Anderson was a "motorman" on the "Street Railroad". Mary Clark Anderson was a Housewife. The attending physician was Joseph Butler, M.D., 435 Mission Street.


---
In the 1943-45 log book of Don McBride, George listed his address as:


George Anderson
50 Stoney Brook
San Francisco Calif
---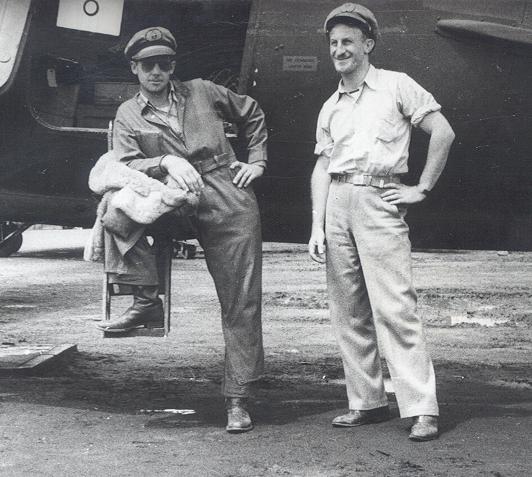 Jim Dalby on left with George "Andy" Anderson after checkride by Dalby.
(Photo Courtesy of Jim Dalby)
---

---

From Jim Dalby

"Andy was killed on 11/28/44 shortly after being checked out. I don't believe that he was married as I have a copy of a letter CNAC wrote to his mother after his death. At the time of his death he had been with us only a short time." (NOTE: Jim uses November 28th, but because the following letter says November 30th, we will use November 30th when referring to this accident.)



Here is a copy of that letter to Mrs. Anderson.
(Anybody out there have a better copy they could loan me?)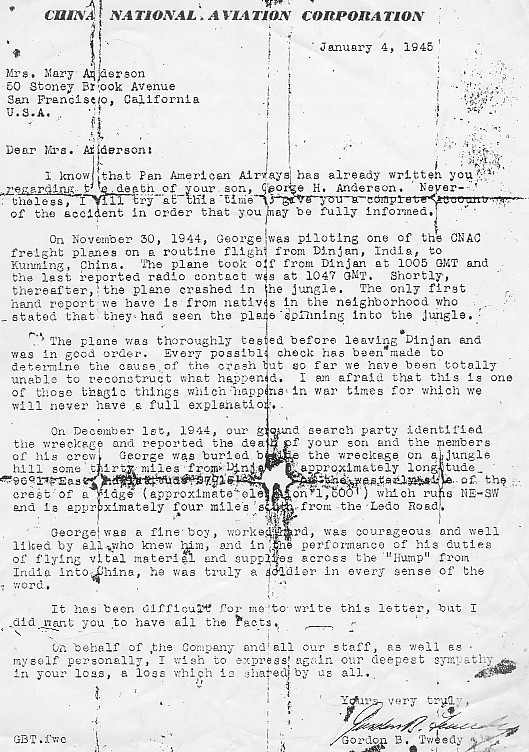 If you would like to share any information concerning George Anderson
or would like to be added to the CNAC e-mail distribution list,
please let the CNAC Web Editor know.
Thanks!


Background music to this
page can be controlled here.
"Tuxedo Junction"