November 30, 1944
CRASHED ON THE SIDE OF DIGBOI MOUNTAIN, NAGA HILLS


From Fletcher Hank's, "WHEN AND HOW THE CNAC CRASHES HAPPENED ON THE HUMP AND ITS ENVIRONS DURING WWII" (hand-dated 5/4/02)

George "Andy" Anderson, 11/30/44, C-47 #56.
All 3 crew killed. Chinese crew (Co-Pilot Chang, Szhe Pu and Radio Operator Wen, De Bin). He made a late afternoon takeoff from Dinjan. Plane crashed and burned on the side of Digboi Mountain, Naga Hills. Natives said the plane spun-in from a low altitude. Both propellers were found feathered so apparently Andy lost power on both engines from water in the fuel. There were broken cloud conditions and rain squalls over the mountain. Frank Higgs and Charlie Uban located the wreck on the 20th. When Mac Mangun, mechanic, Bob Blair, assistant operations manager and Captain Charlie Uban drove out to the crash site the next day no identity could be made. There were three piles of maggots that identified where the bodies were. Mac and Bob threw dirt over the maggots and Charlie scratched their names on one of the propeller blades and stuck it in the ground. This burial was typical of other CNAC crashes.
Source: Kirkpatrick's log, Charlie Uban's log and Alan Chang, grandson of Co-Pilot Chang, Szhe Pu.



The following excerpt comes from "The Aluminum Trail" by Chick Marrs Quinn.
See booksetc01.htm for details about this and other related books.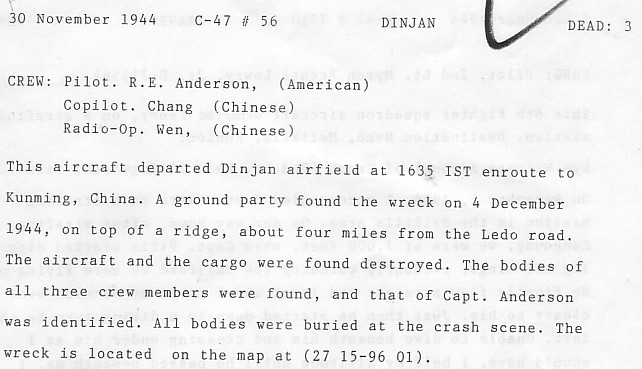 If you can share any information about this accident
or would like to be added to the CNAC e-mail distribution list,
please let the CNAC Web Editor, Tom Moore, know.
Thanks!


Background music to this
page can be controlled here.
"Clair de Lune"