Hewitt's brother Ralph Mitchell also flew for CNAC.

---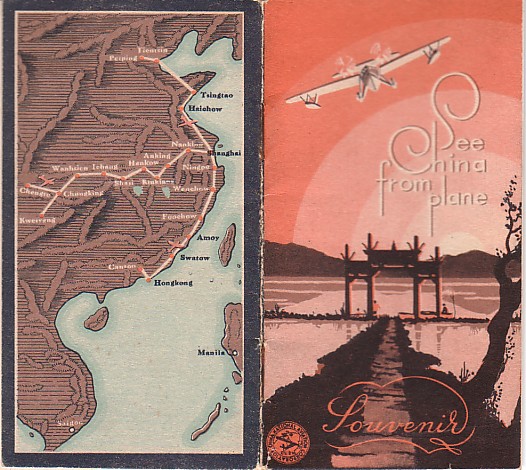 This is the front and back of a small booklet that was given CNAC passengers in the 1930s.
The booklet has many pages to it, so click here to see the entire booklet.
(Booklet Courtesy of Peggy McCleskey)




Captian H. F. Mitchell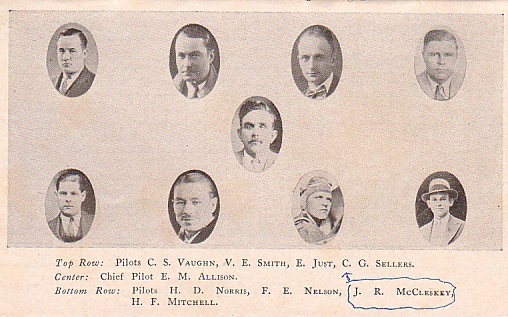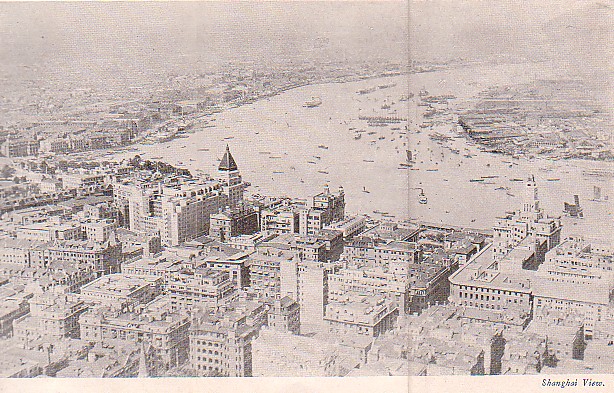 ---
North-China Herald, 15 May 1935
C.N.A.C. Plane Sets Up New Record:
Peiping-Shanghai Trip Done at Nearly 200 m.p.h.

Some idea of the powers of the new Douglas air liner of the China National Aviation Corporation was gained on Thursday, when a new record was set up for the trip from Peiping to Shanghai in spite of the strong head winds encountered. Mr Dai En-ki, manager of the C.N.A.C., told the "North-China Herald" on Thursday that the flight was very satisfactory. The plane left Peiping at 9 a.m. arriving in Shanghai at 12:30 a.m., covering the distance of 650 miles at a speed of nearly 200 miles an hour. Major V. Bertrandis piloted the plane, assisted by Mr. H.F. Mitchell…


North-China Herald, 20 May 1936
Phenomenal Flight by Air Pilot: Mr H.F. Mitchell Makes Up for Lost Time
Approximately 2,323 miles, almost the distance by steamer from Shanghai to Singapore, was covered by Mr. H.F. Mitchell, pilot of the China National Aviation Corporation, between ? a.m. and 9 p.m. on Tuesday, May 12. Far away Chungking and Chengtu in Szechuen province, Kweiyang, the capital city of Kweichow province, Hankow and Shanghai were visited during that day and 55 passengers were carried. Mr Mitchell was flying a Douglas DC-2, the latest acquisition of the company; a 'plane which has a cruising speed of 180 miles an hour and can carry fourteen passengers in addition to the crew, consisting of pilot, co-pilot, radio operator and plane steward. Mr. Mitchell was the first pilot to fly the new Douglas DC-2. He has been with the company for about three years.


North-China Herald, 19 August 1936
As passengers on board the General Sherman, Mr and Mrs Hewitt F. Mitchell, and their small daughter, sailed on Tuesday morning for California on home leave. Mr Mitchell is a veteran pilot of the China National Aviation Corporation and formerly flew in the US Army Air Services.


China Weekly Review, 24 October 1936, p. 287.
Word was received in Shanghai this week that Hewitt F. Mitchell, first China National Aviation Corporation pilot to be trained for the twin-engined Douglas Transports (formerly on the Shanghai-Peiping line) has joined American Airlines and is flying a LA-El Paso route at present.


---
From "The Dragon's Wings" by William Leary:

---

June 15, 2008

I received the following information from Hewitt's youngest daughter, Mary "Mitch" Sullivan. Some great stuff -- thank you Mitch.

Hi Tom: How nice to see your email this morning. My father was born on October 21, 1907 to Ralph Flint Mitchell and Louise Nutting Mitchell, in Berkley, California.

Hewitt graduated from Stanford University in 1930. My mother told me Paul Mantz arranged his employment with CNAC. Hewitt worked for Paul while he was at Stanford. Paul had a flying school near or on the campus and Hewitt worked as janator for Paul. This is where he was bitten by the flying bug for sure. From what I am told Paul took an interest in him and the rest is history. Hewitt graduated with a degree in Mechanical Engineering in 1930. There was another pilot, named Ed Smith. Do you know anything of him. (here is Ed Smith's CNAC page: http://www.cnac.org/eddiesmith01.htm)

Paul Mantz died in a crash while doing the stunt flying in the original movie of "Flight of the Phoenix" in the sixties. He was a colorful figure in my very early years and good to my mother after Hewitt died. My mother passed away 2 years ago at 92.

My older sister is the child mentioned in your article. She was not born in China but was taken back there after her birth in the States. Her name is Phyliss Elaine Mitchell known today as Pem Lester. My father left China in 1936 and I wonder if he knew your uncle "Scotty"? (We live in HNL part of the year and I will go and visit "Scotty" at Punchbowl. What an honor this will be. What a man!) He mentiones the DC-2 in several letters that my sister, Pem Lester, has and a few that I have as well. I will send you copies of all that exists and will ask Pem to do the same. My sister was very much involved in the life of CNAC and perhaps she can tell you more. She was a small child then.

Hewitt left CNAC in 1936 and went to AAL where he met my mother, Marguerite Renshaw, who was a hostess/Stewardess. He then joined Canadian Colonial Airways and was based at La Guardia where Pem, my brother and I lived in New York. I was born in 1942 so I only had a short time there until Hewitt was called back into the Army Air Corp and as you know died in a crash (Curtis Commando) at Homestead Air Force Base on August 8, 1943. Pem has a grandson who is a pilot and very much resembles Hewitt. Of course this makes us proud!

I recently retired from United Airlines as a Flight Attendant. My first airline was AAL and I was hired in 1962. Several of the pilots there knew Hewitt from his early days with AAL and it was special for me to put my father's life together through their memories. Also, I had the pleasure of meeting Hiram Broiles in 1999. A friend and retired pilot from UAL told me he knew of him and his flying days in China and he set up the meeting which took place in Monterey, California. Hiram and his companion, (his late wife's sister) visited with me in their home and later took me to lunch!!!! (It is I who should have taken them to lunch!!) We went to the Monterey Country Club where I gathered he was a very active member. He was so tall, very handsome, and I think between 90-92 yrs old. Very sharp man who appeared so youthful. He told me about the aircraft at CNAC and that Hewitt had checked him out on the DC-2. On their days off he and Hewitt went antique hunting. He even described some of the purchases. My father had loved porcelain/china and with Hiram's help he purchased a set of dishes known as the "Thousand Flower" design. I saw one very fine example of Thousand Flower in SFO once and the dinner plate had a price tag of $1,000. Hiram told me Hewitt could hardly wait to pack the dishes up and leave the store in China. They were antiques then. So I guess Hiram and Hewitt knew their stuff! Pem and our brother, Michael Hewitt Mitchell, MD now have the collection. In one of the letters I have, Hiram is mentioned as "being turned lose on the DC-2" after his training. Also, one of my letters describes how Hewitt relayed "new " information about the latest A/C which E.M. Allison seemed to welcome. These letters are dated around October 12, 1936 and mostly are about Hewitt's severence with CNAC. Mr. Bixby is copied in. I don't have much on our uncle Ralph Mitchell. I did have the pleasure of meeting up with him in Japan while he was a Captain with Flying Tigers and I was a F/A with World Airways. We both were working the Vietnam charters then out of Travis Air Force base. I value his contributions to the Book about CNAC and China very much.

You will be seeing some mail soon. I will forward this email to Pem and am sure she can provide more information. Thank you for all your effort in keeping CNAC a reality.

Sincerely,

Mary Ann "Mitch" Sullivan
marymitchf55@aol.com



All news clippings and letters are courtesy of Hewitt Mitchell's daughter, Mary Ann "Mitch" Sullivan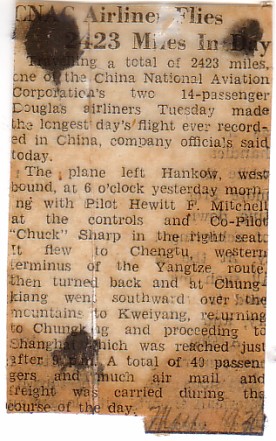 March 19, 1931 or March 1931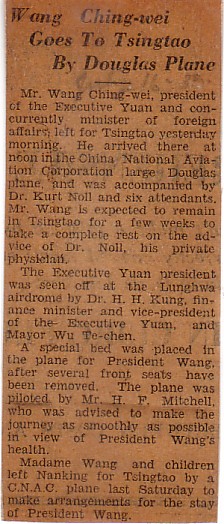 July 2, 2008

Hi Tom,

Sorry for the delay – yesterday was our 4th of July!

Actually I can see the date of this article (see above) pencilled in very faintly on the newsprint – July 16, 1935 – and the article states the flight took place the day before. This fits. The HK Telegraph reported that Wang went to Tsingtao for a rest cure on July 15 (but it claims he went by rail).

A few months later, Wang was really going to need a rest cure … after he got shot!

Patti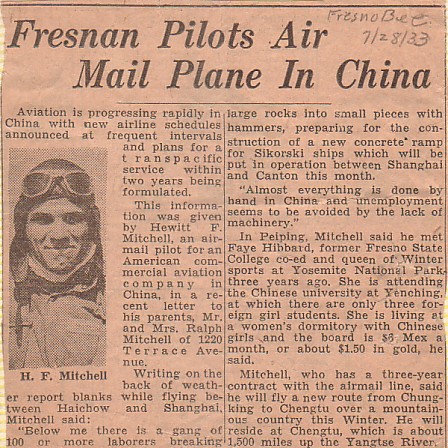 Fresno Bee (California)
July 28, 1933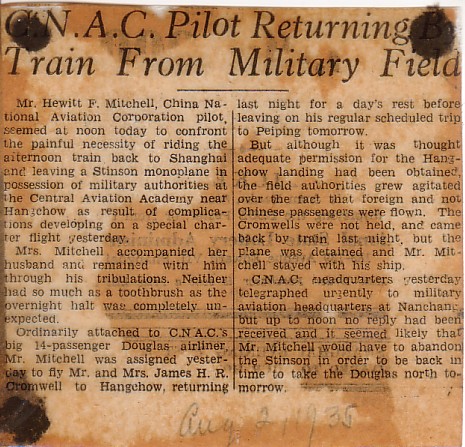 August 2, 1935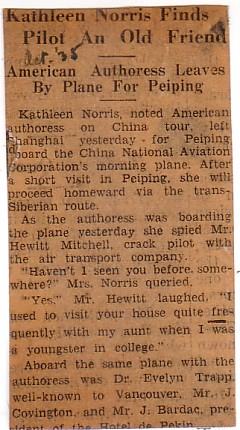 October 1935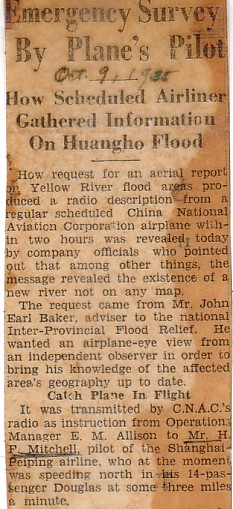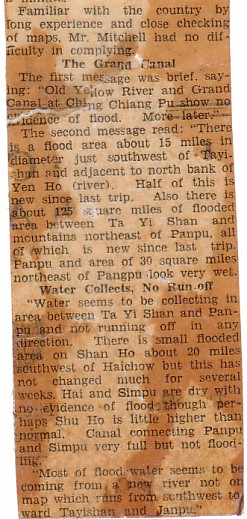 October 9, 1935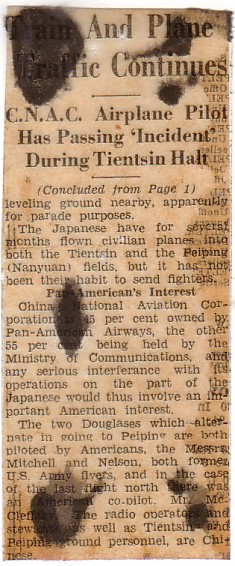 (Nelson, Mr. McCleskey, Chinese radio operator and Chinese stewards)
Post(?)
November 28, 1935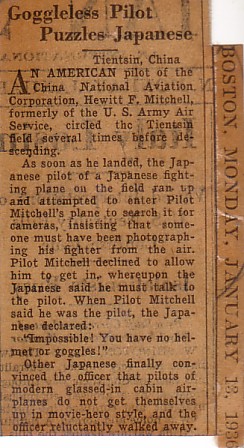 Boston paper
January 13, 1936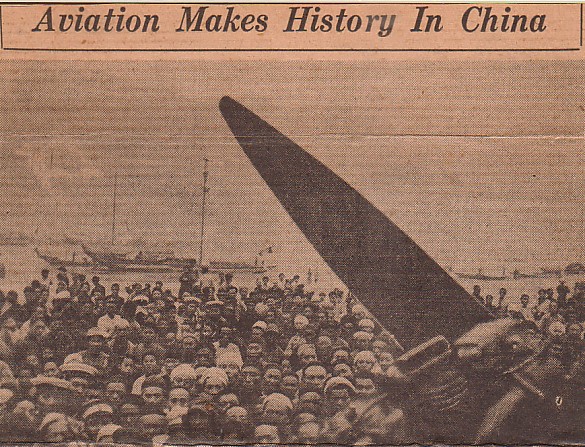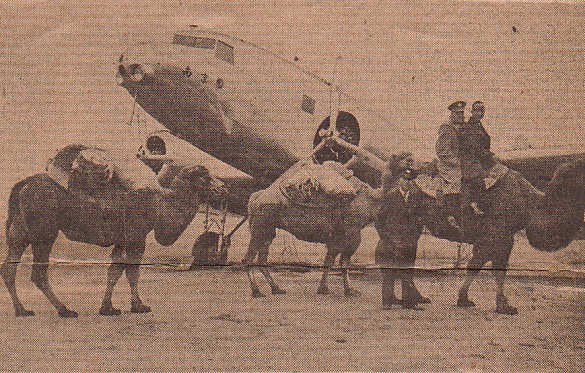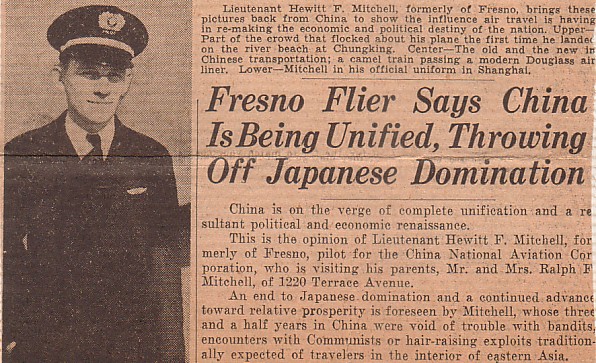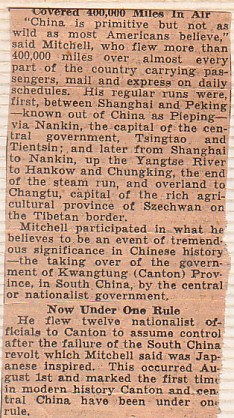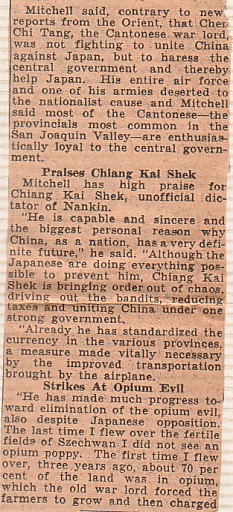 Probably the Fresno Bee?
sometime in 1936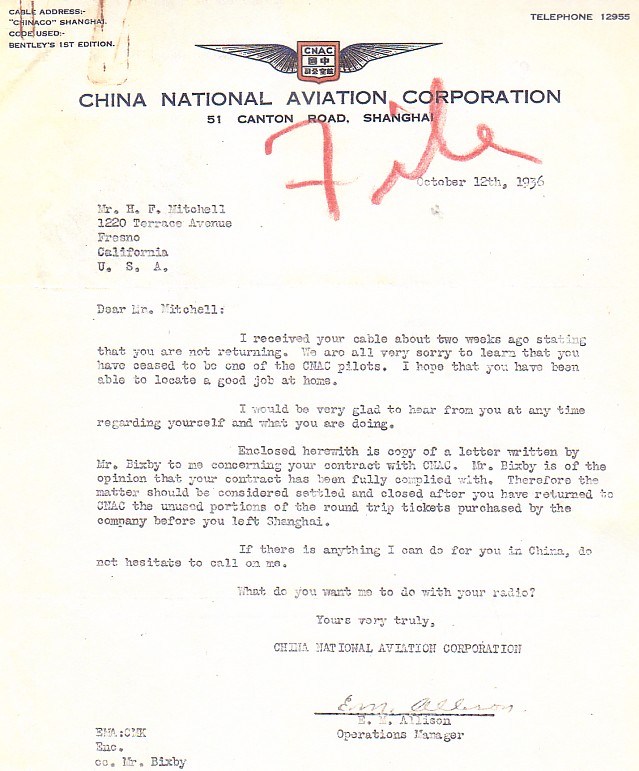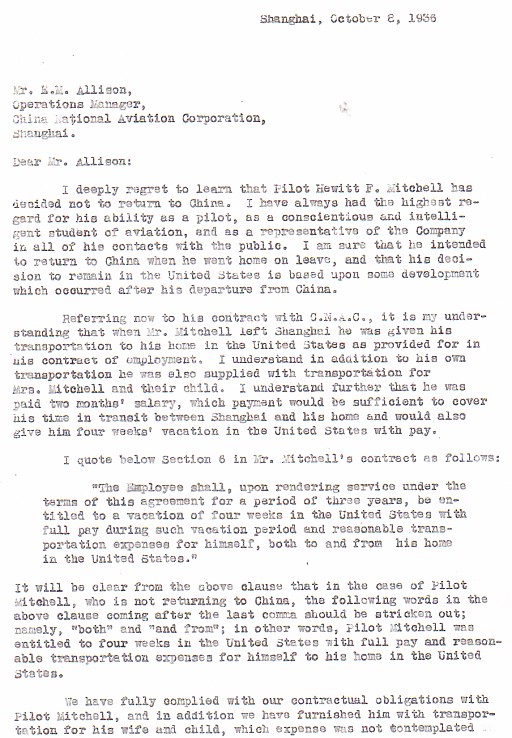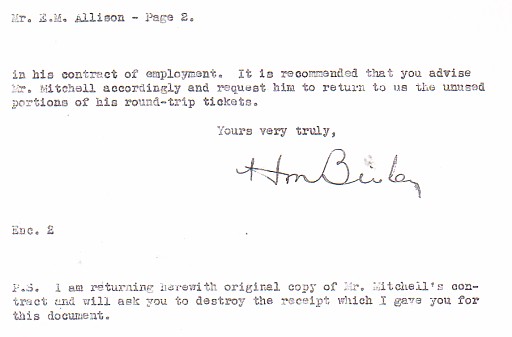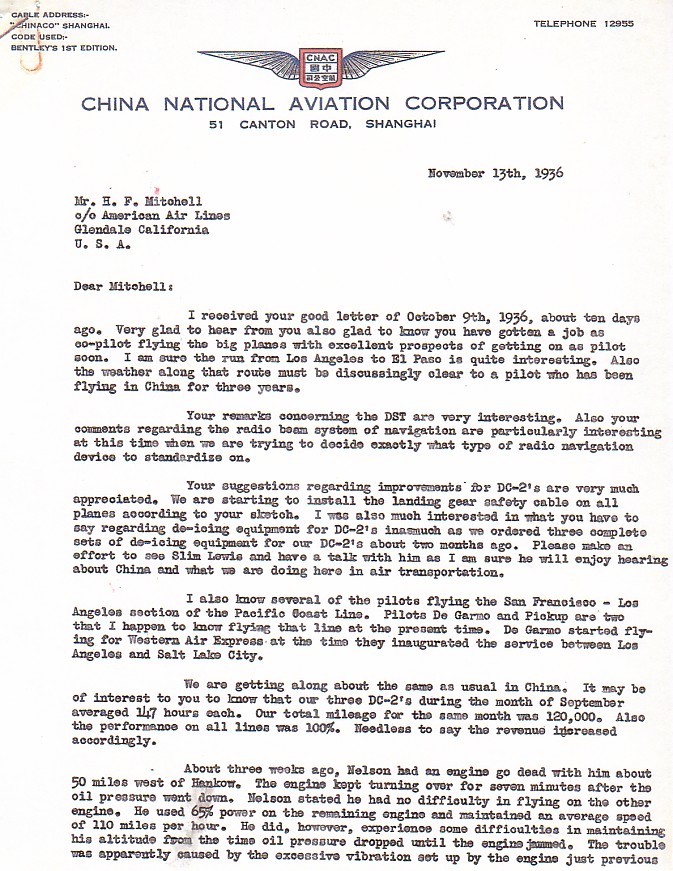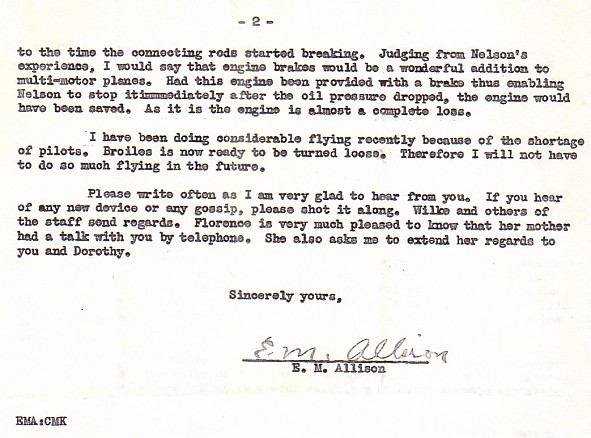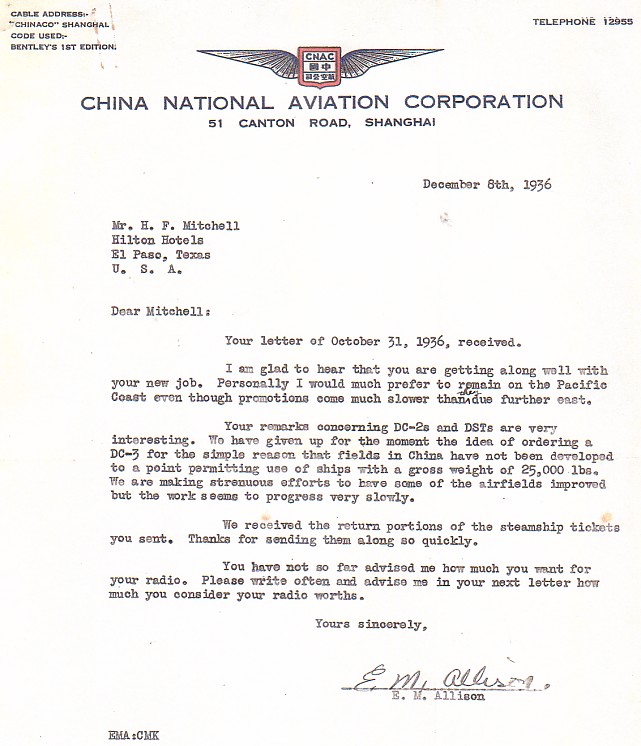 If you would like to share any information about Hewitt Mitchell
or would like to be added to the CNAC e-mail distribution list,
please let the CNAC Web Editor, Tom Moore, know.
Thanks!