In the 1943-45 log book of Don McBride, Jack listed his home address as:


Jack T. Brown
615 8th Avenue
Dodge City, Kansas
---
Jack Brown was a good friend of Jim Hurst.

---
March 12, 2007

Dear editor,

I am Jack Brown's daughter. My dad was born in Ochelata, Oklahoma on March 16, 1920 to Jasper Samuel Brown and Anna Margaritte Brown (Brown was Margaritte's maiden name). I know my dad flew the Hump and was in the China Burma Aviation Corp. While in CNAC he flew to Nicargua and married my mother on May 5, 1945. My mother, Helen Salazar was born March 12, 1924 in Matagalpa, Nicaragua to Ernesto and Amamda Elizonda Salazar.

She had a son Jack in 1947. From there they went to Lake Placid NY, where I was born in 1949. They went back to Dodge. My sister was born in 1950. They went south to Honduras. In 1953 Bill was born. I beleive Dad flew with Pan American Airlines then. He landed a job with flying frieght to the DEW line [The Distant Early Warning (DEW) Line was a series of radar stations located across the Arctic Circle in Alaska, Canada, and Greenland. These were designed to provide warning of an attack during the cold war.]. We moved to Quebec Canada. He died in Canada on a Wheeler Airlines DC-4, Nov. 4, 1959. I can send you the accident report. I would be so eager to know more about my father's trips to Burma, China, and even India. I hope I have the same man. (Yes, it's the same man.)

Our mother died May 6, 2005 at Geisinger Medical Hospital, Danville, PA. She resided at 1755 Richards Ave. Williamsport, PA for 31 years. She was married to Felix L. French on May 5, 1965 til his death May 11, 1970. He was vice-president of Alcan Cables in Williamsport, PA. We moved to the states in 1966. The only person not moving to the states was my brother Jack.

I help this helps.

Carmen Amanda Brown Banfill
cbanfill@kcnet.org


---
Photos and documents are from Carmen. Thanks Carmen.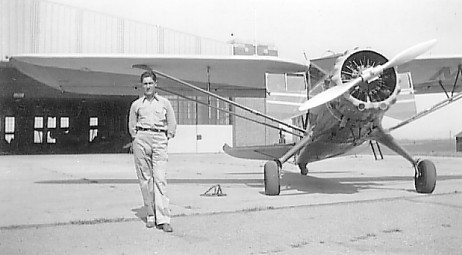 Jack Brown standing next to a Stinson reliant
Lincoln, Nebraska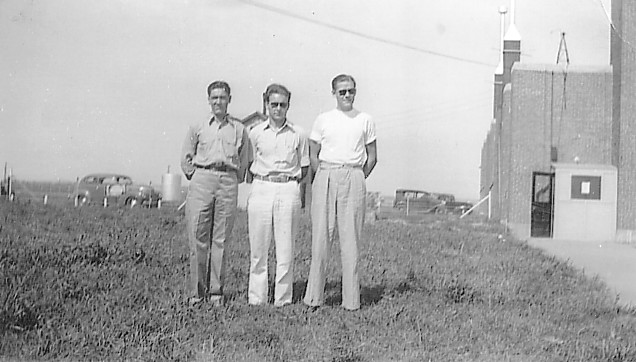 Jack Brown, Unknown and Unknown
Nebraska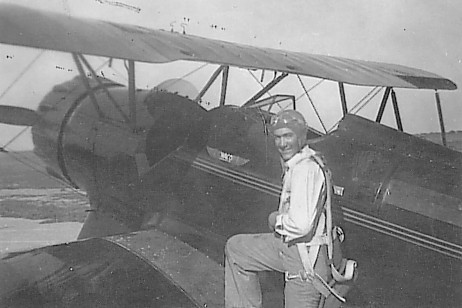 Jack Brown in Miami - Marco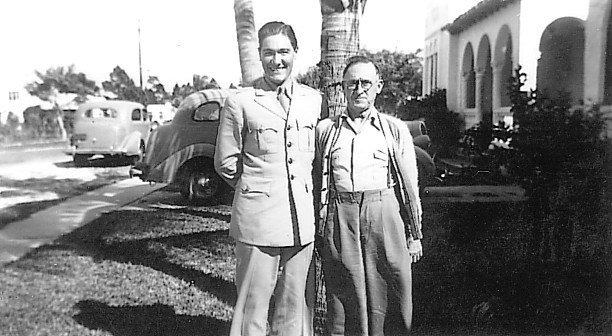 Lt.(?) Jack Brown and grandfather, "Pampa"
Miami, Florida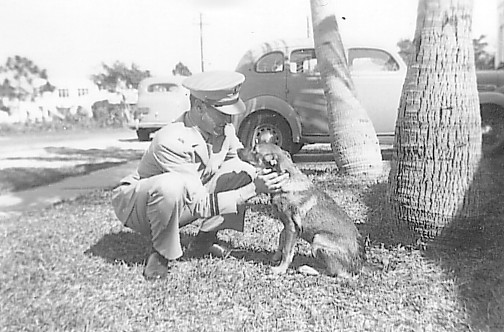 Lt.(?) Jack Brown and unknown pooch
Miami, Florida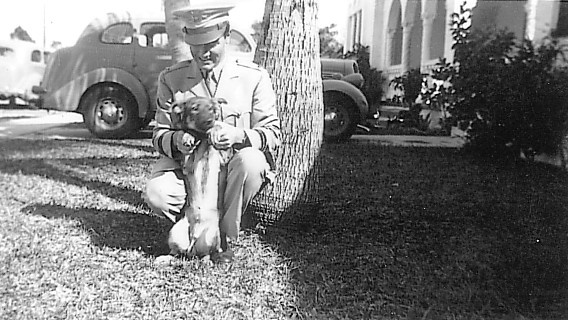 Lt.(?) Jack Brown and unknown pooch
Miami, Florida
Newspaper Clippings -- July 1, 1944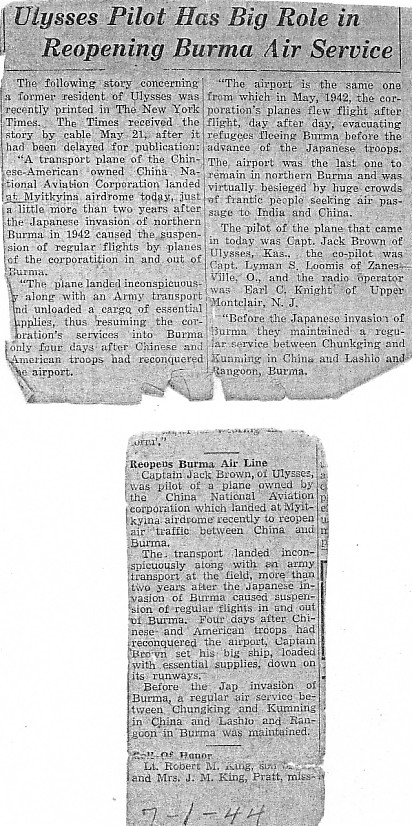 names mentioned:
Co-Pilot Capt. Lyman S. Loomis of ZanesVille, Ohio
Radio operator Earl C. Knight of Upper Montclair, New Jersey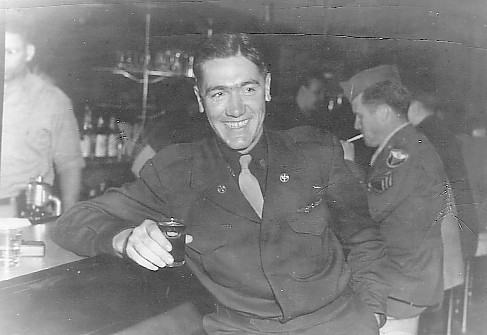 CNAC Captain Jack Brown
Back from India - 1944/5
(notice the "Chung" insignia on his label)
---
April 3, 2007

Hi Tom,

I would be pleased to have my name added to your list of contacts. Thanks very much. By the way, my dad's middle initial was T for Talmage.

Jack Brown
bshouse@sympatico.ca


---
August 24, 2007

I am looking for anyone that flew with or just knew of my father, Jack Talmage Brown. He flew with the CNAC (March 1944 - September 1945) (Captain - May 1944) (Hump Flights - ???)

He also flew in parts of Nicaragua (1945), Lake Placid, NY (1948), Dodge City KS (1950) and Honduras (1953). Finally he flew for Wheeler Airlines in Montreal (Dorval). He died in a plane crash in 1959 while flying for them.

I am writing a book on my parents' lives. It is a fascinating history. I would appreciate any information that anyone may have about him, anecdotes about the CNAC or any trivial information concerning my parents.

Thanks in advance,

Billy J. Brown
NordicTrk@aol.com


---
Here are the first two pages of the Summary Accident Report from the accident that killed Jack Brown.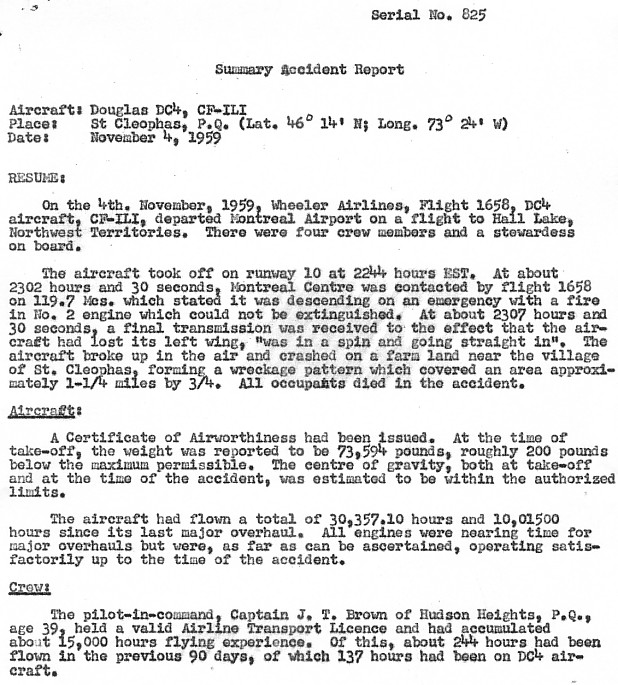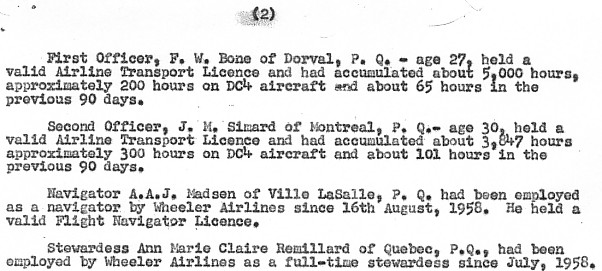 If you would like to share any information about Jack T. Brown
or would like to be added to the CNAC e-mail distribution list,
please let the CNAC Web Editor, Tom Moore, know.
Thanks!