EARL C. KNIGHT (1903 - 1981)
"Red"
(CNAC 194? - 194?)


In the 1943-45 log book of Don McBride, "Red" listed his address as:


Earl C. Knight
88 Gordonhurst Ave
Upper Montclair N.J.
---
The following e-mail came (9-30-00) from Alice Knight - Reds wife:

My husband, Earl "Red" Knight was in charge of communications in Dinjan. In order to obtain a priority to fly to India and join him, I took a course in radio communications -- this was in 1943 -- and managed to get a radiotelephone first class license. I was then hired by CNAC/PanAm as a radio technician and flew to Calcutta in 1944. From there to Dinjan where we lived until the war was over and operations were moved to Shanghai.

Red was born in Merchantville, New Jersey, August 30, 1903 and died in Miami, Florida, December 1981.

More to follow...


---
Newspaper Clippings -- July 1, 1944
(delayed from May 21, 1944)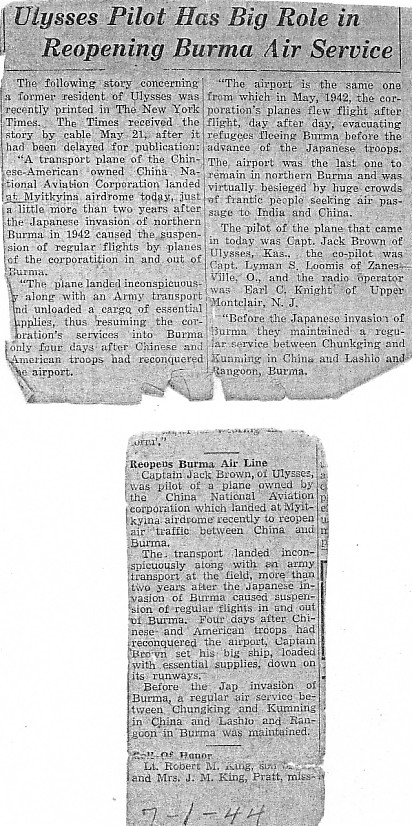 names mentioned:
Capt. Jack Brown from Ulysses, Kansas
Co-Pilot Capt. Lyman S. Loomis of ZanesVille, Ohio
Radio operator Earl C. Knight of Upper Montclair, New Jersey




If you would like to share any information about Earl "Red" Knight
or would like to be added to the CNAC e-mail distribution list,
please let the CNAC Web Editor know.
Thanks!



Background music to this
page can be controlled here.
"Stay As Sweet As You Are"