In the 1943-45 log book of Don McBride, Dick listed his home address as:


DICK MULLOY
838 SUTCLIFFE AVE
LOUISVILLE, KENTUCKY
---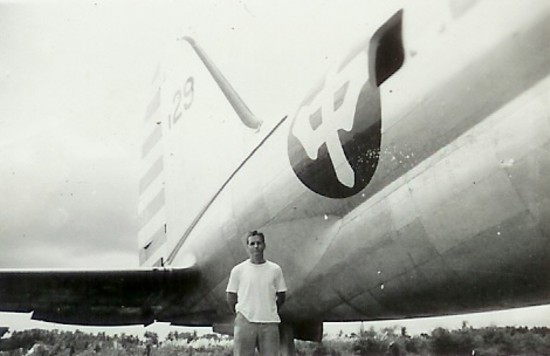 Richard Mulloy by C-46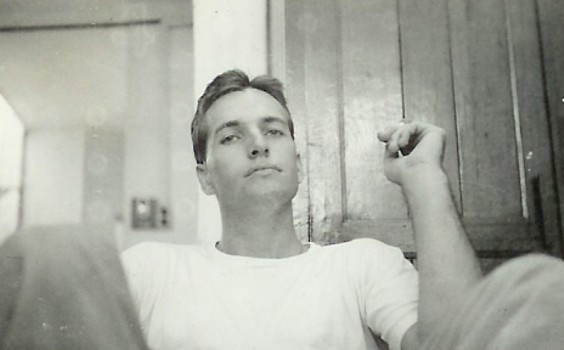 (Photos Courtesy of Arnold Schilperoot)
---
From Gene Banning's list of 8/31/00:
"... not hurt in gear failure landing Kunming, Mar 1945, plane #96."

---
December 9, 2001
Sir:

I am Lowell M. Wiley, of Nicholasville, Kentucky. I only want to say that Dick Mulloy was one of the finest gentlemen who ever ran a civilian flying service, and I know that for sure. I didn't know him when he flew the "Hump," but only afterward, during the 60's. But he was a great individual. He gave me my multi-engine check ride in one of his Piper Apaches. I trained for a rating or two with Dick, and also flew some charters for him, and then instructed a few students for him at Louisville's Bowman Field. A great guy.

Lowell Wiley
Nicholasville, Ky
pcpals@qx.net"



---
December 10, 2001
"Dear Tom:

I don't know if you knew, but Dick Mulloy ran the "Kentucky Flying Service" out of Louisville's Bowman Field for many, many years. He did local aerobatic routines in local air shows for many years. I recall him doing shows in the Cessna 152 or was it the 150 Aerobat. I last talked to Dick about 1983 when he read an ad I had placed in Trade-A-Plane. I was selling a Cessna 414 for a fellow and Dick saw my ad. That is the last time I have talked to him. I have imagined him to perhaps be deceased now. I believe I have read about Dick Jr in the newspapers. But I'll see what I can find out. If I get more I'll let you know. Add any information I give you to his write-up. There are a ton of people out there who will tell you great stories if they find out you are interested.

Lowell Wiley
pcpals@qx.net"


---
August 10, 2005, and now from the horses mouth...

Dick Mulloy reports, quoting Mark Twain, "The reports of my death are greatly exaggerated"! Dick is doing fine and still living in Louisville, KY. We had the pleasure of discovering your website today.

To update his information: First CNAC flight 9-13-44
First flight as Captain 10-21-44
442 flights total
I will be happy to forward any messages to him.

Fleet Smith
fks3@direcway.com

more from Fleet...
February 5, 2007

Tom,

I have Dick Mulloy's logbook in front of me. His last flight for CNAC was from Hankow to Calcutta, ship # 26, on 12-16-1945. Time 6:45, of which 4 hours was instrument time! Between 9-13-44 and 12-16-45 Dick's log shows 1526 hours and 32 minutes flying time for CNAC.

Attached is a scanned picture of Dick taken last year. I hope it sends ok.

Dick doesn't have any pictures from over there, but says Ray Hilgert took a lot of pictures. I see there's not much info on Ray on the site. He was a Louisville boy, like Dick, and took Dick under his wing and got him checked out as Captain quite fast (about 5 weeks from Dick's first flight!). Dick flew with him almost exclusively before he checked out, and held him in very high regard. Dick thinks he was up somewhere in the northeast (NY?) before his passing. He says Ray's family might be the best source for pictures if they could be located.

If you think Dick's CNAC log might be of interest I can copy the pages and send them your way.

Fleet


---

October 7, 2009

The last I heard Dick was doing fine. My dad Paul Harrison flew from Bowman Field as did I. My dad & I used to do remodeling for Dick at Kentucky flying service and he dropped by to see him at his home not too long ago and he was fine. My brother and I used to hang out at Kentucky flying service and Dick would pay us a dollar each to sweep the hanger. Then we would go to the canteen area and buy soft drinks and candy. Dick took me on a check ride once, and I asked him if we could do a stall. He just smiled and stalled the twin engine Apache, or was it an Aztec? I was so young I couldn't even see over the IP It was fun just the same. One night we were hanging out at the airport and somebody had taxi a Hughes Model 269/300 helicopter across the field. Dick picked me up and stuck me in the passenger seat and I had my first ride in a helicopter!

I remember hanging around the office at Kentucky Flying Service and Gene Soucy teaching me how to play chess. Gene is still flying I see and has his own website. I was a kid then and Gene and his dad had red and white Pitts Specials at Kentucky Flying service. Gene gave my brother a scoop off his Pitts, I wish I knew where it is now.

Dick loves antique cars and my dad, my grandfather Alvin Harrison and myself built an extra garage at his home to house them all.

Dick's Son was a helicopter pilot and I hear he is an aircraft mechanic at SDF.

My dad tells a story about Dick and a Stearman Dick owned called the Green Monster. Somebody should get Dick to tell that one and record it for history. In fact Dick should write a book.

Dick always was great to me and my brother while we were growing up. Thanks Mr. Mulloy!

Greg Harrison
gharrison6@bellsouth.net


---

Dick passed away Saturday, May 8, 2010. Please see the obituary and sign the Guestbook at the following link. Thank you: http://www.legacy.com/obituaries/louisville/obituary.aspx?n=richard-c-mulloy-dick&pid=142646411



If you would like to share any information about Richard Mulloy
or would like to be added to the CNAC e-mail distribution list,
please let the CNAC Web Editor, Tom Moore, know.
Thanks!