From Gene Banning's list of 8/31/00:
"from AVG; prom to capt 3/43; left in 1945 to FTL."

---
In the 1943-45 log book of Don McBride, R.J. listed his address as:


R.J. Raines AVG
138 Cole ST
San Francisco,
---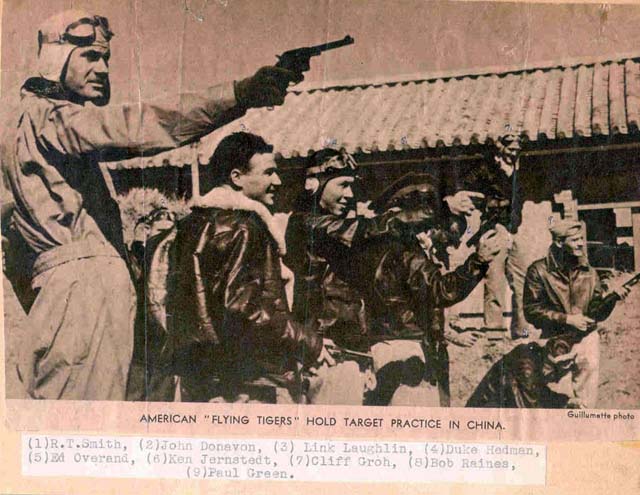 (Photo Courtesy of Chris Groh, son of Cliff Groh)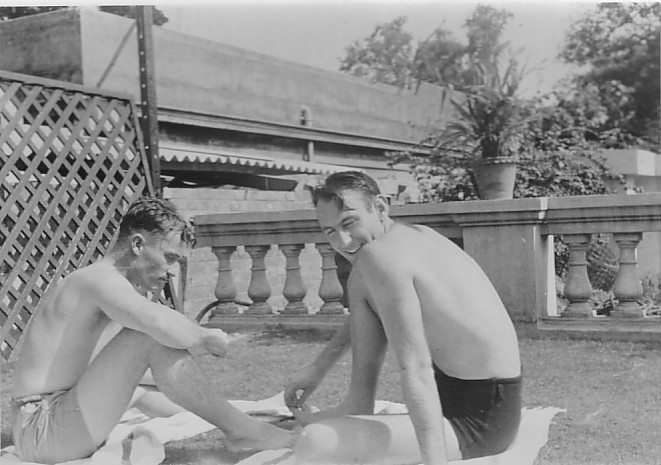 Syd de Kantzow and is that "Catfish" Raine?
(Photo Courtesy of Judy Polanich, Paul Kessler's niece)
---
Before I, your CNAC Web Editor, decided to write to Captain Raine, I did some checking on the spelling of his last name. I sent the following message to Dick Rossi asking him to help me with the spelling of Captain Raine's name:

Dick -- I'm getting ready to write to Robert J. Raines, but before I do I'm trying to confirm his name and it's spelling. In Chennaults' book the index lists "Robert J. Raines "Catfish"". In Whelan's The Flying Tigers the name is listed as "E.J. Raines, Wing Man". In R.T. Smith's Tale of a Tiger he is "Robert J. Raine". In Schultz's The Maverick War he is listed as "R.J. Raines "Catfish"". In Bond's A Flying Tiger's Diary he is listed as "Bob Raines". In Ford's Flying Tigers he is listed as "Robert Raine". And the last reference I found was in Hotz's With General Chennault where his name is "Robert J. Raines".
So, now I have two or make that three (I think) sources that say it's "Robert J. Raines".
Your input is always appreciated. Sincerely -- Tom

I received the following message from Dick:

Tom -- Catfish's name is Robert J. Raine. When he got into the Navy they spelled his name incorrectly as Raines. He left it that way as he had been accepted as a cadet and didn't want to have any paperwork problem that might mess up his flight training schedule. So it set up a confusion from his military days. Sincerely -- Dick

So, until I hear different from Captain Robert J. Raine I will assume that this is the correct spelling for his name.

---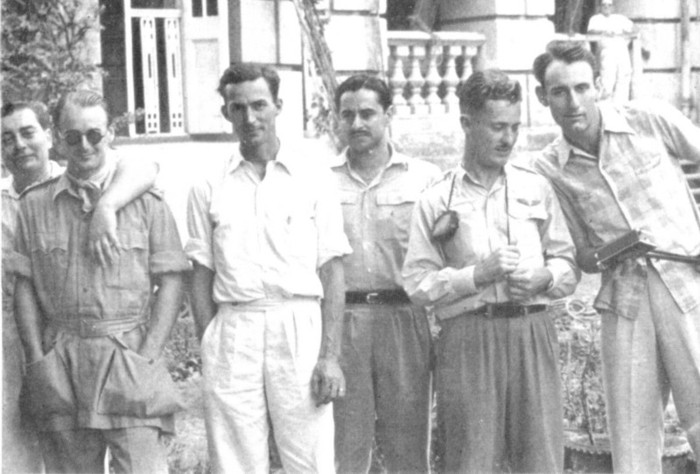 left to right
Boris Lisanivitch/Lazanovitc (sp?) (was the manager of the 300 Club in Calcutta, which is in the background),
Capt. Lawrence Pratt (ADC to the Govenor of Bengal (Casey"?, Ben Driver (Managing Director of Magnolia Ice Cream),
Colonel Prithi Singh (ADC to HH Jaipur), Syd de Kantzow and "Catfish"
Do you remember these men in this picture?
(Photo Courtesy of Maurice Wickstead)
---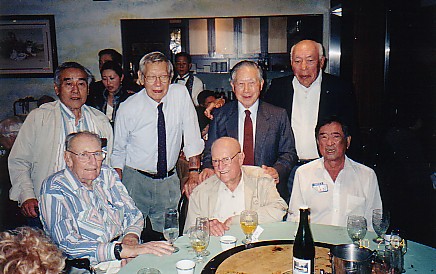 CNAC Reunion - October 7, 2004
standing left to right
Ced Mah, CATC Captain Deming L Chew (from Sacramento, CA), Moon Chin and CATC Captain John Lee
seated left to right
Catfish, Dick Rossi and Al Mah

---
Following this link for more information about Catfish:
http://www.highironillustrations.com/rogues/catfish_raine.html

---


If you would like to share any information concerning Robert "Catfish" Raine
or would like to be added to the CNAC e-mail distribution list,
please let the CNAC Web Editor, Tom Moore, know.
Thanks!