JAMES THEODORE SCOFF (abt 1905 - 1944)
"Jimmy"
(CNAC July 1943 - October 7, 1944)
(Captain - ???)
(Hump Flights - XXX)


In the 1943-45 log book of Don McBride, James listed his address as:


J.T. Scoff. c/o Helen Lynn
Park Central Hotel N.Y.C.
---
From "Wings Over Asia" Volume IV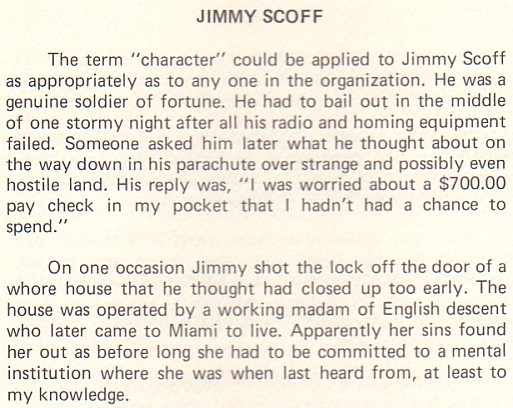 ---

January 3, 2001.
From Jim Dalby

"Tom,

Re: Billy Stone. I have no record of a middle initial. On 3/24/44 Stone was flying copilot to Jim Scoff. The details of this flight is a long but very good story. Basicly the weather was terrible and at night. Over Yunnanyi Scoff was informed that an air raid was in progress at Kunming and that all radio beacons, in that part of China, would be turned off so the the Japanese could not use them. An inexperienced army radio operator tried to give Scoff a bearing and ended up giving him a bearing 180 degrees off. To cut the story short they ran out of fuel and bailed out. Billy Stone was badly hurt and had to return home, never to return. Crew Capt-Jim Scoff, copilot-Billy stone, radio operator W.Y. Wong, C-53 #51.

Jim"

---
From Gene Banning's list of 8/31/00:
"... July 1943, crew bailed out plane #51 near Chengtu, 3/23/44, all OK; killed over Hump 10/7/44, wing came off in turbulence, plane #101."






If you would like to share any information about Jimmy Scoff
or would like to be added to the CNAC e-mail distribution list,
please let the CNAC Web Editor, Tom Moore, know.
Thanks!



Background music to this
page can be controlled here.
"Tuxedo Junction"