GERALD R. SHRAWDER (1917 - 2013)
"Jerry"
(CNAC 1946 - 1949?)
(Captain - ????)


Jerry was the CNAC Asociation Secretary/Treasurer for several years.

---
Jerry and Angela knew the following folks while living in Shanghai during the late 1940s: John Corey, Jack Folz, Laube, Herbert McWilliams, Joe O'Dwyer and Jeff Weiner.

The following narrative and photos have been provided by Jerry and Angela Shrawder:

"Jerry went from Shanghai to fly for Air India one year. Returned to Hong Kong; flew for CATC the returned to U.S. As an Air Force Officer recalled to duty at Portland University as assitant professor ROTC. Then to duty in Alaska at Anchorage until 1956. Next, (1960) Olmsted AF Base at Harvesting, PA. Language school in Washington, D.C., (1962-1963) to study Spanish preparing for duty in South America - La Poz, Bolivia, 1963. Next assignment Atlanta, Georgia 1966-1970. Returned to Long Beach, CA, to retire. Now here to enjoy Winters in Palm Springs and attend pilots convention's."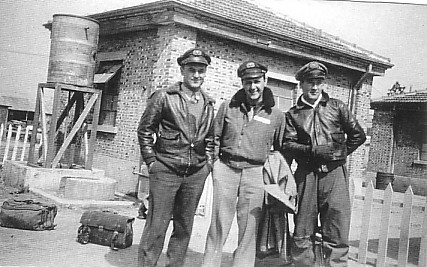 left to right
"Three pilots before take off at Lungwha airport in Shanghai - 1948"
Preston Moore, Lopez Mantoux and Jerry Shrawder
(Photo Courtesy of the Shrawders)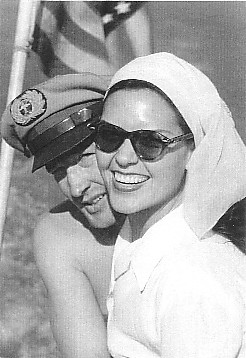 Jerry and Angela Shrawder
Sailing on the Whangpoo
(Photo Courtesy of the Shrawders)

Angela at the Royal Calcutta swiming pool


French attache's wife and Angela
Forbidden City in Peking
(Photos Courtesy of the Shrawders)


April 9, 2005
And here's more from Jerry and Angela...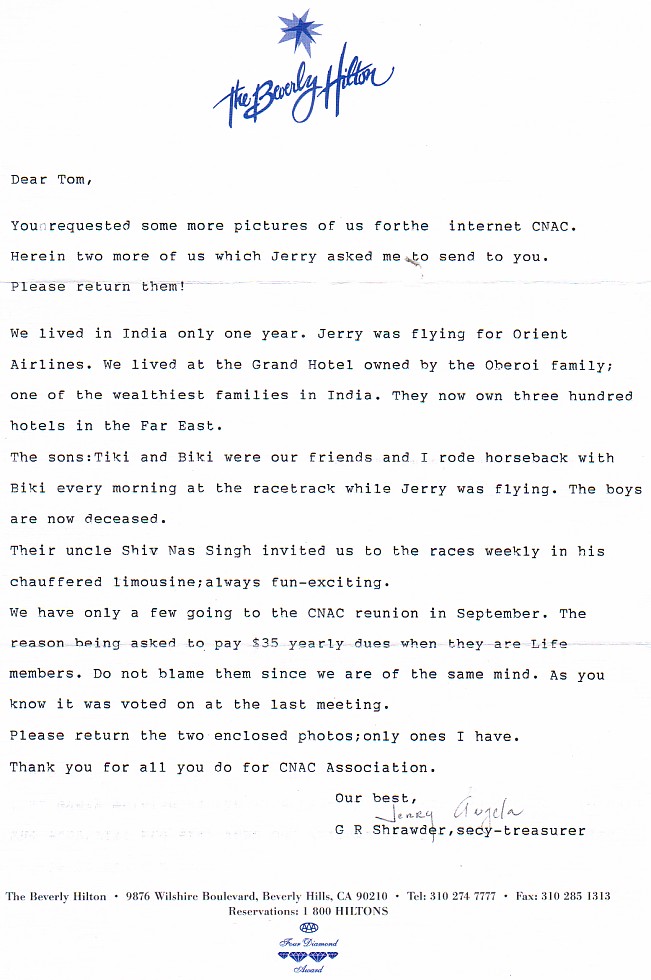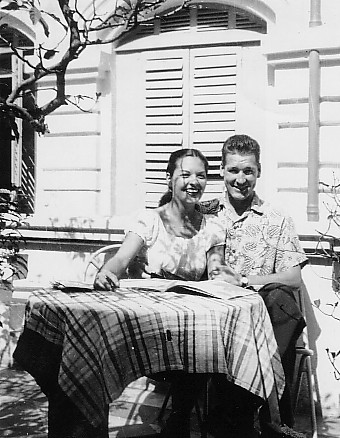 Angela and Jerry
1948 - Grand Hotel
Calcutta, India
Jerry was flying with Orient Airline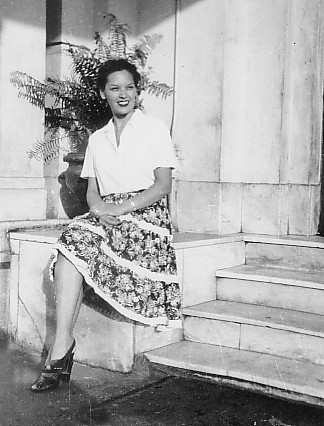 Angela
Royal Calcutta Swim Club - 1948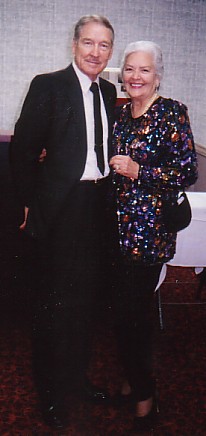 Jerry and Angela
2000 CNAC Reunion
Las Vegas, Nevada
---
Angela passed away in September 2013. She and Jerry will be missed.




If you would like to share any information about Jerry or Angela Shrawder,
or would like to be added to the CNAC e-mail distribution list,
please let the CNAC Web Editor, Tom Moore, know.


Thanks!



Background music to this
page can be controlled here.
"Moonglow"