N. JEFFRIES WEINER (1911 - 1989)
much better known as "Jeff"
(Pilot)
(CNAC November 1943 - Summer of 1945)
(Captain - January 1944)
(Hump Flights - XXX)


In the 1943-45 log book of Don McBride, Jeff listed his home address as: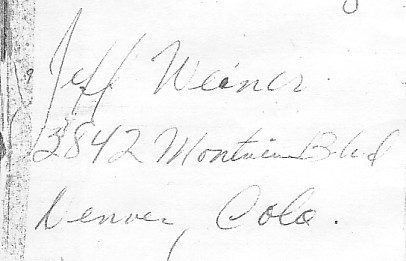 Jeff Weiner
3842 Montview Blvd.
Denver, Colo.
---
Address from the 1971 CNAC Mailing List:
Jeff Weiner
16621 Melville Circle
Huntington Beach, Calif. 92647

---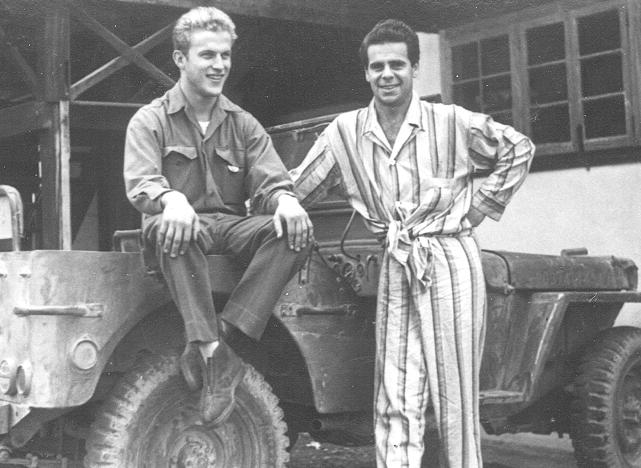 Charlie Uban sitting and Jeff Weiner Standing
Dinjan - 194?
(Photo Courtesy of Jim Dalby)
When Jeff came back to the USA he went into the used car business.
---
October 4, 2002

Jeff passed away several years ago. He was a regular at the Meadowlark Airport in Hunting Beach, Ca. He was a member of the Hump Pilots Association and attended their functions. He had some great stories about flying in China and was a fine gentleman.

Fred Austin
E-mail sky.man@verizon.net






If you would like to share any information about Jeff Weiner
or would like to be added to the CNAC e-mail distribution list,
please let the CNAC Web Editor, Tom Moore, know.
Thanks!



Background music to this
page can be controlled here.
"Tuxedo Junction"