SUN FO
(CNAC 1929 - December 1929)


August 8, 2004, from Patti Gully. Thanks Patti.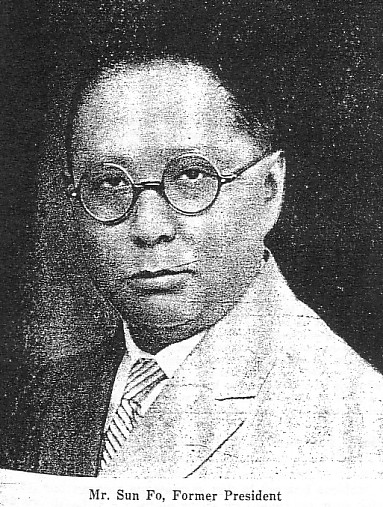 Far Eastern Review - February 1930


"Sun Fo, the main passenger of this inaugural flight, who was the first president of CNAC, and the son of Dr Sun Yat-sen. He didn't have his job for long – in December 1929, he was edged out by Wang Pei-chun".

China Weekly Review, 26 October 1929
Minister Sun Fo Passenger on Inaugural Flight Shanghai-Hankow Service The regular, daily except Sunday, service of the China National Aviation Corporation (incorporated by a special charter of the National Government) was inaugurated Monday, October 21st.

A large party was present at Lung Hwa airport to see the inauguration of this service, and the first plane left for Hankow promptly at 8 o'clock Monday morning. Minister Sun Fo and Dr P.C. Hsieh were on this plane which also carried the air mail. The pilot was Birger Johnson, and he was accompanied by James F. Hayden, expert airplane mechanic.

Among those present for the event were Mr and Mrs Robert S. Norman and Miss Norman, Mr Wong of the China National Aviation Corporation, and Messrs Fries, Smith and Hamilton, officials of the China Airways.






If you would like to share any information about Sun Fo
or would like to be added to the CNAC e-mail distirbution list,
please let the CNAC Web Editor, Tom Moore, know.
Thanks!



Background music to this
page can be controlled here.
"Yin Nian Hao"