August 23, 2004
I just talked with Al. Soon, Al will be providing more information about himself and the other navigators, with some stories about those early post WWII days of flying the pacific and the World with CNAC.

Here is that information from Al:
November 5, 2004

In Al's own words:

"Raised in Sayville, L.I., N.Y. Joined the flying cadets upon graduation from high school, 17 October 1942. Washed out half way through pilot training -- sent to navigation traning, graduated and assigned to the 398th Bomb Group, flying in B-17's over Germany. Finished a combat tour there and voluntered for service in the Pacific. Island hopped through 1945 and wound up in Japan. Voluntered for service in China and was sent to Shanghai. Flew regularly to Manila, Tokyo and San Francisco. Requested discharge from the Air Corps to join C.N.A.C. in September 1947 along with Frank Letts, Fred Heckman and Cyril Pinkava. We flew one trip a month, Shanghai to San Francisco, when they decided they needed more work out of us, they arranged to get us a Chinese commercial pilots license and so along with our navigator's duties, we flew inter-China as co-pilots on the C-47's, C-46's and DC-4's.

Some time in 1949, I was on a trip to SFO when we got a message to expedite back to Shanghai, which we did. We landed as the Communist troops were entering the city. We were not permitted to leave the airport -- loaded a gaggle of VIP's and took off for Hong Kong, leaving all my worldly goods, money, socks and all. Continued working out of Hong Kong until the English Gov't. recognized the Chinese Communist Gov't. Came back to the States in 1951; got an American navigator's and pilot's license and worked for several airlines; retired from United Airlines in October 1986."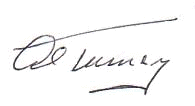 ---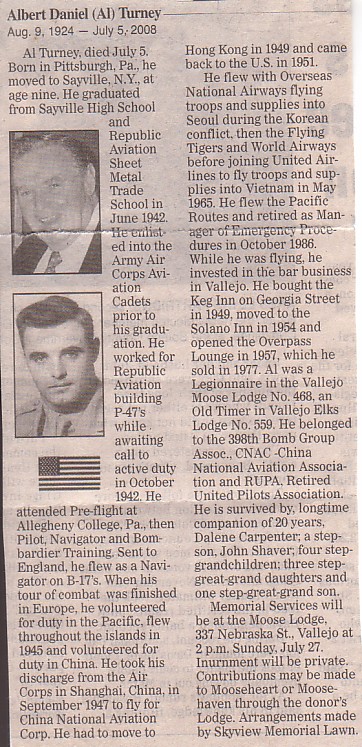 http://www.legacy.com/TimesHeraldOnline/DeathNotices.asp?Page=LifeStory&PersonId=112994414

If you would like to share any of your stories about Albert D. Turney
or would like to be added to the CNAC e-mail distribution list,
please let the CNAC Web Editor, Tom Moore, know.
Thanks!