In the 1943-45 log book of Don McBride, Hank listed his address as:


Jules H Watson
Amite, Louisiana
(Jules was born and raised in Amite)
---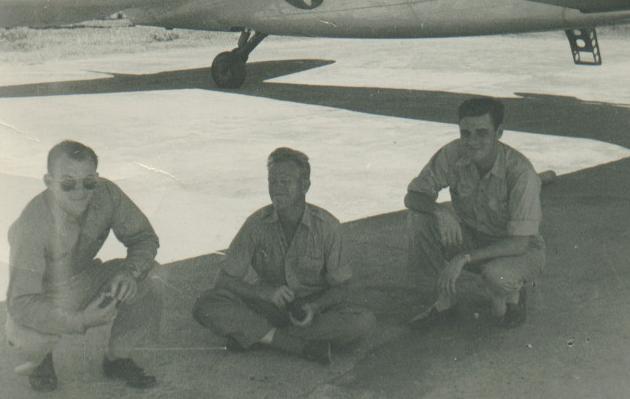 Jules Watson, Erik Shilling and Terry ???
(Actually we believe that "Terry ???" is Sam E. Terry)
(Photo Courtesy of Lad Moore, Jr.)
---
The following information was provided by Jules daughter, Jane Watson Netzorg.
Thanks Jane and Jules, too.




Jules Henry Watson
Biographical Information


Jules H. Watson was born May 27, 1917 in Amite, Louisiana. He attended grade school and high school in Amite. He enrolled in Louisiana State University where he trained to be a pilot and got his private license. He moved to Fort Worth, Texas where he was a flight instructor. There he met his life long friend, Roy Farrell. The two men joined the China National Aviation Corporation in October of 1943 and moved to Calcutta, India. He became a captain with CNAC in January of 1944. He flew numerous missions over the Himalayan Mountains. He flew the C-47, C-46, and DC-4 planes for the company, which was a division of Pan American Airlines. He flew into Kunming, and Dinjan China among other cities. At one time he held the record for number of crossings of what was called "the Hump." CNAC was hired to transport goods and supplies for the Nationalist Chinese during their war with the Japanese for the control of China.

In May of 1945 he returned to the United States on home leave. There he married Marjorie Elizabeth (Peggy) Bell. They moved together to Shanghai, China in January of 1946 where Jules continued to fly for CNAC. For several years after the war, he flew people back from all over China to Shanghai. Many of them had fled the city when the Japanese invaded during the war. In the city he lived on the top floor of a high-rise apartment building with his wife and good friends Billie and Peggy McDonald. In November of 1949 he left Shanghai with his wife and baby daughter, Jane, for Hong Kong when the communists took over the city. He continued to fly for CNAC in Hong Kong.



December 7, 1945
Wichita, Kansas
unknown, Marjorie (Peggy) and Jules Watson, and Bert Coulson
two men in back are unknown


After a year in Hong Kong he and a group of CNAC pilots moved back to the US in 1950 and founded the Flying Tiger Airline. The original founders were Watson, Bob Prescott, Joe Rosbert, Dick Rossi, Duke Hedman and "Catfish" Raine. Several of these men had been members of the American Volunteer Group better known as the Flying Tigers. The Flying Tiger Airline was based out of Los Angeles and flew cargo shipments primarily to the orient. In the 1970's it was the largest cargo line in the world before it was bought out by Federal Express to give them access to the Asian market. In 1952 Jules Watson moved his family to Tucson, Arizona and went into the real estate and building business. He bought a Real Estate company, Pima Realty, and got his broker's license. He built primarily single-family homes in Tucson.

In 1958 Watson partnered with Phoenix based businessman, Dean Stanley, to start Widefield Homes. Through that company they developed land and built homes south of Colorado Springs in El Paso County. Several years later, Watson acquired full ownership of Widefield Homes and continued to build not only homes but also commercial buildings, a shopping center, and apartments. He soon saw the need for other businesses in the area and founded Widefield Water and Sanitation Company to provide water to his growing customer base as he began expanding the residential area south of Colorado Springs. He also founded Widefield Supply Company, a lumber and building products company, to provide components and supplies to his thriving building business.

Watson operated Widefield Homes for over thirty-five years and built over seven thousand homes. He developed all the land that these homes were built on including the building of roads, placement of lots, and planning for schools, parks and amenities. For more than twenty-five of those years he was one of the top ten producing builders in Colorado Springs. The Widefield area, together with the Sunrise Ridge and Fountain Valley Ranch developments which he built adjacent to it, are the largest residential areas in the state that are both developed and built by an individual builder.


---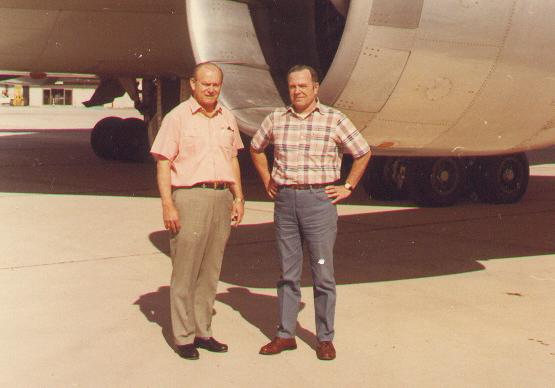 January 1970 - Tuscon, Arizona
Jules and Pete Goutiere standing by a TWA B-747
Pete was getting checked out in this plane.
(Photo Courtesy of Pete Goutiere)
---
August 2001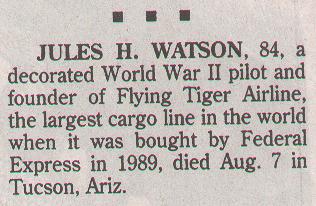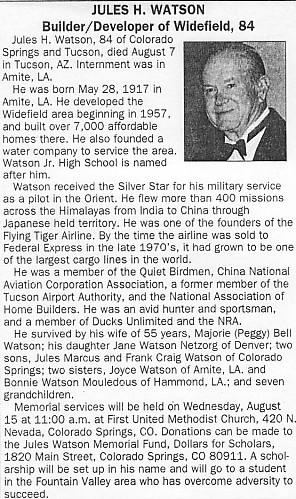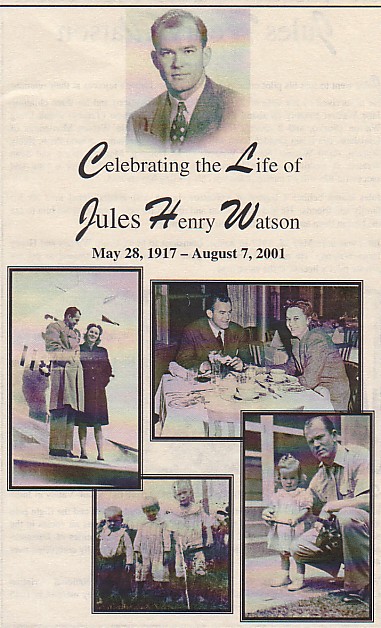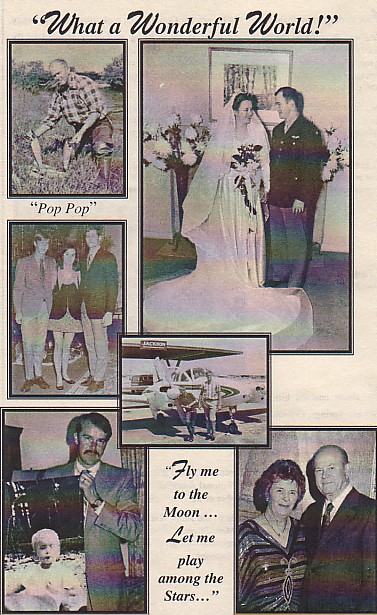 If you would like to share any information about Jules Watson
or would like to be added to the CNAC e-mail distribution list,
please let the CNAC Web Editor know.
Thanks!