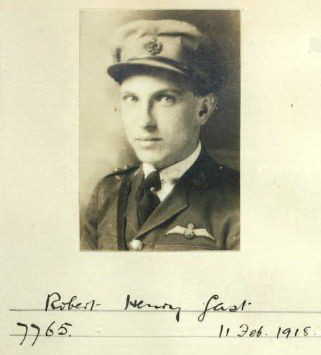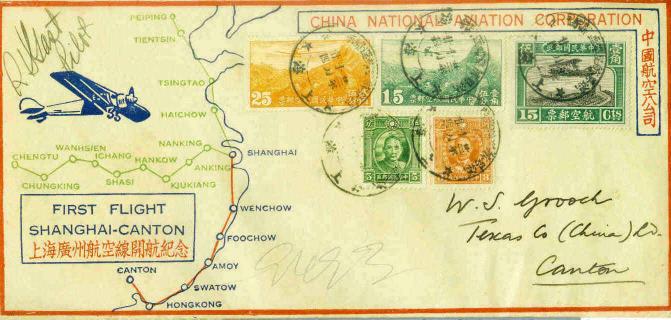 October 24, 1933
Addressed to W.S. Grooch and signed by Captain Gast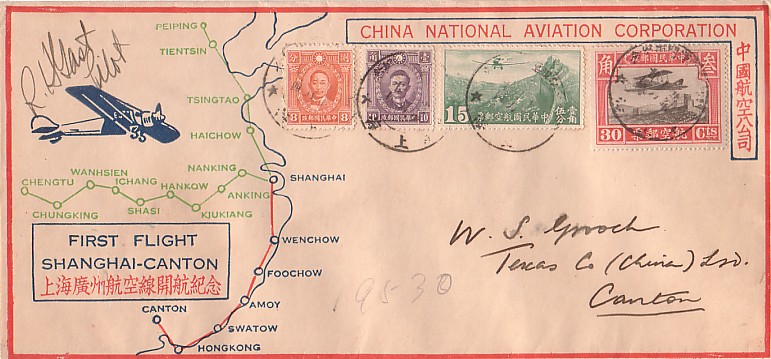 October 24, 1933
Addressed to W.S. Grooch and signed by Captain Gast
(purchased on eBay 12-4-2008 for $48.55)
---
From Gene Banning's notes of 8/31/00:
"transferred MIA to Shanghai, 6/1/33. Killed at Ningpo Bay in S-38 crash 8/10/34." (NOTE: actual date should be 4/10/34)

---
For some additional details see Wings for an Embattled China by W. Langhorne Bond, pages 84 and 99.

---
December 13, 2001
Received the following e-mail from Damaris Reynolds (Mrs. Lincoln Reynolds)

"I'm going to my granddaughter's for Christmas and are they going to be surprised when I ask them to get on the air and direct them to your site! This message is really about information on Bob Gast. He joined the Canadian Air Force in World War I before the US was involved and flew with them. After the war he was a barnstormer. He liked to tell the story of a forced landing in a very small farm field with the nose of the plane up against the fence and the farmer coming up to him and saying, "Ain't going to try that again, are you?" Then he got a job as private pilot for Hertz, of car rental fame. Married Dorothy in Chicago. Must have left Mr. Hertz because he did some rum running out of Miami. Very popular with pilots in those days: they would fly over to Cuba, pick up the rum, then drop the cases into one of the myriad small bays in the Florida Keys and a boat would pick them up. Then he was hired by PAA, and ended up in China. We got to know Bob and Dorothy very well during the spring of 1934. I stayed wth Dorothy the several days they searched for Bob's plane (when he crashed into Ningpo Bay - 4/10/34). She returned to the States. A fisherman found Bob's body some months later. I lost track of Dorothy after she left China, but I think she married Floyd Nelson who had been in China but went with Panagra.
Damaris"

---
April 1995, from Edward Peck of Louisville, Kentucky:

Robert H. Gast was a native of Louisville, Kentucky. He returned to Louisville following the Great War, and was a founder of Bowman Field in 1919. In 1929 he attempted a polar flight from Chicago to Berlin in a Sikorsky S-38. That ended in northern Canada when an ice floe crushed the airplane's hull while it rode at anchor during a planned stop. He was also a Department of Commerce aviation inspector -- in fact he was in the first group hired for this purpose. Robert Gast was buried in Shanghai.

---
January 5, 2004

Robert Gast was my father's uncle. My dad, William Gast Lussky, is named after him.

E-mail SCH1164@aol.com


---
December 14, 2004

Robert Gastís parents were Jacob Gast and Katherine C. nee Deuser who were married in 1885. The children of this couple were Edith, Elsie, Courtney, Adele, Charles and Robert in that order.

There is a photograph and plaque of Mr. Bowman and Robert Gast in the lobby of the Bowman Field terminal building on Taylorsville Road in Louisville.

The plaque at Bowman Field gives a birth year for Robert, but I do not know for sure what is has. I believe he was born circa 1896.

Todd Deuser



If you can share any information about Robert Gast
or would like to be added to the CNAC e-mail distribution list,
please let the CNAC Web Editor, Tom Moore, know.
Thanks!