In the 1943-45 log book of Don McBride, Lesterlisted his address as:


Lester J. Hafferkamp
4433 N. St. Louis Ave
Chicago, Ill. Tel. Keystone 297
---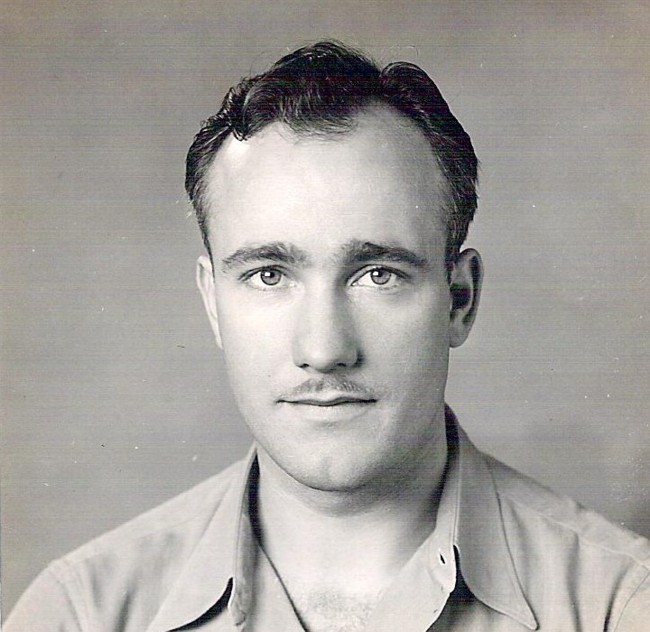 Les Hafferkamp - China - 1944
(Photo Courtesy of Leslie Clutterham)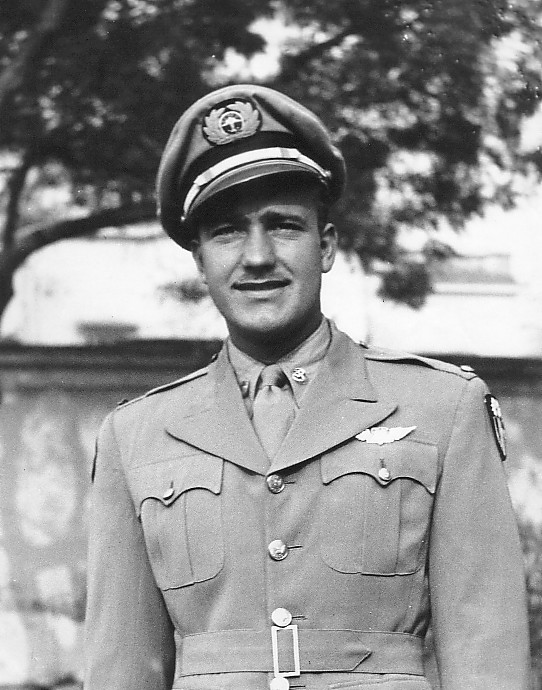 (Courtesy of Arla Jeanne Hilgert)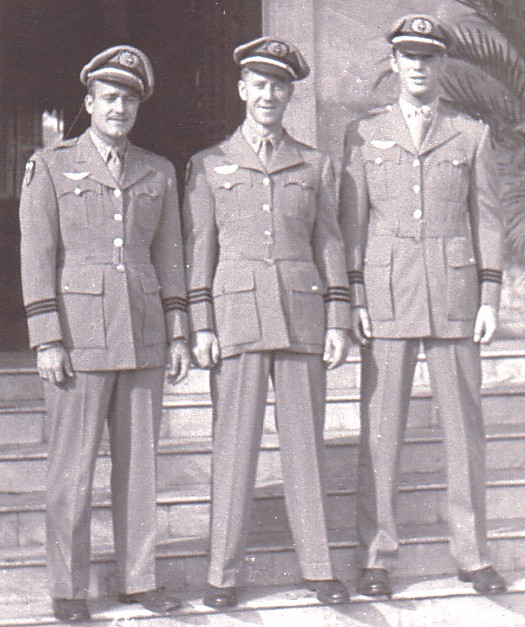 left to right
Les Hafferkamp, Ray Gilliland and Ray Hilgert
(Courtesy of Arla Jeanne Hilgert)
---
January 5, 2001
From Jim Dalby:
"Ray Hilgert came over at he same time as Ray Gilliland and Les Hafferkamp about August 1944. They only stayed about 9 months. Came home and went to work and retired from the Airlines."

---
October 12, 2003

Dear CNAC Editor:

I am Leslie Hafferkamp Clutterham, the daughter of Lester J. Hafferkamp. My dad is alive--not so well--in Minneapolis. Both Ray Hilgert and Ray Gilliland died within the last 2 or 3 years.

My dad and Ray Gilliland worked as commercial airline pilots. My dad started (I think) with Capitol which was merged into United. When he retired in 1977, he was flying DC-10s. My mother was Marianne Stafford Hafferkamp, a stewardess for Capitol Airlines whom he met on DC-4s.

Dad went into the hospital last week with heart arrhythmias, diabetes, etc., or I would give you his phone number. However, he has shown a remarkable ability to rebound, so, if he is able to get back to his apartment, I will forward a phone number.

I know that Gilliland's wife predeceased him--my parents were their lifelong friends in the Chicago area. However, his children's names are Ronald Jr., Christina, and Scott. I know at least Ronnie still lives in the Chicago area. You might try looking for a death notice for Ron Sr.

Leslie Clutterham
LeslieClutterham@adelphia.net
626-201-2261

June 18, 2004
Dad did not rebound very well and is in a nursing home, so there is no phone number to forward. (I speak to him mostly when my sister visits there and calls me with him on a cell phone.) I know he would be thrilled to think that the small amount of information I've given you is available to others who might remember or just be interested.

Leslie


---
September 9, 2006

It is with sadness that I report the death of my father, Lester J. Hafferkamp, on Monday, September 4, 2006. He was preceded in death by his wife of 48 years, Marianne Stafford Hafferkmap. He is survived by daughters Leslie Clutterham of Fontana, CA, and Susan Jamison of Elk Grove, MN, and three grandchildren.

Leslie Clutterham


---
October 21, 2006

My name is Scott Gilliland and I had recently heard of the loss of Lester J. Hafferkamp, my father's (Ray Gilliland) great friend. Both of my parents and Les and Marianne Hafferkamp were close friends through life. I can only remember a great friendship and love between families. My parents were laid to rest at Arlington National Cemetary in October of 2002 with full military honors related to my fathers assignment with CNAC. Inscribed on the urn containing my parents remains is the inscription "With this Wing I thee wed." Great aviators, great parents and great friends I will always cherish the memories of both the Hafferkamps and my parents.



If you would like to share any information about Lester J. Hafferkamp
or would like to be on the CNAC e-mail distribution list,
please let the CNAC Web Editor, Tom Moore, know.
Thanks!