From Gene Banning's list of 8/31/00:
"... Aug 43, to Oct 47; last flight DC-4 SHA TAO, MPPG, 9/20/47; flew 200 RT's over Hump."


---
Saturday, September 9, 2000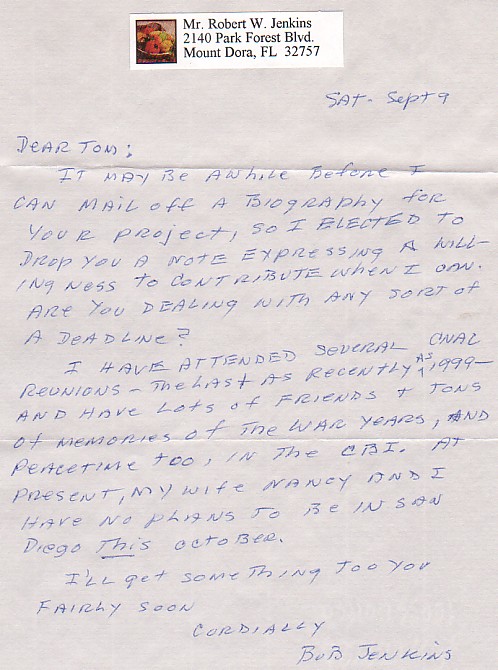 ---
February 22, 2005

Tom -
I sent copies of your pilots pages down to my father-in-law, "Captain Robert W. "Bob" Jenkins", for his comments. He is retired, living in Florida, with his wife Nancy. They met in Binghamton NY and were married in 1944 (met & married in two weeks), and lived in China until the communists took over in '47. Here are the comments he made: Add to his name: PAA-Africa, PAA, USAIR (my comments: He was flying Boeing 314 Clippers to Africa when PAA offered the CNAC job. After the war, PAA had too many pilots - Bob went to Robinson Airlines, which became Mohawk, Allegheny, and retired from USAIR in 1974. Was one of two pilots that brought the BAC-111s into the Mohawk fleet)

R.A. "Gibby" Gibson - deceased
Raymond "Ray" Hauptman flew to 1947 (I presume he was there with Bob to the end in China) - deceased
J.H. "Jim" Maupin - deceased
W.C. "Mac" McDonald - deceased
Marshall "Mike" Schroeder - deceased (Bob says "add PAA, shot down by a Jap")
Richard "Dick" Stratford - deceased

I need to get him talking with a tape recorder - he has some amazing stories, including one about a clipper that went aground in Africa and ripped it's bottom out. It was filled with concrete, dragged out, and flown back. Also about Hump flights - it amazes me what these guys did. He turned 86 today.

Jim (and his daughter Ginny) Feltner
E-mail feltnegj@swva.net


---



Robert Wells Jenkins ('Bob') passed away on March 1, 2010.


Bob was born February 22, 1919, in Binghamton, NY. His parents were Paul Butler Jenkins and Alma Wells Jenkins. Bob graduated from Binghamton Central High School in 1937 and Colgate University in 1941 with a major in history. Aviation fascinated Bob and he enrolled in the US Government's Flight Training Program at Colgate. In 1941 Bob received his Instructors Rating in Ithaca, NY, and in the fall the Flight Program hired him as a flight instructor for the princely sum of $40/week. December, 1941, found Bob in Burlington, VT, taking the Government's first flight school for twin engine planes and receiving his Instrument rating.

Pan American Airline hired Bob in 1942 and sent him to Africa to fly for a pseudo-government military airline managed by Pan Am. The African airline was militarized after Pearl Harbor and Bob returned to New York to fly the Pan Am 'Flying Boats" also known as 'Clippers'. 1943 Pan Am contracted Bob to China to ferry freight and personnel from India to western China over 'the Hump' for China National Aviation Corporation.

On leave in 1944, Bob married Nancy Alice Parker. At war's end, she joined him in Shanghai, China in 1946. In 1947 they returned to New Jersey and in 1948 moved to Ithaca, NY, where Bob flew for Robinson Airlines. In 1958 the Jenkins moved to Clinton, NY, when Robinson became Mohawk Airlines. Bob was a Captain, Flight Instructor & Check Pilot and Director of Flight Operations for Mohawk. 1972 found the Jenkins' transferred to New Hampshire when Mohawk merged with Allegheny Airlines. Bob retired from flying in 1979 after a career that spanned old DC-3s to jets.

1989 brought a move to Sanibel Island, FL, and Sandy Pond, NY. The Jenkins moved to Mt. Dora, FL, in 1993.

Bob has been a volunteer firemen, and a drivers safety instructor for AARP. He has had a lifelong passion for golf, fishing, football, and baseball.

Bob leaves behind son Jay and wife Mary Jenkins of Spoffard, NH, and grandchildren Eliot, Anna Irene, and Quinn. He also leaves behind daughter Virginia and husband D. James Feltner of Check, VA. Bob was predeceased by his parents and sister, Dorothy McElwee.

Bob Jenkins started flying bi-planes in a cornfield and ended his career flying jets. He didn't teach history after all, but some of it he lived.

In lieu of flowers, the family requests donations to the Cornerstone Hospice Foundation, Inc., 2445 Lane Park Rd., Tavares, FL 32778.



If you would like to share any information about Robert Jenkins
or would like to be added to the CNAC e-mail distribution list,
please let the CNAC Web Editor, Tom Moore, know.
Thanks!