Address as of 2 April 1949, in Hong Kong:
394 Rue Frelupt, Apt. 2
72662


---

John Cory - From Gene Banning's list of 8/31/00: "... left CNAC, was killed out of HKG in late 40s."


---

December 27, 2009
The following information comes from a great researcher, Patti Gully. Thank you Patti!

Hello Tom,

John Raymond Cory Jr. was born to John Raymond Cory and his wife Gladys (nee Galbraith) on 22 May 1919 in Cincinnati, OH. He had a younger brother Robert Galbraith Cory (b. 18 August 1920).

Tom, further to John R. Cory (and "Cory" seems to be the correct spelling), I found this WWII enlistment record which very likely pertains to the fellow in question, particularly as he hails from Ohio and joins the air corps:

Name: John R Cory Jr
Birth Year: 1919
Race: White, citizen (White)
Nativity State or Country: Ohio
State of Residence: Ohio
County or City: Hamilton
Enlistment Date: 6 Sep 1941
Enlistment State: Mississippi
Enlistment City: Camp Shelby
Branch: Air Corps
Branch Code: Air Corps
Grade: Private
Grade Code: Private
Component: Regular Army (including Officers, Nurses, Warrant Officers, and Enlisted Men)
Source: National Guard in Federal Service, within 3 months of Discharge
Education: 3 years of college
Civil Occupation: Actors and actresses
Marital Status: Single, without dependents
Height: 71
Weight: 150

See also (below) some CNAC manifests that include Captain Cory.

Patti



March 20, 1948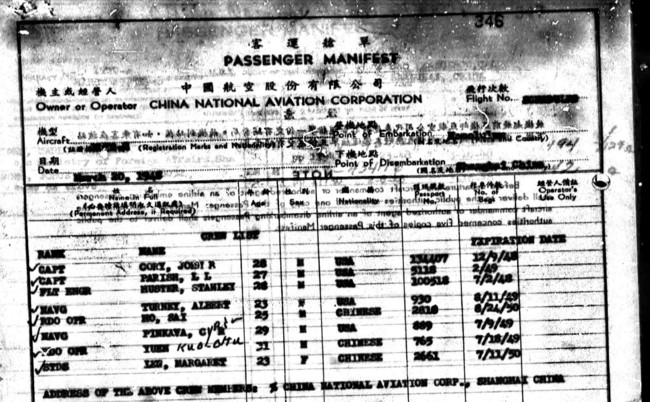 Parish, L.L., Huster, Stanley, Turney, Albert, ???, Pinkava, Cyrl, Yuen, Kuo and Lew, Margaret

May 8, 1948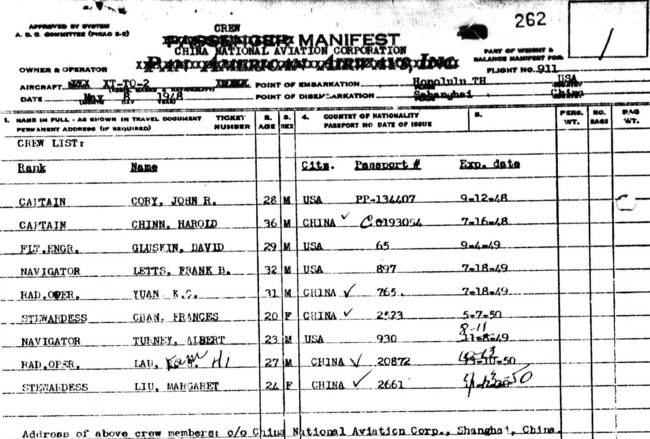 June 4, 1948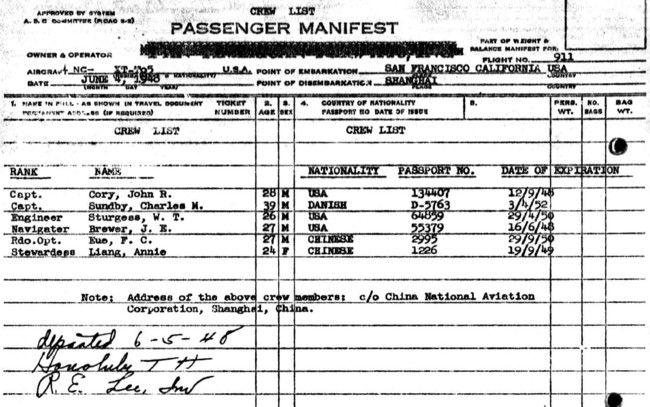 John R. Cory of Cincinnati, Ohio, died when a DC-4 Skymaster he was piloting flew into a fog-shrouded Mount Parker on 11 March 1951 shortly after he had taken off from Kai Tak airfield. During WWII, he had been a Hump pilot, but at the time of the accident, he was flying for Pacific Overseas Siam. I found several articles in US papers, and the name is spelled both as Cory and Corey:
Walla Walla Union-Bulletin, 12 March 1951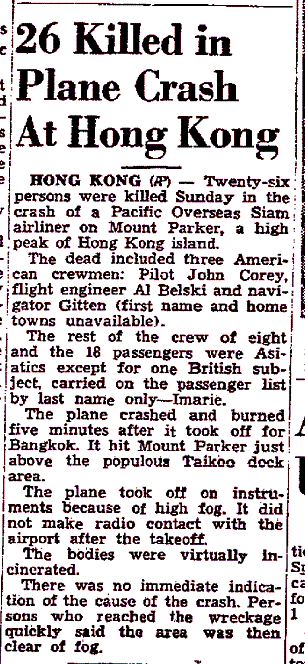 (re: Al Belski)

Edwardsville Intelligencer, 12 March 1951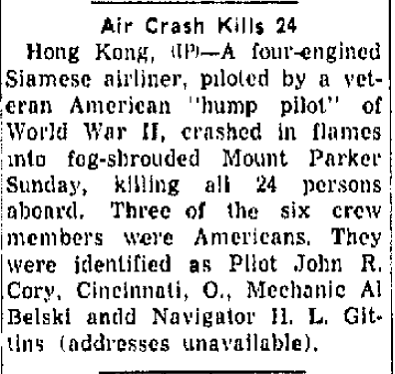 Abilene Reporter-News, 12 March 1951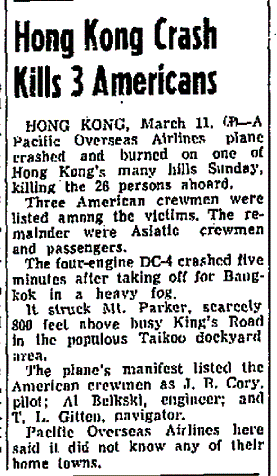 Bridgeport Telegram, 12 March 1951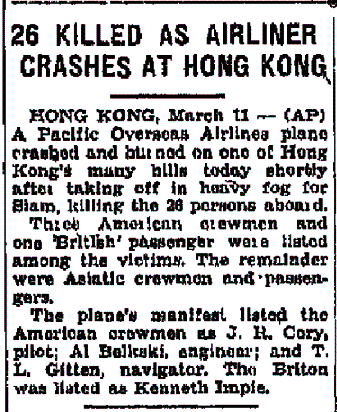 San Antonio Express, 12 March 1951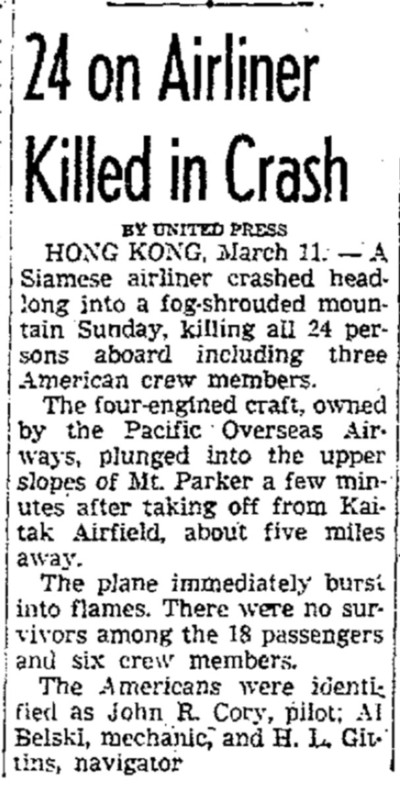 Salt Lake Tribune, 12 March 1951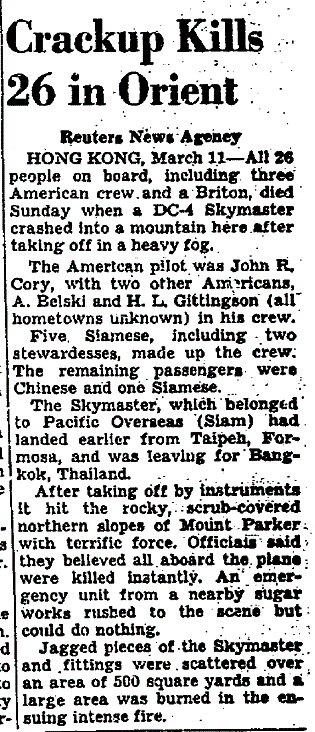 Untitled [ARTICLE + ILLUSTRATION]
The Straits Times, 13 March 1951, Page 8
MR. Kenneth E. Imrie, 44, of Singapore, manager of Nestle's Products (Malaya) Ltd., was one of the 26 persons killed when a Pacific Overseas Airways (Siam) Skymaster crashed into a hill in Hong Kong on Sunday. He was the only Briton on the plane. Mr. Imrie had been on a business...


Pilot Changed his Mind? 27 Died
The Straits Times, 31 May 1951, Page 1
HONG KONG, Wednesday.
THE crash of the Pacific Overseas Airways (Siam) airliner on March 11 was caused by an error of judgment of Pilot J. R. Cory, an American, according to investigation by Mr. A. F. W. Andren, inspector of accidents from the Department…

Now, we just need to find a photo of Captain Cory


---

If you would like to share any information about John R. Cory or Corey
or would like to be added to the CNAC e-mail distribution list,
please let the CNAC Web Editor, Tom Moore, know.
Thanks!