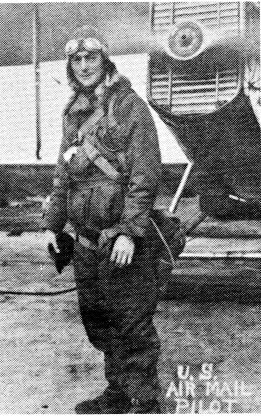 Steve Kaufman
With the U.S. Mail Service from 7/1/25 - 9/3/27
(Photo Courtesy of Nancy Allison Wright)


Click on the following Smithsonion link to learn more of Steve's early flights:
http://www.postalmuseum.si.edu/airmail/pilot/pilot_rest/pilot_rest_kaufman.html

---
John Kenehan's list of pilots say, "Stan T. Kaufman" checked out August 1929.

---
July 13, 2007

Hi Tom,

Here's some information on Steve, my dad's close friend.

Steve T. Kaufman flew the mail for the U.S. Air Mail Service from July 1, 1925 to September 3, 1927. Afterwards he was one of the inaugural pilots for Boeing Air Transport, along with Ernest M. "Allie" Allison. From an unspecified newspaper dated August 1929 "Steve Kaufman and Ernest M. Allison, Boeing pilots at Fort Crook in Omaha, are preparing to leave for Shanghai, China where they will become pilots in the first Chinese air mail routes. Allison was manager of Boeing field at Cheyenne. The men were hired by Aviation Exploration, Inc. of NY about two months ago They will leave Omaha for San Francisco on August 20 and sail for that city September 13.

Letter of September 6, 1929 from Allie to Florence from Hotel Alameda in Alameda, CA. He describes trip with Steve from Sterling, Kansas, in Ford as excellent. No flats and averaged 22 miles per gal. He and Steve stopped in Oakland Airport in AM. Allie said he was impressed with the look of a "real airport."

From the Air Mail Pilots' Association Journal of 12-20, 1929(?) on page 25 lists Ernest Allison and Steve Kaufman as very successful mail pilots who used to fly on the Chicago--Omaha--Cheyenne run of Transcontinental. Says Allison was formerly president AMPA. On page 34 the article mentions portion of letter from Allison. Steve in letter says they have been flying the Loenings about a month and like them. Route between Shanghai and Hankow they use to land: Whangpoo River at Shanghai, Yangtze at Nanking, a lake at Kankiang and an Army Field at Hankow.

From the October 15, 1929 North-China Daily News article on first trial flight of Shanghai--Hankow flight, piloted by Harry Smith. Plane met by Minard Hamilton. Mentions Allison and Kaufman are pilots. Must land in water in emergency because unending patchwork of paddy fields, canals and irrigation ditches.

October 22, 1929 - From North-China Daily News - article on opening of Shanghai-Hankow air route. Mentions Sun Fo aboard. President Price and three passengers on board with Allison on the way back. Steve Kaufman also piloted. National aviation corporation has written to Shanghai-Chengtu Air Service which is soon to start a service to Hankow, asking them to cooperate.

March 9, 1930, Allie wrote to his mother: "Steve intends to go home as he frankly admits he does not like the country."

Here's Steve Kaufman taken by my dad in 1929. He and Dad (Ernest Allison) traveled from Omaha to Shanghai together. Steve only stayed in China one year. He co-piloted for Dad on the first Hankow to Shanghai flight.

Nancy Wright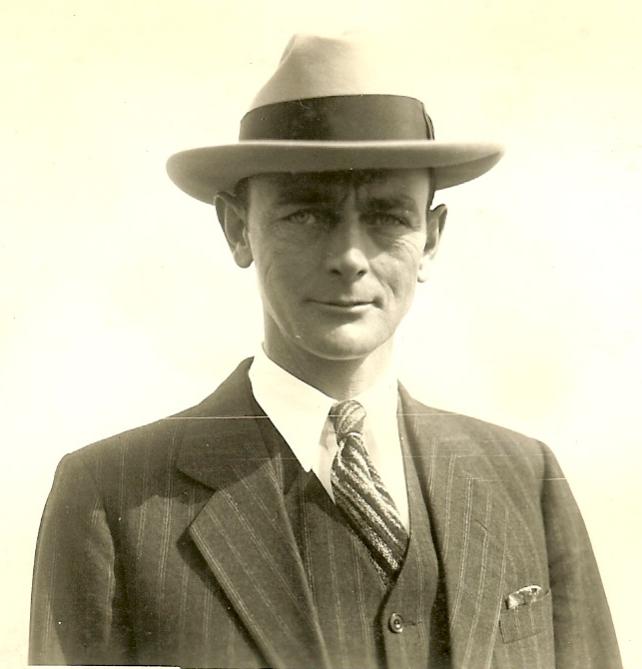 Stephen Kaufman - 1929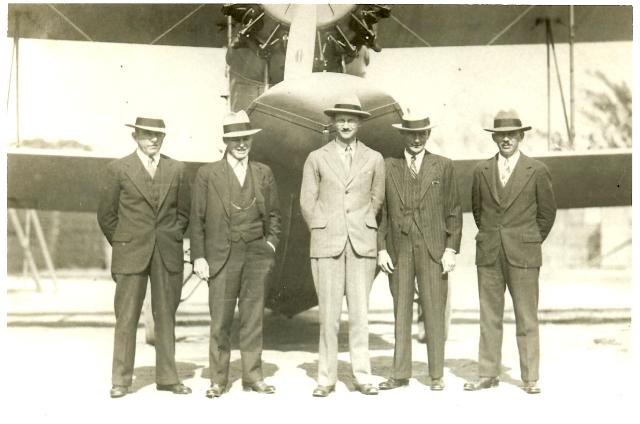 Left to right
Ernest M. "Allie" Allison, Harry Smith, Ernest B. Price (first president of China Airways), Steve Kaufman, Oscar Wilke
1929
---
From the 1965 CNAC Mailing List:
Steve Kaufman
P.O. Box 1214
Donna, Tex.
(NOTE: Donna is in Hidalgo County)


---
From the Social Security Death Index:
Stephen Kaufman
Birth: June 8, 1897
Death: November 1967
Last Residence: Weslaco, Hidalgo, TX 78596
SS Card Issued in Texas



If you can share any information about Stephen Kaufman
or would like to be added to the CNAC e-mail distribution list,
please let the CNAC Web Editor, Tom Moore, know.
Thanks!