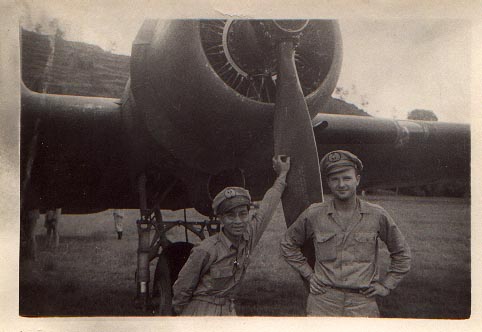 Kunming -- 1944
Radio Operator on left and Captain Kenehan on the right.
The plane is a C-47
(Does anybody remember the Radio Operator's name?)

"Standing by the prop blade of the left engine.
You'd think we owned the damn machine!"


In 2001, John Kenehan provided the picture above and the following information about his "adventure".

"I was born January 3, 1920 at Fort Worth, Texas. I attended public schools in Abilene, Dallas and Amarillo, Texas where I graduated high school in 1937 with honors. In college, I studied engineering and was a member of the engineering fraternity and honor society.

In 1938 I was employed by corps of US Army Engineers at Duncan Field, San Antonio to work with a survey crew which was to set monuments around Duncan, Kelly, Randolph Fields, and the bombing range "for all posterity". When they determined that I was proficient in mathematics, and especially spherical trigonometry, I was assigned to the office performing only mathematical calculations for the surveyors and draftsmen. As I wanted outside work, this was not to my liking.

My next step was to learn to fly. Starting late 1939 and receiving a license in early 1940, I became a private pilot. One, or maybe two, days before my private flight test, another pilot and I had a mid-air collision at exactly 1000 feet over Amarillo Municipal Airport. We both were practicing spot landings in preparation for our flight test, which we both passed.

We made history. One of the wire service picked up our collision incident and claimed we were the first ever in a mid-air to both ride our planes down and both live. This was my first of several future close calls.

Late in 1941, I attended the Civil Aeronautics Administration's (CAA's) first airport traffic controller school for the CAA's second region office (Atlanta, GA). On graduation, I was first assigned to the Orlando tower, then to the Miami tower. At the height of WWII, I left the CAA Miami control tower for Pan American Airways as a "First Officer" (Co-pilot). PAA at the time was the only United States flag carrier.

After receiving airline experience, I transferred to a PAA affiliate, China National Aviation Corp. CNAC was 45% owned by PAA and 55% by Chinese Nationalist Government. Flight operations were by Americans, some former PAA personnel; business operations were by Chinese personnel. Though mostly American, pilots were of several nationalities. CNAC recruited American Pilots who did not have military ties from several U.S. flying operations.

I arrived in Calcutta, CNAC's wartime headquarters late 1943 and made my first hump trip January 1, 1944. I checked out as Captain on March 15. 1944. By the end of WWII, I had made 546 mountainous hump trips. Our direct route into China took us near a Japanese fighter base. Though some planes were shot down, most of our losses were due to weather. Sub-tropical high humid India along with the up slope monsoons, resulted in much instrument flying; we encountered sever icing and vicious nighttime mountain generated thunderstorms.

---
In the 1943-45 log book of Don McBride, John listed his home address as:


John W Kenehan Jr.
108 Tayler St
Amarillo, Texas
---
Shortly before the Japanese surrender, I flew one of the several C46s carrying the gold treasury of China back to Chung King, then the capitol of Nationalist China. Each C46 carried 20,000 lbs. of gold bars.

Bob Prescott (Flying Tiger Line) and I took an engine, mechanics, and hoist equipment to a plane that had lost an engine and gone down, otherwise undamaged, in a isolated valley in central China about half way to Ipin (Suifu). The night we spent in Ipin was horrible. Because the narrow path lay along so steep a mountainside, we were strongly advised to not try to walk the trail into Ipin ourselves. We should engage sedan chairs carried by surefooted coolies experienced on the hazardous trail. We slept on hand cut wooden boards with little or no padding and with misquito nets too narrow for protection. Paramount made a film, Calcutta, of this incident in 1946. (In my opinion very poorly done).

I once carried a load of Chinese passengers somewhere up into northeastern China landing on a very long isolated strip that I estimated to be at least three miles long, though very isolated still within Japanese influence. By far the longest airstrip I have ever seen. It was likely the strip B29 Tankers used to refuel the B29 Bombers which dropped the incendiaries on Tokyo, causing immense fires that reportedly killed more people than both atomic bombs combined. President Roosevelt called this strip Shangri-La; so I say that I have been to Shangri-La. (From the pre-WWII movie Lost Horizons.)

After the Japanese surrender, I made numerous interesting flights over much of China. I, along with Dick Rossi, carried the first plane loads of Chinese Officials into occupied China (Nanking) to take over China from the Japanese. Japanese armed guards were still patrolling the streets.

I made a trip up on the Gobi Desert along the old camel silk trail where I visited the Russian representative. His hospitality drink was plain grain alcohol. On return, I flew for hours along the Great Wall of China.

After the war, I was involved in several business ventures and then retired for the first time in 1969. Becoming restless at age 39, I became a Customs Broker in Los Angeles.

In 1987 I followed my only son to Las Vegas where I managed his Customs Broker's office while he and his wife attended law school.

After their graduation and return to Las Vegas I retired a second time, this time for good."

Here is John's story about his favorite song:

"Sometime late 1944 or early 45, I watched a movie, Casablanca, at a makeshift army theater in Kunming. It had very uncomfortable old hard wooden benches. I don't recall if there was a back at all. I liked the way the old black man played and sang As Time Goes By, that I sat through a second show. My back still hurts!"

---
And here are more memoirs by John:

More memoirs...
and more memoirs...
And even more memoirs...

---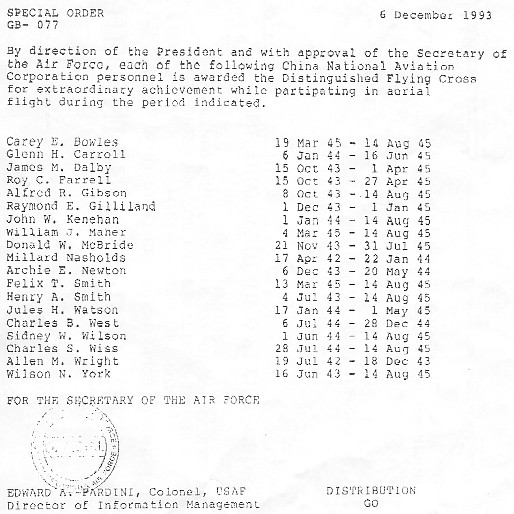 John's Distinguished Flying Cross surrounded by some of his CNAC pins.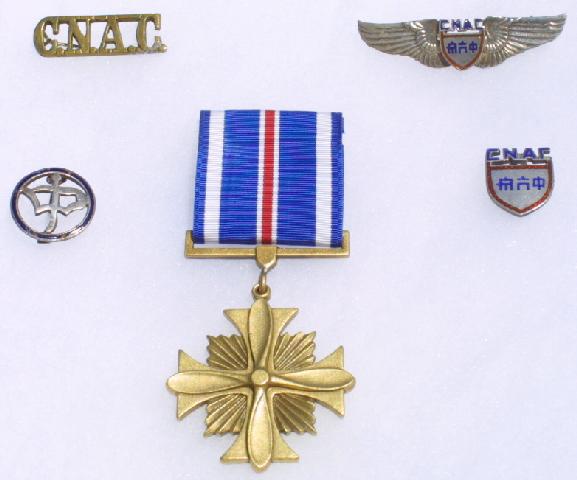 If you would like to share any information about John Kenehan
or would like to be added to the CNAC e-mail distribution list,
please let the CNAC Web Editor, Tom Moore, know.
Thanks!