F.Y. HO
(CNAC 194? - 194?)


F.Y. Ho worked in the Business Department of CNAC.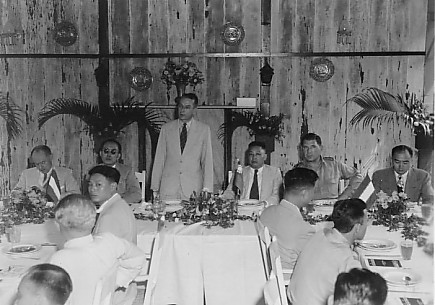 August 1947 - Batavia
This was the reception given by the Chinese Consul-General in Batavia for the survey flight.
from the bottom and around the table, left to right
Unknown, unknown, F.Y. Ho (Business Dept. CNAC)
unknown, Chinese Consul General Djakarta, (standing) Managing Director Knilm (Royal Dutch Indies Airline company) KLM, C.Y. Liu Managing Director CNAC, unknown, Harold Chinn (Captain of this Survey Flight)
Hugh Chen Assistant Operations Manager CNAC, T.T. Chen and top of head - unknown.
T.T. Chen was sent to Djakarta in advance of Survey Flight to arrange for receptions and accomodations.
Born in Indonesia T.T. spoke Dutch and Indonesian languages.
(Photo Courtesy of T. T. and Frieda Chen)
---
Unfortunately we have no more information on F.Y. Ho other than what you see on this page.
Can you help?




If you would like to share any information about F.Y. Ho
or would like to be added to the CNAC e-mail distribution list,
please let the CNAC Web Editor, Tom Moore, know.
Thanks!



Background music to this
page can be controlled here.
"Yin Nian Hao"